Photograph courtesy of David Jones
Swimming in open water has a long history as a healthy activity [1]. In 1796 the Royal Sea Bathing Infirmary was opened in Margate, where many benefits were claimed for a dip in the cold salt water and exposure to the fresh sea air. The advent of the train services to popular resorts both coastal and inland democratised swimming and it was no longer only the wealthy who could afford a dip in the sea or the lakes.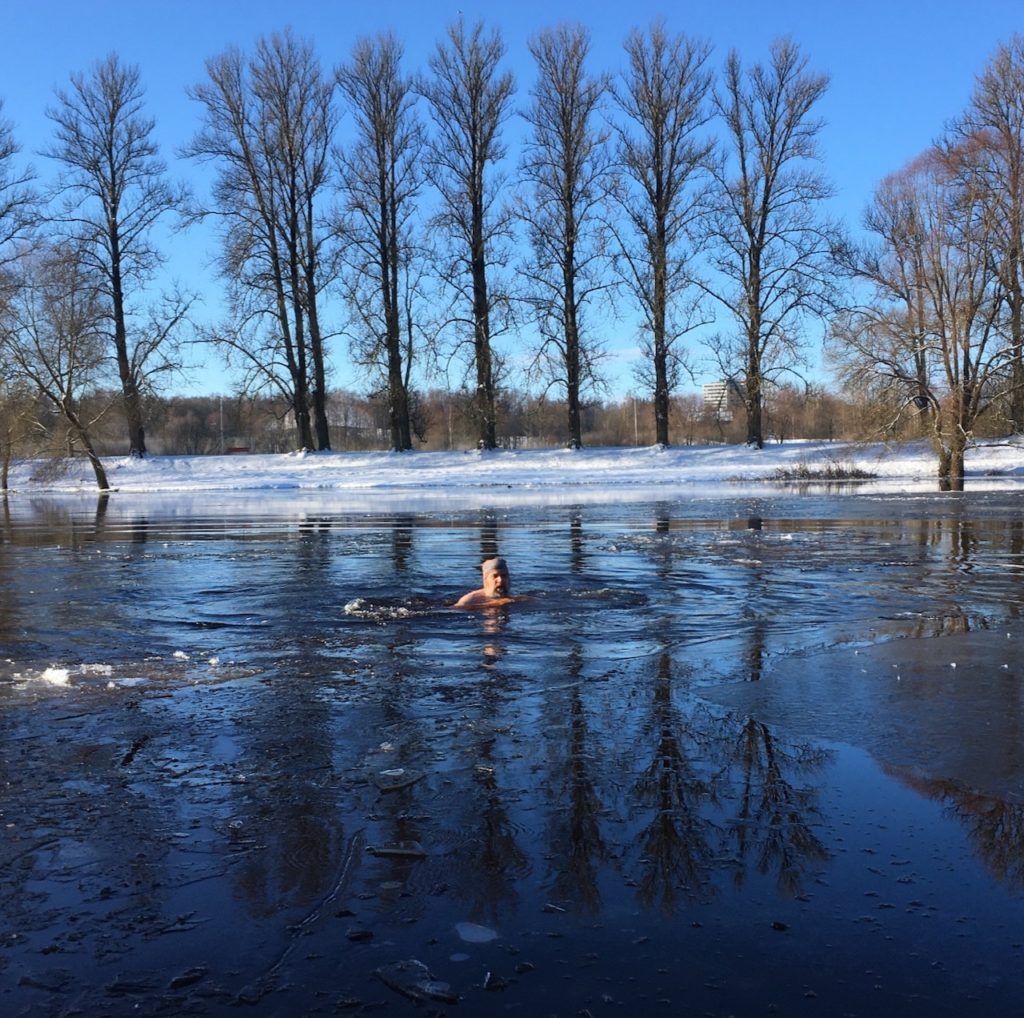 The popularity of these places in Northern Europe, however, has declined with the rise of budget air travel to warmer climes. Our BlueProfiles website though highlights many well-designed places to swim in the open-air. These profiles show how swimming places can be made accessible to today's society, particularly important in these times of Covid 19, that shows the importance of accessibility to active recreation sites [2].
Photo courtesy of Kai Muru
Many may dream of warm summer holidays with outdoor swimming in the fresh air but the thought of swimming in winter is perhaps far from our minds, but not all. Some hardy folks carry on swimming even when the temperatures drop well below freezing. So, who are these people and why do they do it?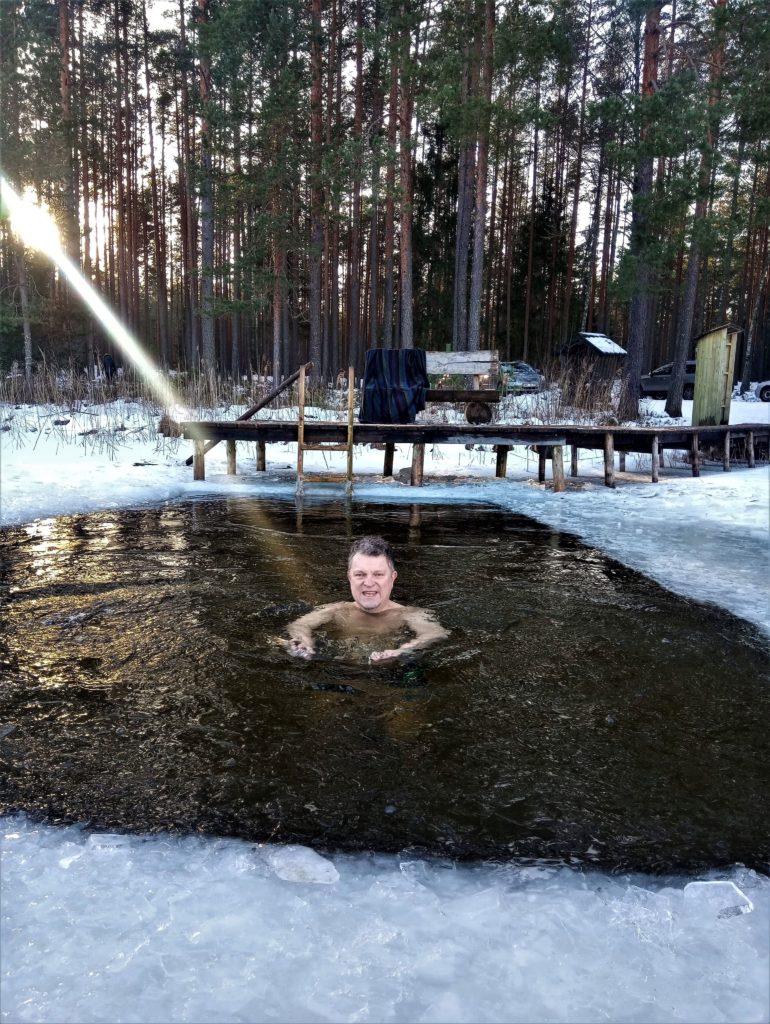 I asked one devotee of cold-water swimming, David Jones from Smiltene, Latvia what it is that draws him to the frozen lakes in wintertime and to tell me a little more about his experience?
"Cold-water swimming", he said, "is like an extreme sport that gives an adrenaline rush and a shot of dopamine that makes me feel fantastic for the rest of the day. I feel like I can take on the rest of the world afterwards."
(Photo courtesy of David Jones)
He loves the sensation of getting into the water, which he explained was a bit like being bitten by 1000s of very tiny ants all over. Of course, the water under the ice is never lower than +4C even when the temperatures dip into the low minus 20s, but this is still enough to create a tingling sensation that other cold-water swimmers explain may feel uncomfortable but the feeling that follows is worth it [3]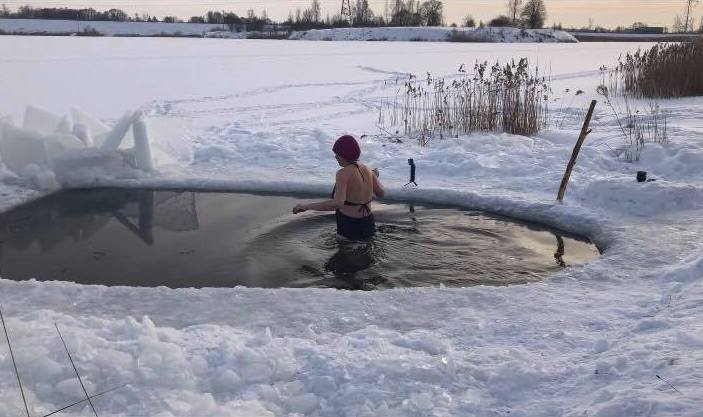 It is recommended that people wear neoprene socks when swimming, but as David explains this is frowned upon by the purists, who tough it out without the benefits of modern materials. Neoprene socks and gloves, however, allows the swimmer to stay in the water for longer without the risks to fingers and toes.
(Photograph courtesy of Agnese Appleby)
David says that he uses a waterproof watch to ensure that he restricts his time in the water to around 15 minutes maximum as it was sometimes tempting to stay in too long. Even this length of time though is only possible after a period of acclimatisation.
David explained, Latvians will often tell you of the many alleged health benefits of cold-water swimming but he does note that after the 3rd season of cold-water swimming the pain from a minor, long-term back problem is 99% gone and he's had an 80% reduction in sciatic nerve pain. "It's like having an amazing ice pack I guess," he says.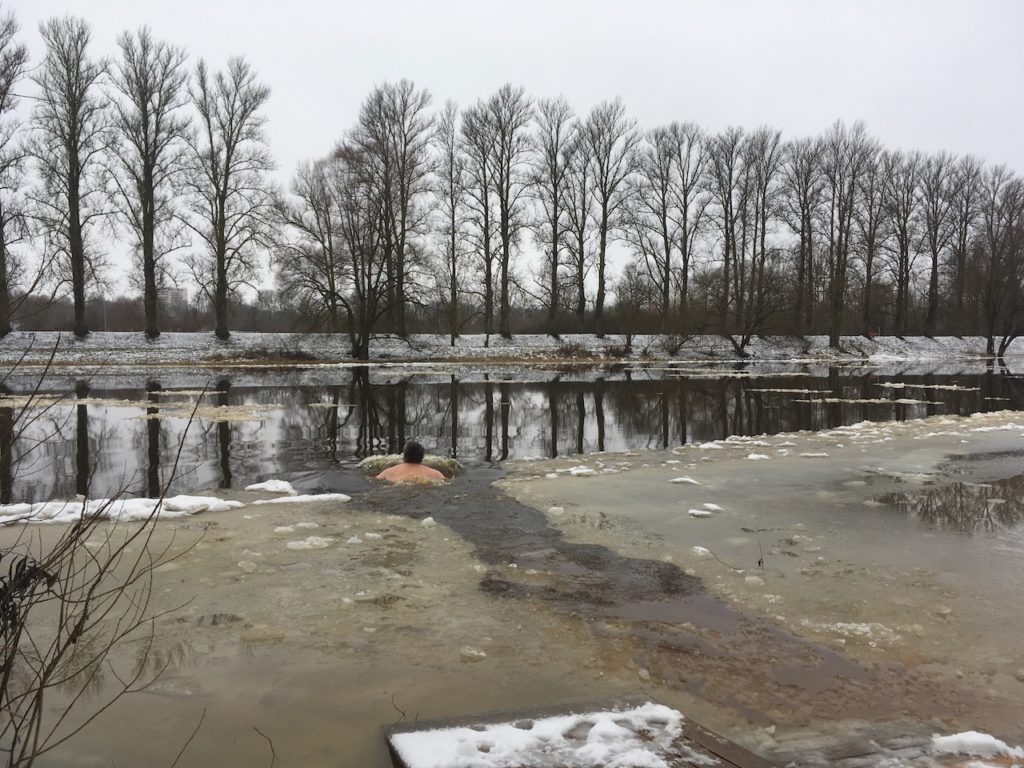 Cold-water swimming is also a social experience with the blue winter sky, sunshine and the frozen lake with just an ice hole kept open for swimming by locals. David goes with a group of friends and they always have flasks of coffee and dry clothes for after their dip. He explains, they enjoy their walk to the lake and while some only have a quick dip and scream their heads off, everyone has a lot of fun with this wintry activity.
(Photo courtesy of Kai Muru)
Don't worry if you feel you are missing out. Other cold-water devotees suggest that you spend the time preparing for next winter by acclimatising yourself with cold showers. Or maybe stick to the warmer weather and explore some of the sites on our BlueProfiles website.
Note:
Recent research has suggested that there may indeed be health benefits from cold-water swimming, but please take into account the advice of the experts [4]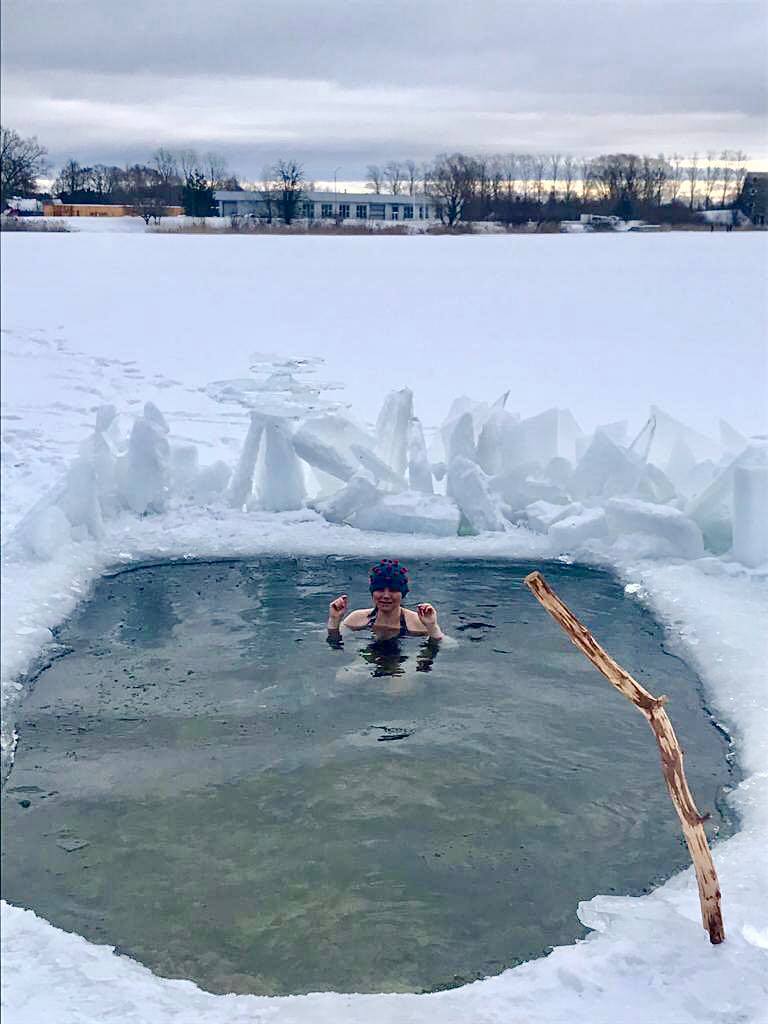 Some key things to remember.
Check with your doctor that you are fit and healthy before swimming in cold water for the first time
Go with a group who know the local situation and are used to swimming in cold-water
If you start to feel cold, get out
Ensure you have warm clothing to change into quickly afterwards including hats and gloves.
Exercise gently afterwards to help you warm up.
Take a warm drink and to sip later.
Do not take a hot shower or bath afterwards.
(Photo courtesy of Agnese Appleby)
For further information on safely swimming in the outdoors then check out the suggestions on the Outdoor Swimming Society's website [3]
[1] Blue space, health and well-being: A narrative overview and synthesis of potential benefits by Mathew P. White, Lewis R. Elliott, Mireia Gascon, Bethany Roberts, Lora E. Fleming in Environmental Research, Volume 191, December 2020.