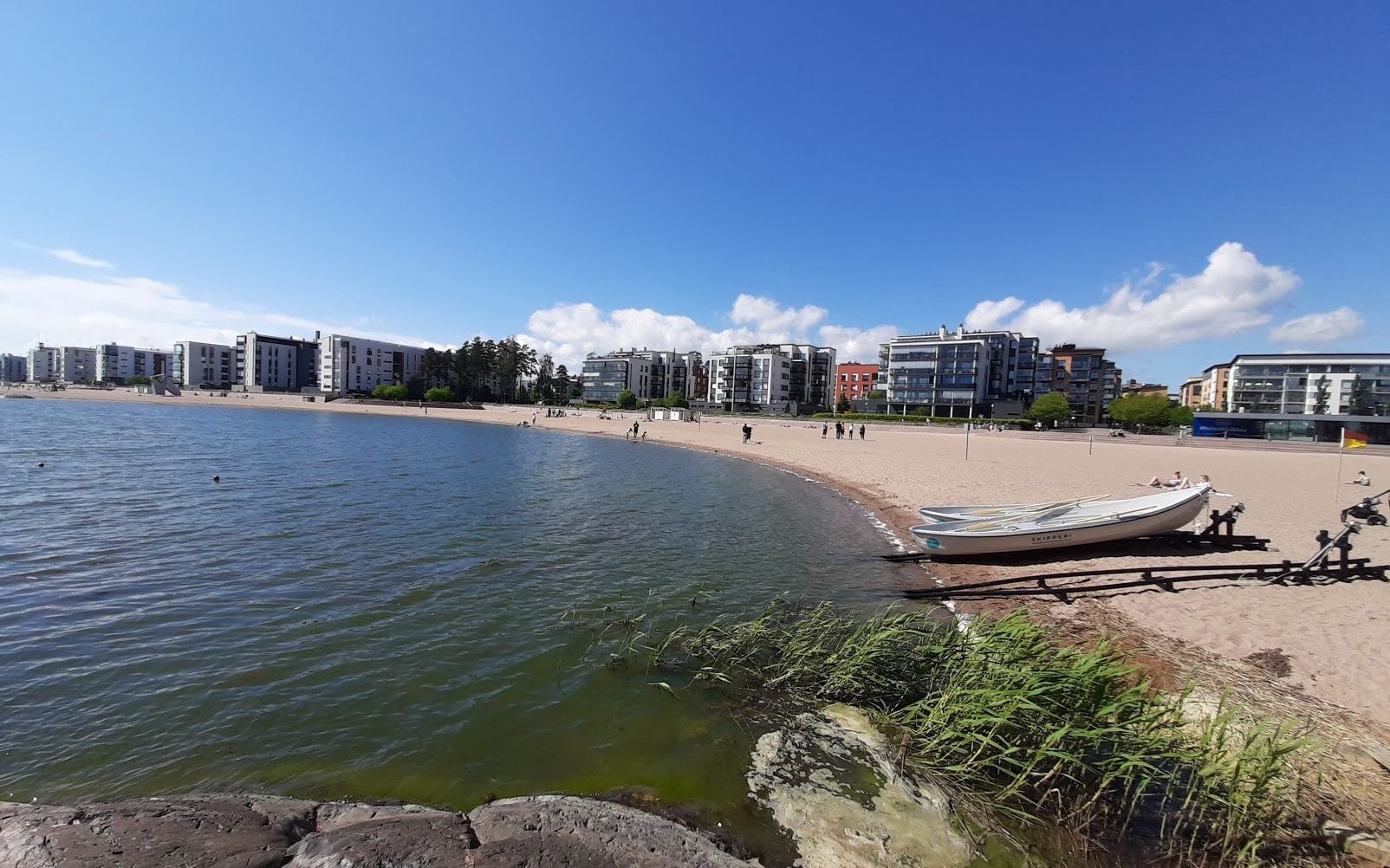 Architect
Timo Vormala of Gullichsen-Kairamo-Vormala Arkkitehdit Ky
Type of Area
Bay
Land/water interaction
Sandy beach
Ripraps
Promenade
Built Environment Types
Highly Built
Low Green
Scale of Impact
Block
District/ neighbourhood
City
Intervention Scale (Spatial)
Large Site
Project Types
Housing development
Seafront development
Outdoor recreation
Urban/ Rural
Sub-urban area
Visibility and Openness
Partly enclosed
Part Horizon
A City District by the Sea
Aurinkolahti is a city district of Helsinki, located by the sea where the aim has been to build a dense, high-quality housing-area. The Aurinkolahti waterfront gives the impression of being both urban and natural, as the residential and recreational areas are offset by the natural environments of the sea, the archipelago and the nearby forests. The promenade and the beach therefore provide an excellent opportunity for the inhabitants of this Helsinki neighbourhood to interact with water.
The marina and the beach are separated from the residential buildings by wide, uncluttered paved walkways, making the waterfront easily accessible and providing open views across the bay. The inclusion of a marina and boating activities add visual appeal, while the beach provides opportunities for swimming, sunbathing and play. The promenade features different spatial qualities, as the east-west oriented promenade incorporates pocket parks with trees at regular intervals. The steps and terraces provide multiple access points to the beach and ample informal seating spaces. The placement of benches offers privacy to users as well as extensive bay views. The riprap edges of the marina provide additional private seating opportunities for reading and contemplation.
The extensive network of promenades features installations and facilities, such as outdoor dining areas, kiosks, cafe, viewing terraces and an amenity block with toilets, changing rooms and showers. The selection of surface material is terracotta concrete block paving which contrasts with the more neutral building colours of the neighbouring housing. Ramps connect different levels for easy access to all users and steel railings are provided to ensure safety.
Perception and Meaning
Legibility
Place identity
Imageability
Sense of place
Place attachment
Health and Wellbeing
Restorativeness
Increased physical activities
Aesthetic experience
Increases socialisation
Better environmental perception
Interaction with Water
Visual
Tactile: touching
Fully in water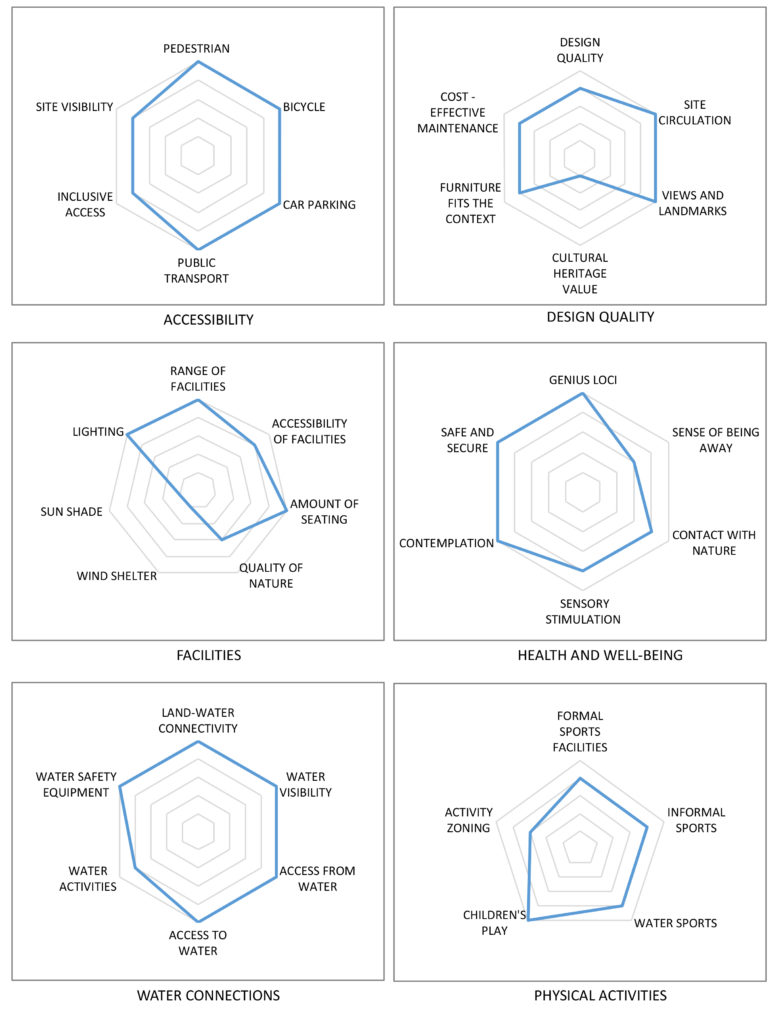 As can be seen from the project ratings the site is very accessible. The promenade and the beach system are connected to adjacent green spaces, and car parks are located at the east end of the promenade. Aurinkolahti is also easily reached by the underground or by bus and is well accessed by pedestrian routes. The overall design quality is rated high, apart from cultural heritage value, which is understandable as it is designed as a new district. The site lacks sun and shade as the pocket parks are small, so do not provide much shade or quality of nature. The range and accessibility of facilities though is good, as would be expected in a newly built area. Accessibility to the sea and places to contemplate the views brings people close to nature and contributes to the genius loci of the place. The range of activities in connection to the water, overall is good with plenty of options for active sports, both formal with the provision of the marina and informal along the beach areas.