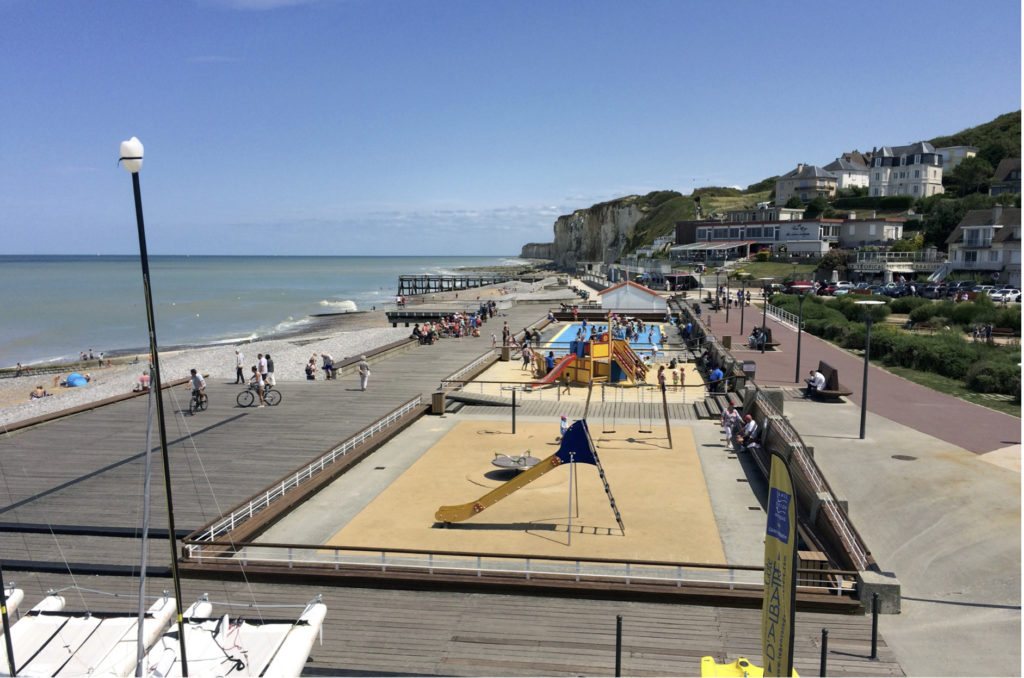 Architect
Atelier Ruelle
Type of Area
Sea
Outdoor public swimming pool or lido
Stream with natural banks
Land/water interaction
Stony beach
Terraces/steps
Pier
Built Environment Types
Moderately built Moderate green
Scale of Impact
District/ neighbourhood
City
Intervention Scale (Spatial)
Small site
Project Types
Seafront development
Public space regeneration
Sports facility
Urban/ Rural
Inner urban area
Visibility and Openness
Fully open
Full horizon
Space for Seaside Activities
This project, constructed sequentially between 2001 and 2013 and designed by Atelier Ruelle for the City of Veules-les-Roses and Communauté de Commune de la Côte d'Albâtre, restores some seaside activities and presence in an unusual way.
This small resort of Veules-les-Roses suffered heavy bombardment in the Second World War then unsympathetic post-war reconstruction when the river was confined in a concrete tunnel then covered over for car parking. The small-scale opening to the sea descends down the narrow valley of the small river and is squeezed between chalk cliffs.
The project comprises of two main sections.
The first, the main part of the design, consists of a large wooden deck, designed to be evocative of an ocean liner, constructed on top of the sea wall. This has two elements inserted into it – an open-air paddling pool and a sand-covered children's play area – needed due to the steep shingle beach and strong waves which make the sea rather dangerous.
Behind the decking, and between it and the town is the re-exposed river with a small park on either bank, before it flows beneath the decking and through the sea wall into the sea.
The decking overlooks the beach which is also used for many activities in and out of the water. This decking then continues across a concrete promenade which also protrudes over the seawall creating a viewpoint. There are numerous seating areas, a children's play area and paddling pool.
Perception and Meaning
Imageability
Sense of place
Place attachment
Accessibility
Legibility
Health and Wellbeing
Restorativeness
Increased physical activities
Aesthetic experience
Place affordance
Better environmental perception
Interaction with Water
Visual
Tactile – Fully in water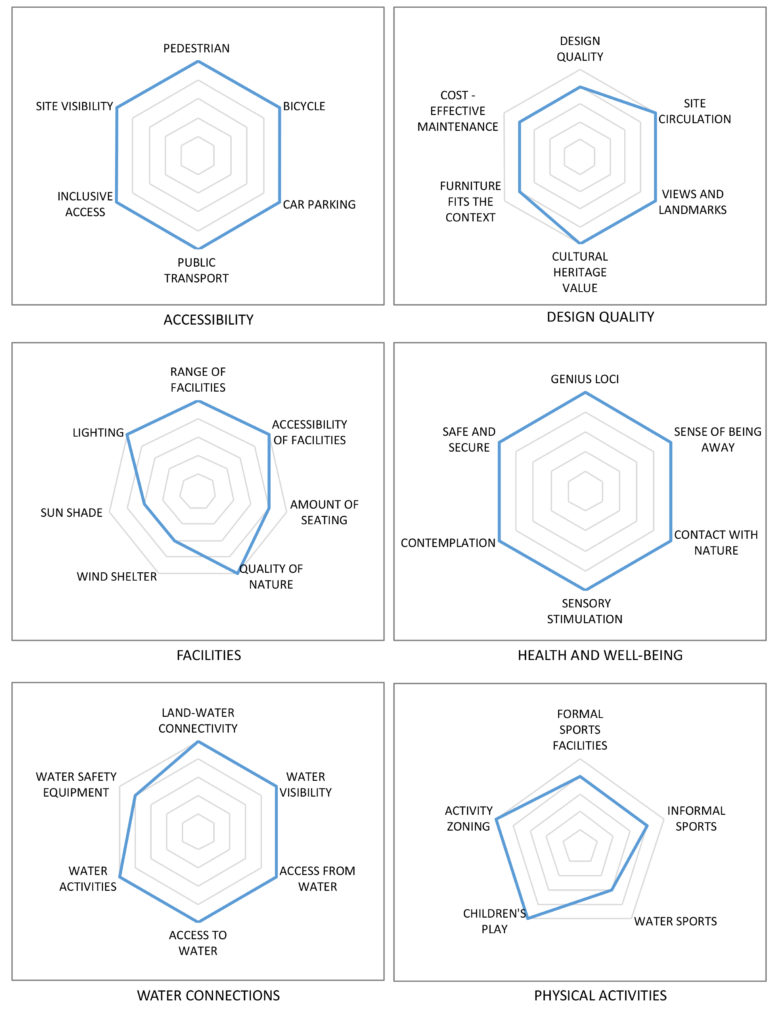 Website of the project:
Google map reference
This project scores very highly for accessibility, the design, especially for circulation, views and cultural heritage. The facilities are also very good apart from the site being exposed to wind and sun.
It rates very highly for all aspects of health and well-being and has excellent water connections. For physical activity is it especially good for children's play – the paddling pool being a special feature here. It is not so strong for water-sports due to the nature of the sea.