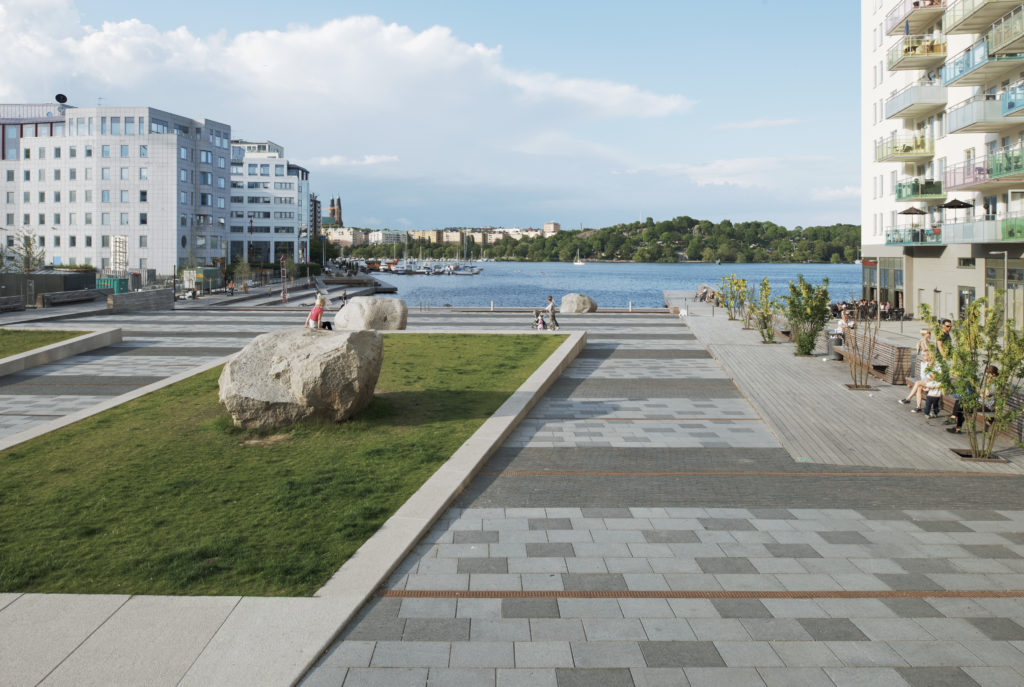 Architect
Sweco Architects; Thorbjörn Andersson
Type of Area
Natural lake
Land/water interaction
Harbour
Terrace/steps
Pier
Built Environment Types
Completely built
Scale of Impact
District/ neighbourhood
City
Intervention Scale (Spatial)
Small site
Project Types
Urban waterfront restoration
Public space regeneration
Outdoor recreation
Urban/ Rural
Inner urban area
Visibility and Openness
Partly enclosed
Partly contained
Linking the City to the Archipelago Landscape
This project, located in central Stockholm, was completed in 2010 to the designs of Thorbjörn Andersson and Sweco Architects. Stockholm is a city on the water within an archipelago of hilly islands and the designers of Sjövikstorget wanted to express this quality on the lake where it is sited.
The design achieves the concept by using the fact that the rhomboidal space between the buildings opens outwards and "borrows" the wider landscape, thus framing the view of the water. To emphasise this, the square is formed of a tilted wedge-shaped flat plane at an angle of 3° from the horizontal, leading the eye to the water's edge.
The design comprises three segments. The upper terrace consists of two horizontal lawns set within an open tilted and paved surface for walking supplied with benches formed from the granite edges which become higher as the plane descends relative to the lawns. This defines the space as a square and frames the views to the lake.
The middle space along one of the sides extending out along the water forms a sunken platform, with benches facing towards the water.
The lower section consists of a promenade and a pier parallel to the bottom of the sloping square. A grove of trees fills part of the void between the wedge and the space formed by the buildings, mirrored by a line of trees down the opposite side.
Finally, there is a pier and deck continuing the line of the edge of the square and the line of trees, letting the form extend out over the water as if the space becomes submerged. The square allows for contact with the water and is well-used in summer for sunbathing though not for direct access into the water. The gentle slope allows for very easy accessibility to the water edge.
Perception and Meaning
Place identity
Imageability
Place attachment
Accessibility
Legibility
Health and Wellbeing
Restorativeness
Increased physical activities
Aesthetic experience
Place affordance
Increases socialisation
Interaction with Water
Visual
Tactile – touching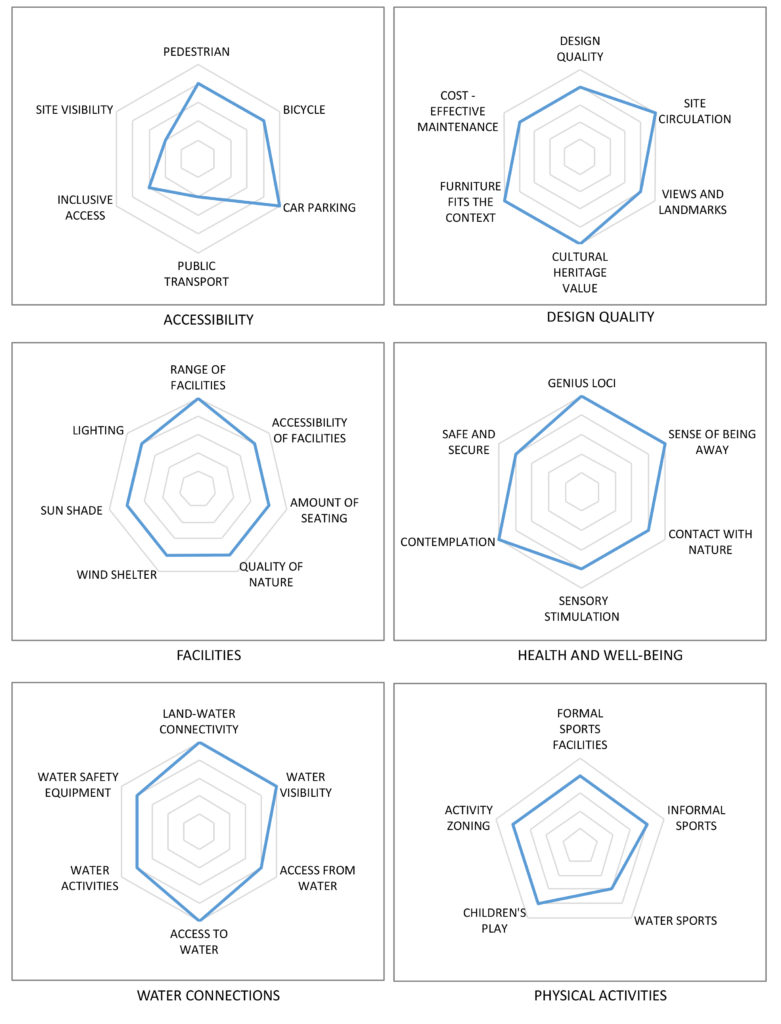 The rating charts for this project show it has good accessibility apart from the views to it from a distance. The design quality is scored highly, less so for its reference to cultural heritage – not surprising given the context, and for maintenance – all the wooden decking needs a lot of upkeep.
The extent of facilities is limited – it is exposed to wind and sun and has no contact with nature, again, features of the urban character. Health and well-being potential varies a lot – sense of being away and contact with nature are not possible in such a setting.
Water connections are generally good apart from direct access into the water or water activities. It is not a place where there is much scope for physical activity. A good project making good use of limited space in a very urban context.