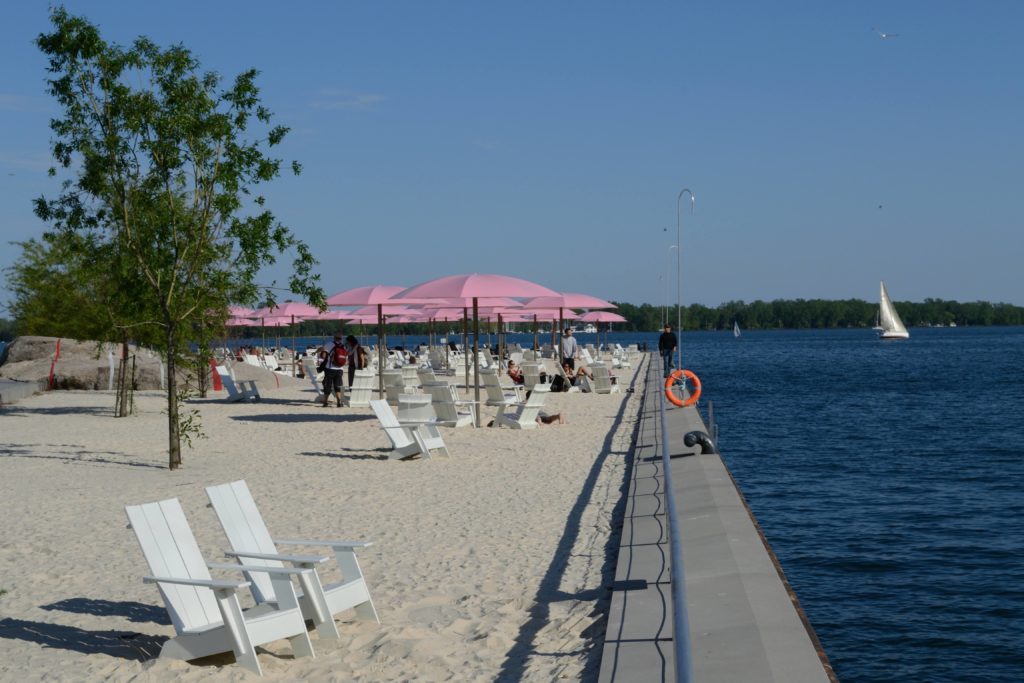 Architect
Claude Cormier Landscape Architecture
Type of Area
Natural lake
Bay
Land/water interaction
Promenade
Pier
Sandy beach
Built Environment Types
Highly built
Low green
Scale of Impact
District/ neighbourhood
City
Regional
Intervention Scale (Spatial)
Moderate site
Project Types
Lakefront development
Outdoor Recreation
Public space regeneration
Urban/ Rural
Inner urban area
Visibility and Openness
Fully open
Part horizon
Urban Wasteland to Contemporary Beachfront
This popular project located on Toronto's East Bayfront on Lake Ontario was constructed in 2010 to designs by Claude Cormier Landscape Architecture. Sugar Beach is a park that creatively transformed a 8500 m2 car park in a previously industrialised area into a contemporary urban beachfront – the first public space visitors see if they travel along Queens Quay from the central waterfront.
The design reflects and gained inspiration from the industrial heritage of the area, especially its relationship to the neighbouring Redpath Sugar factory. The layout of the park comprises three distinct sections.
An artificial urban beach created from imported sand
An open multi-functional plaza space
A tree-lined promenade which is aligned diagonally through the park which provides a shady route to the water.
The shaded seating areas along the promenade also offers visitors ample spots to enjoy the lake view. It also contains a dynamic water feature for playing in the shape of the Canadian maple leaf. Grass covered earth mounds with the tree grove will eventually hide the view of the beach from the main street.
The most iconic and identifiable features of the park are the bright pink beach umbrellas, which double as lighting at night time, and candy-striped rock outcrops.
The main activities which take place are typical of a beach: sunbathing, playing, walking, relaxing, socialising and public events. The pathway through the park incorporates the national maple leaf symbol inlaid as a mosaic pattern into the granite cobblestone. Access to the beach is provided by extending wooden board walk to the beach.
Perception and Meaning
Imageability
Accessibility
Sense of place
Health and Wellbeing
Place affordance
Increases socialisation
Increased physical activities
Aesthetic experience
Interaction with Water
Visual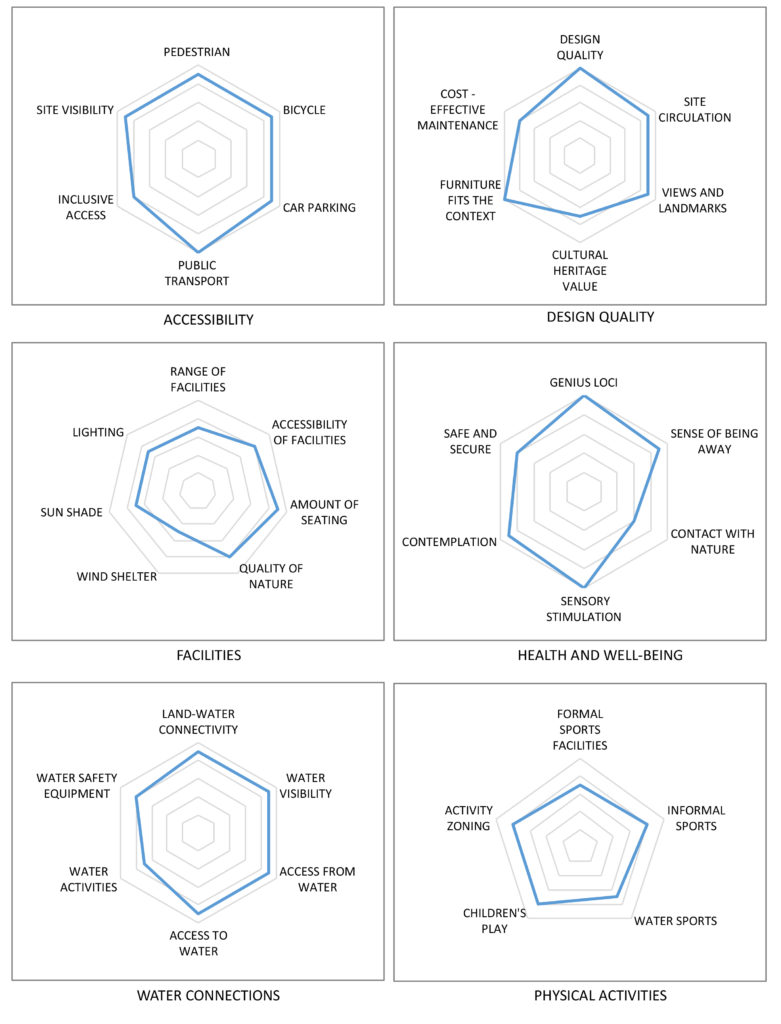 The project scores show some limits on accessibility, due to its location in relation to the city in general. Design quality is highly rated in all aspects. Compared to other sites this lacks some facilities – but this is due to the location and project brief. It is also exposed to wind and sun.
Health and well-being potentials are very good apart from any sense of being away – this is in the city centre – and contact with nature. Direct water connections are not part of the design brief so understandably absent, nor is there any provision for formal sports for the same reasons.