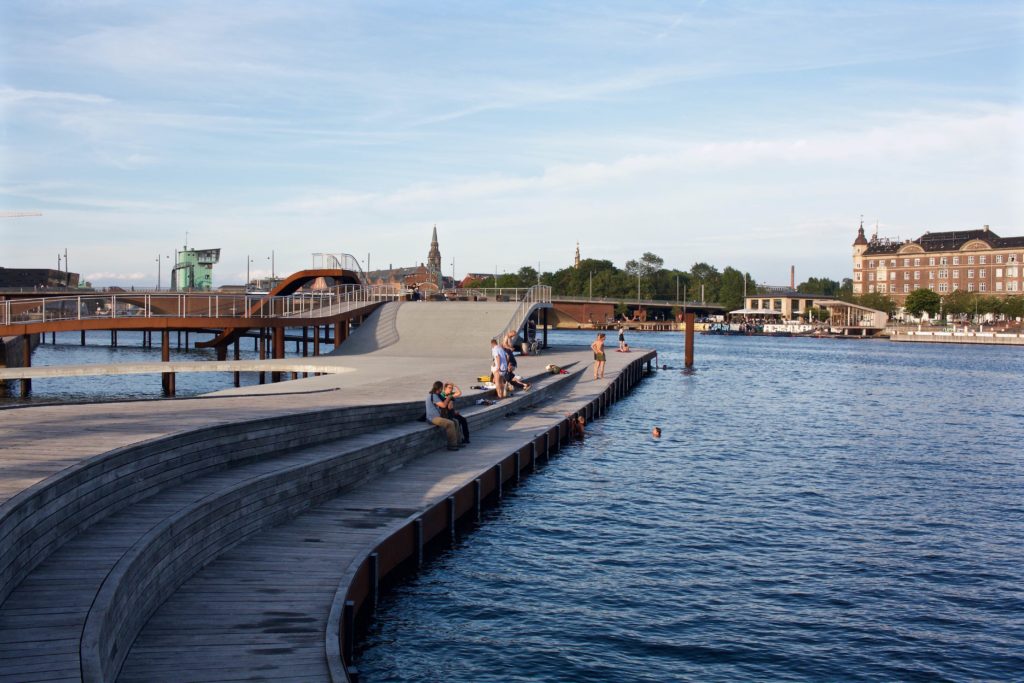 Architect
JDS/Julien De Smedt Architects
Type of Area
Large river with artificial banks
Land/water interaction
Promenade
Harbour
Bridges
Built Environment Types
Completely built
Scale of Impact
District/ neighbourhood
City
Intervention Scale (Spatial)
Small site
Project Types
Riverfront development
Outdoor Recreation
Public space regeneration
Urban/ Rural
Inner urban area
Visibility and Openness
Fully enclosed
Fully contained view
Floating Deck Enclosing a Swimming Area
The Kalvebod Wave project was designed by JDS /Julien De Smedt Architects and Klar and completed in 2013. It is a special project forming part of the larger Kalvebro Brygge redevelopment which commenced in the 1990s. Sited opposite to the popular summer meeting place of Islands Brygge, it is located on reclaimed land in the Vesterbro district of the city. This area was used for various industries such as a timber yard, railway and gas production.
This new addition to the waterfront provides opportunities for a larger range of activities. Being close to the central train station and the Tivoli amusement park, the Kalvebod Bølge, or Kalvebod Waves provides a new connection for the inner city with the harbour.
The project consists of two main differently-sized three-dimensional decked areas floating on pontoons and extending directly from the water edge in front of two new buildings which dominate the area. These are connected by decking which rises and falls in its level – hence the waves used in the name.
This decking extends across the water and encloses the water available for swimming and boating and which is positioned to capture sunlight and provide shelter from the wind. The southern pier is a unique floating public space with the flexibility and facilities to enable various events, especially those related to the creative industry, to take place. Thus, an active water enclave has been created, for various water related activities.
A flow of boats to and from the water hub of the southern segment also creates an active maritime atmosphere and maximises the connectivity of the project with the rest of the city. The northern unit provides a kind of oasis on the water, close to and accessible from the land but also somewhat away from it which, as it includes a beach, allows people a break from the hectic urban life.
Perception and Meaning
Imageability
Accessibility
Focal point
Place identity
Health and Wellbeing
Increased physical activities
Place affordance
Increases socialisation
Restorativeness
Interaction with Water
Visual
Tactile – Fully in water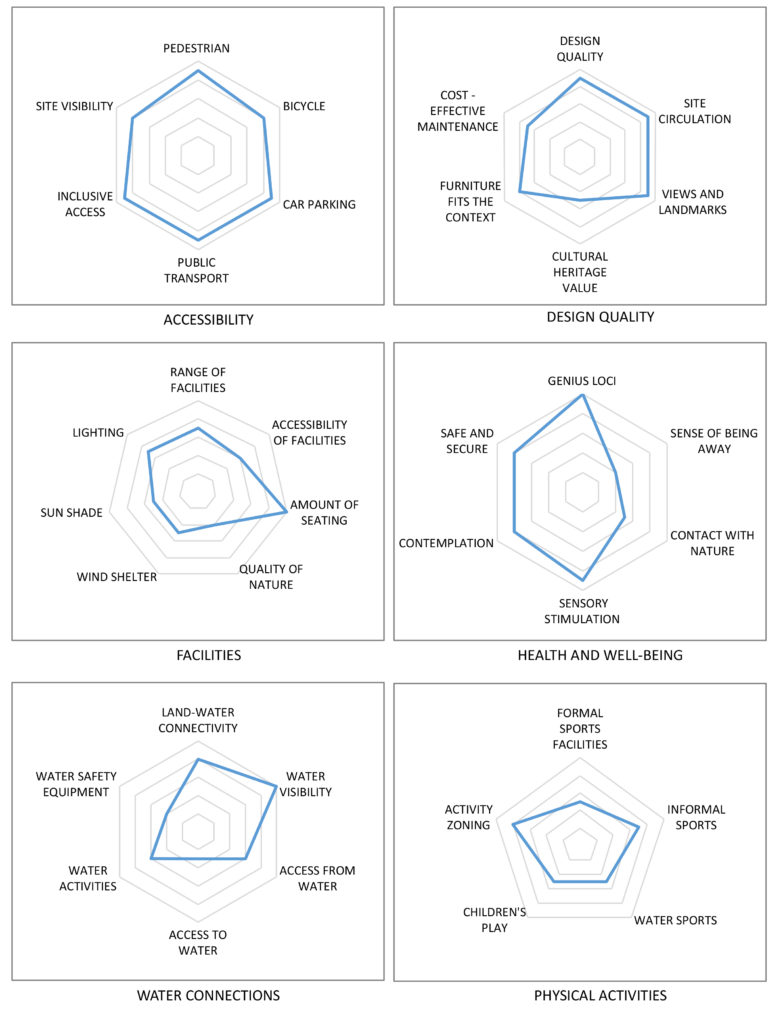 Website of the project:
Google map reference
The project scores show excellent accessibility and very high design quality – although somewhat weaker in cultural heritage values (it is an entirely new structure) and is expensive to maintain. The range of facilities is somewhat limited, mainly due to the design content and it is exposed to wind and sun with no cover.
Health and well-being opportunities are also good, apart from a sense of being away and closeness to nature. Access to and from the water and activities on it are good although in limited ways due to the design. There is little formal physical activity but plenty of opportunities for various informal sports.