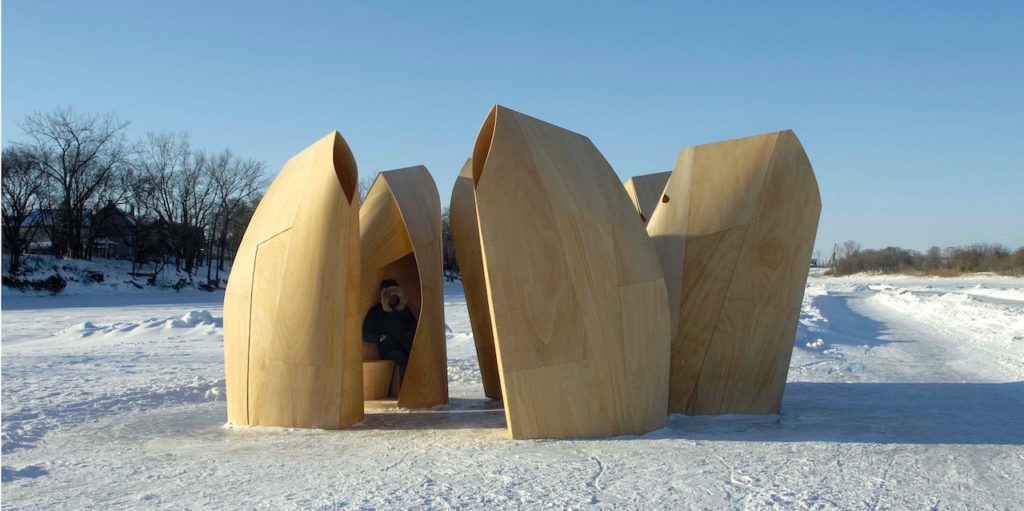 Architect
Patkau Architects
Type of Area
Large river with natural banks
Land/water interaction
Built Environment Types
Moderately built
Moderate green
Scale of Impact
District/neighbourhood
City
Intervention Scale (Spatial)
Single object
Project Types
Sports facility
Infrastructure regeneration
Outdoor recreation
Urban/ Rural
Inner urban area
Visibility and Openness
Fully enclosed
Full contained view
Perception and Meaning
Place attachment
Knowledgeability
Focal point
Health and Wellbeing
Increased physical activities
Increases socialisation
Place affordance
Interaction with Water
Reviving Past Sporting Activities.
Winter in Winnipeg, a city in Canada with a population of around 600 000 and a continental climate, is harsh with extremely cold temperatures, regularly dropping below minus 20-30°C. With the time local inhabitants developed cultural practices to embrace the winter, thus skating on the frozen rivers of The Red and Assiniboine Rivers has been a popular winter sport, providing a different perspective of the city.
Skating along the frozen river enjoyed a resurgence due to the establishment of modern river trails. To enhance the use of the ploughed skating trails, each year the municipality holds a competition to encourage the design of shelters suitable to the exposed wintry trails and providing places of respite from the wind. In the winter season of 2011 Patkau architects designed these cone shaped shelters. The shelters were huddled together, each providing the wind shelter to the other, each with their backs to the wind like a herd of buffalo that roamed the Canadian prairies of the area in the past.
The apparently random arrangement of shelters was designed precisely so that each shelter shielded the entrance of another and created a further protected interior space between the shelters. The shelters were also in a dynamic relationship to the sun position and the wind that altered as the sun moved across the sky during the day. Each shelter varied in the degree of shelter it could provide according to its relationship to the sun and the wind at any one time.
Each shelter was constructed from two layers of thin plywood that could bend and deform in response to the wind. A triangular base and wedge-structure provided the rigidity needed to withstand the pressure from the snow, whilst the lightness of the construction allowed the movement generated by the wind to loosen any accumulated snow. The structures swayed and creaked like boats stuck on the frozen surface of the river, yet their warm colour and wooden interiors enveloped the skaters providing protection from the elements.
Seating was also provided inside for the comfort of the skaters.This project is essentially a reworking of a traditional seaside promenade concept to provide a clear edge between beach of the English Channel and Dover town as well as to enable universal access, shelter and, above all, to create a new sense of identity and sense of place through the use of sculptural elements integral to the design – in fact combining design and art through the exploration of the wave form.
Website of the project:
Google Map Reference