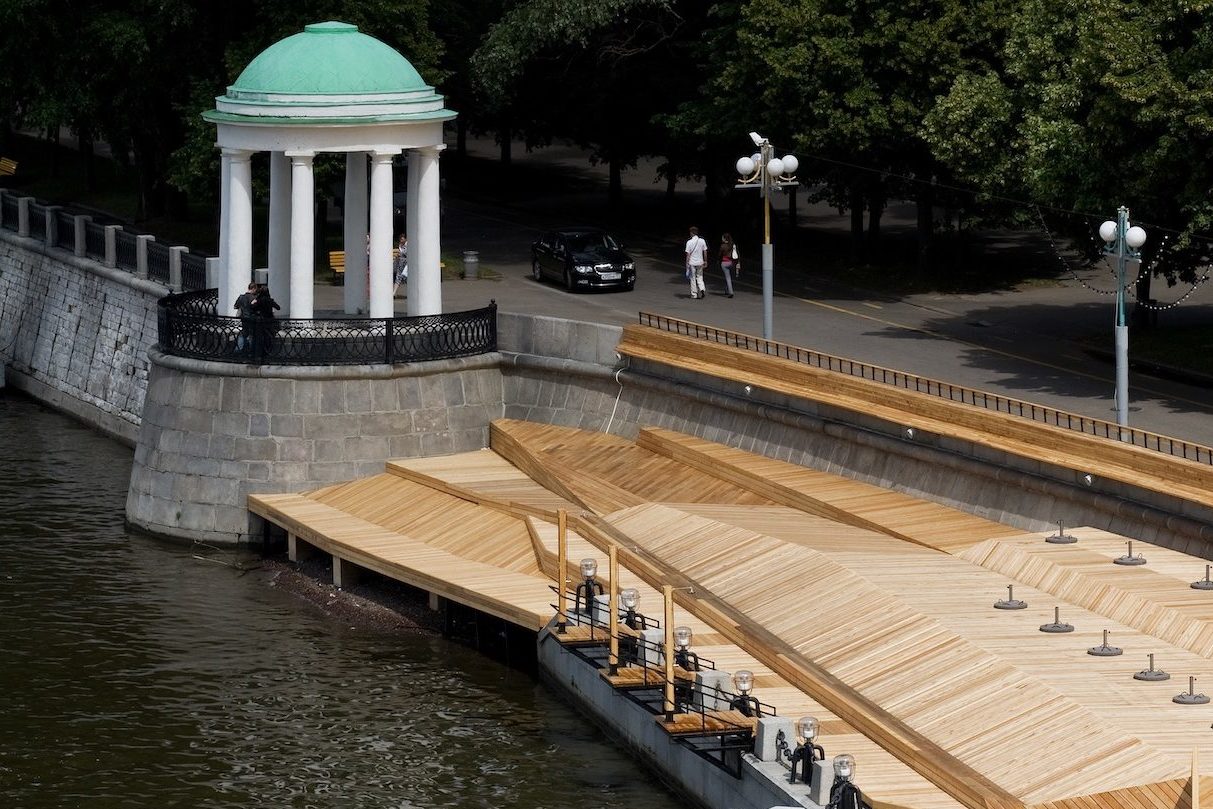 Architect
Wowhaus
Type of Area
Large river with natural banks
Land/water interaction
Embankment
Decking
Built Environment Types
Low built
High green
Scale of Impact
District/neighbourhood
City
Intervention Scale (Spatial)
Small site
Project Types
Riverfront development
Outdoor recreation
Urban design
Urban/ Rural
Inner urban area
Visibility and Openness
Fully enclosed
Full contained view
Perception and Meaning
Imageability
Place identity
Accessibility
Health and Wellbeing
Increases socialisation
Place affordance
Aesthetic experience
Interaction with Water
Visual
Squeezing Between the River and the Park.
Olive beach is situated next to the Pushkin (Andreevsky) Bridge on the River Moskva and close by to Gorky Park. The project was developed by the architectural office Wowhaus in 2011.
The aim of the project, besides providing a recreational area near water, was to create a side entrance to the park that would look "cozier" and less imposing than the austere granite and marble of the official entrance. The timber-decked area provides a welcoming entrance site with a warm and playful atmosphere.
This embankment area is close to central Moscow and squeezed in between the wide river and the road running past Gorky Park and turns a dull space into a leisure zone. The facilities include a spacious multi-functional lounge and sunbathing deck, called the "Solarium", showers and a bar. The Solarium area is constructed from different angled wooden decking that slopes down towards the river edge.
This surface provides a space-saving multiplicity of comfortable options for lounging in the sun and has proved a popular spot in summer. Owing to the poor water quality, swimming in the river is not an option, so instead, visitors can use showers to cool themselves throughout the summer months. The showers are located on piers jutting out over the river linked to the solarium. The water from the showers is collected on trays beneath the piers and is drained into the sewage system.
Shade is offered by a pergola constructed from a complex wooden frame that is also designed as a space for music. In front of the canopy are olive trees in tubs that give their name to the area and offer some shade. Bars and wooden terraces are located under the bridge to provide additional facilities. After the summer season the whole structure is dismantled and removed, stored and then reassembled the following summer. This intervention is providing a comfortable and playful recreation near the river, where the use of such type wasn't imaginable before.