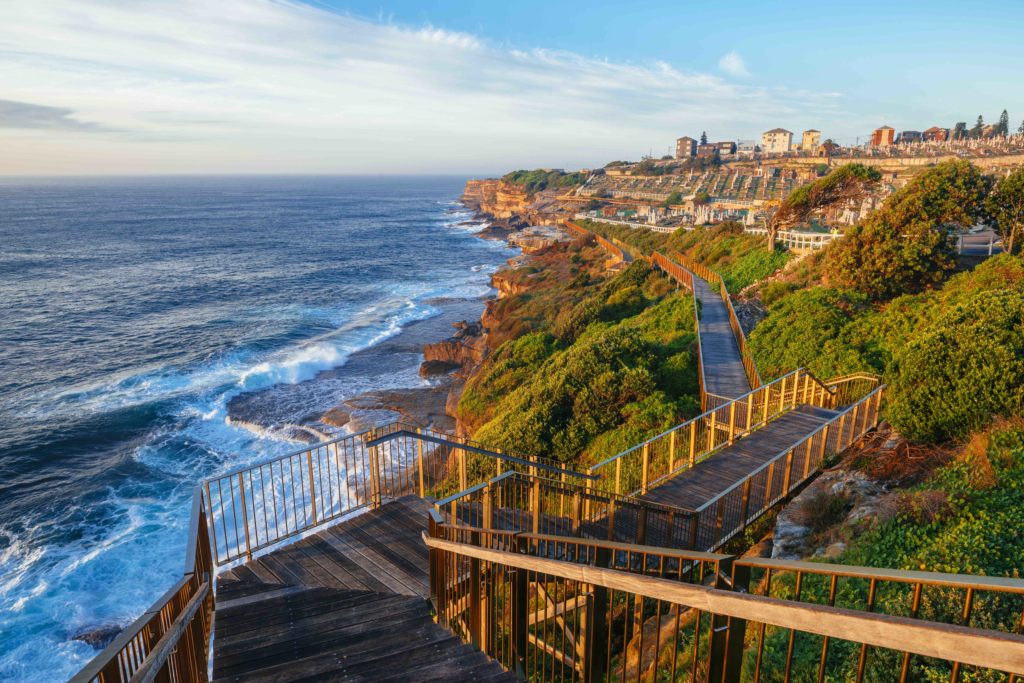 Architect
Aspect studio
Type of Area
Ocean
Land/water interaction
Stony beach
Sandy beach
Built Environment Types
Moderately built
Moderate green
Scale of Impact
District/ neighbourhood
City
Regional
Intervention Scale (Spatial)
Linear development – multiple interventions
Project Types
Seafront development
Outdoor Recreation
Urban/ Rural
Inner urban area
Visibility and Openness
Fully open
Full horizon
Opening up the Vistas.
This project was completed in 2009 to designs by Aspect Studios of Sydney. It is a 515m extension of the 9km long coastal walk stretching from South Head to Marouba. This section, the Bondi-Bronte walk is located in eastern Sydney. From here it is possible to obtain amazing panoramic vistas and is a heavily visited location.
The site is a series of sandstone escarpments and cliffs which posed severe challenges for engineering and construction. It is also very sensitive and so the project needed to take this into account. It is an example of a constructed facility which enables access while protecting the landscape, although due to the terrain and constructional challenges, universal access could not be achieved.
The elevated boardwalk is constructed from stainless steel with wooden decking, steel grill or mesh steps surfaces, wooden seating and handrails. resolves complex geotechnical, structural, and historical conditions. The walk highlights the sublime qualities of the land and sea interface.
As well as the walkway there is a number of observation points, each focusing on a different aspect fo the geology and landscape. The structure appears quite delicate and minimal, and sits lightly on the fragile cliffs. The route also presents different vistas as one is hidden and another one revealed as the walker proceeds along it. light weight and highlights the fragility of the local environment.
Perception and Meaning
Sense of place
Legibility
Accessibility
Knowledgeability
Genius loci
Health and Wellbeing
Restorativeness
Aesthetic experience
Increases socialisation
Increased physical activities
Sense of being away
Interaction with Water
Visual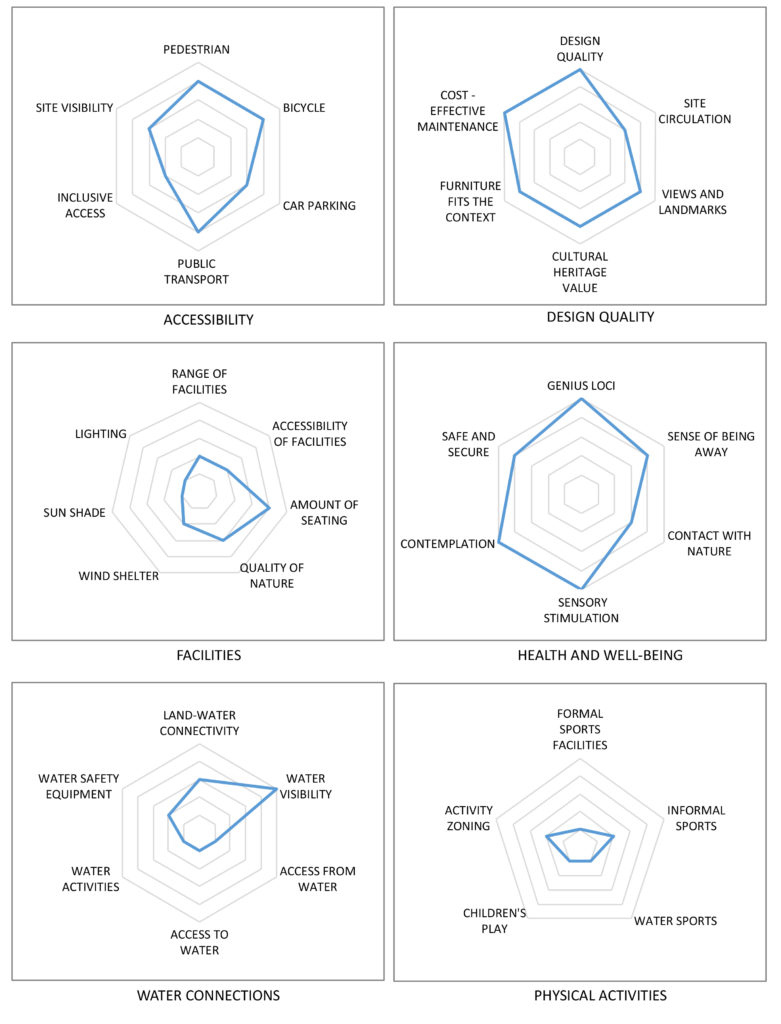 Website of the project:
Google map reference
This project, due to its location and the terrain, was always going to show some limitations against different aspects. In terms of accessibility, it scores low against several aspects, especially universal access as well as its visibility from a distance. The design scores well for some but not all aspects – cultural heritage is weaker given its location – but the quality of materials suggests it should be low maintenance.
The number of facilities are necessarily limited and the whole site is very exposed to the elements. The health and well-being potentials are very good apart from contact with nature. Water access – apart from visual access is impossible given the terrain, so naturally it is rated low.
Physical activity is clearly limited to walking. The project is excellent at achieving what it can do given the location and terrain limitations. It makes the most of the challenging design environment and engineering requirements and manages to remain modest and allows the spectacular scenery and ocean views to dominate, which is as it should be.