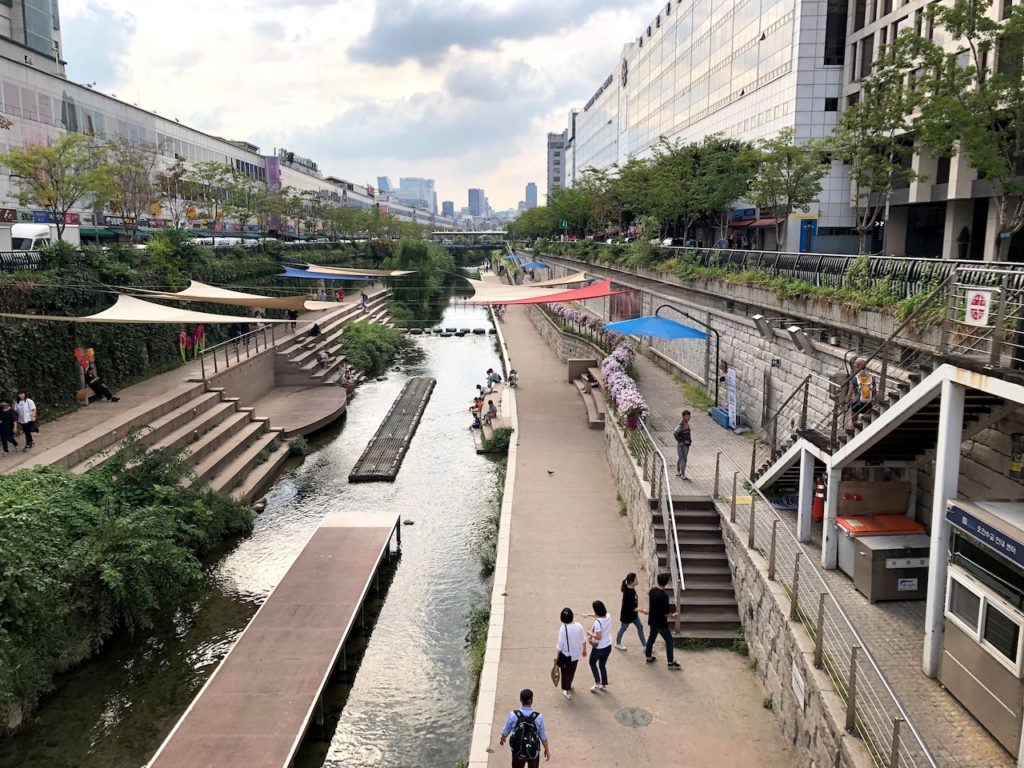 Architect
Hyundon Shin; Wonman Hoi
Juhyun Chug
Yangkyo Chin
Type of Area
Stream with artificial banks
Marsh
Land/water interaction
Embankment
Promenade
Terraces/steps
Built Environment Types
Completely built
Scale of Impact
District/neighbourhood
City
Regional
Intervention Scale (Spatial)
Linear development – multiple interventions
Project Types
Green infrastructure
Outdoor recreation
Urban design
Urban/ Rural
Inner urban area
Visibility and Openness
Visible from vantage points
Reclaiming the river
The Cheonggyecheon River revitalisation in Seoul is a well-known and ambitious river recovery project. It was designed by Hyundon Shin, Wonman Hoi, Juhyun Chug and Yangkyo Chin and initiated by the Seoul Metropolitan Government in 2005. It is one of the most important recent projects for urban renewal, which was created by demolishing a run-down expressway and revitalising a buried river and its immediate neighbourhood at the same time. The Cheonggyecheon central area now hosts a green waterfront park accompanied by an improved public transport system as its main attraction.
The Cheonggyecheon area is the largest commercial centre in Seoul. It was once an important river in the history of Seoul, but pollution levels became a concern. To resolve this the river was covered with concrete and turned into a highway in 1960 to host the increasing traffic. By the end of the century the highway became outdated, as costs for its maintenance increased and the volume of transport posed health concerns for the surrounding neighbourhood. It also separated local communities. Noise pollution and safety hazards contributed to an unfavourable living environment around this central district where even company headquarters moved away because of the overall experience of stagnation.
Instead of investing a huge budget to upgrade the highway the municipality decided to demolish it in 2003. As the elevated highway provided traffic access its removal while restoring the river was seen as a quite a radical idea that many residents, businesses and traffic experts initially opposed. The city government therefore engaged stakeholders through consultations before carrying out the work. The aim was to clarify the benefits of restoring the Cheonggyecheon stream over reconstruction and how it addressed safety problems and mobility demands and how it could revitalise community life.
After removing the expressway and opening the river park in 2005 the air quality and noise levels improved. This was further enhanced by upgrading public transport and giving it priority over cars, thus promoting walkability along the new corridor. The almost six km long re-discovered Cheonggyecheon stream has enhanced the quality of life in this part of Seoul and the river has become an attractive element of the city, inviting not only locals but ten thousands of daily visitors. One might call it an extensive park in the sense of a linear playground combining history, urban culture and urban nature. The project also reduced the urban heat island effect along the waterfront, reducing the local temperature by 5°C and increasing wind speeds. It also introduced biodiversity into the dense urban landscape, even introducing new animal species. The main pedestrian passage along the water edge on both riverbanks is located on lower-level terraces with natural recreational areas and even willow wetlands along its banks. It provides access to the water with steps, timber decks or stepping-stones, offering quite a sense of being away.
Perception and Meaning
Accessibility
Legibility
Knowledgeability
Health and Wellbeing
Place affordance
Sense of being away
Better environmental perception
Interaction with Water
Visual
Tactile-touching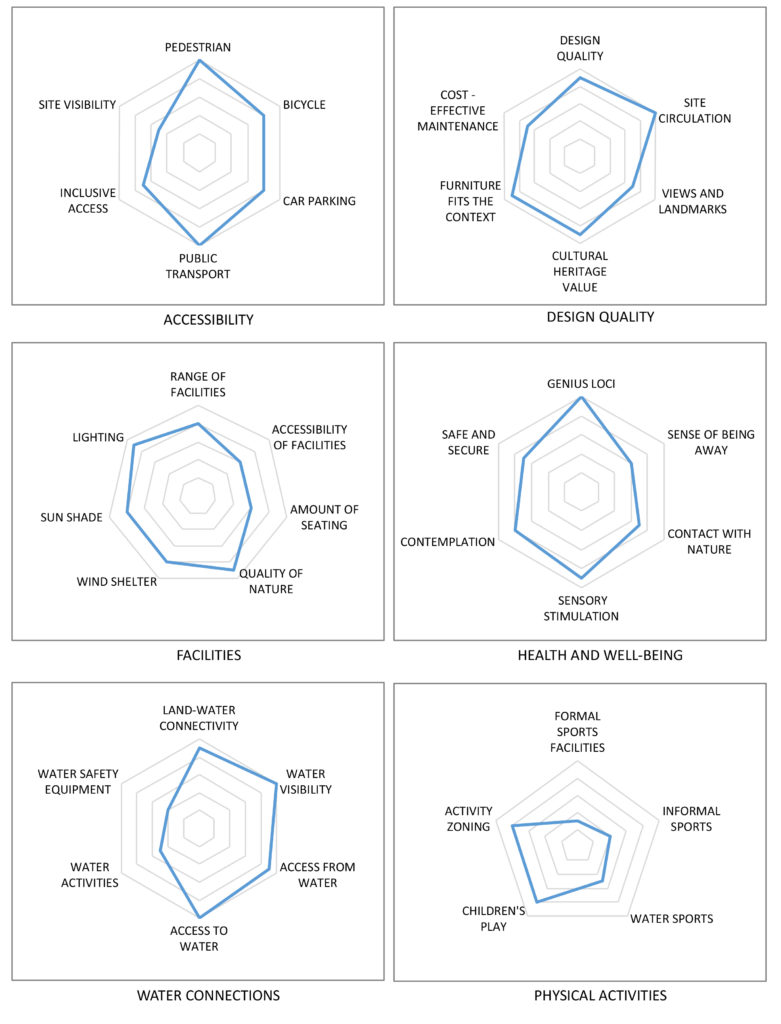 This project, due to its location, shows some limitations against different aspects. It mostly performs well for accessibility though a little weak in visibility and inclusive access. The design quality is also excellent, although the project may be a bit costly to maintain. It is well-endowed with facilities, although for such an extensive linear space the amount of seating seems to be rather low and it lacks the necessary accessibility to the promenade.
Health and well-being issues are generally rated quite high apart for being away in such an artificial urban environment and for contact with nature. Again, water accessibility is also rated highly apart from the range of possible activities as well as the lack of water safety equipment Physical activity opportunities are weak although children's play and a logical zoning is well provided for. This is a great example of an urban revitalisation project which overcomes huge challenges and offers outstanding solutions to provide something special in the urban landscape of Seoul.