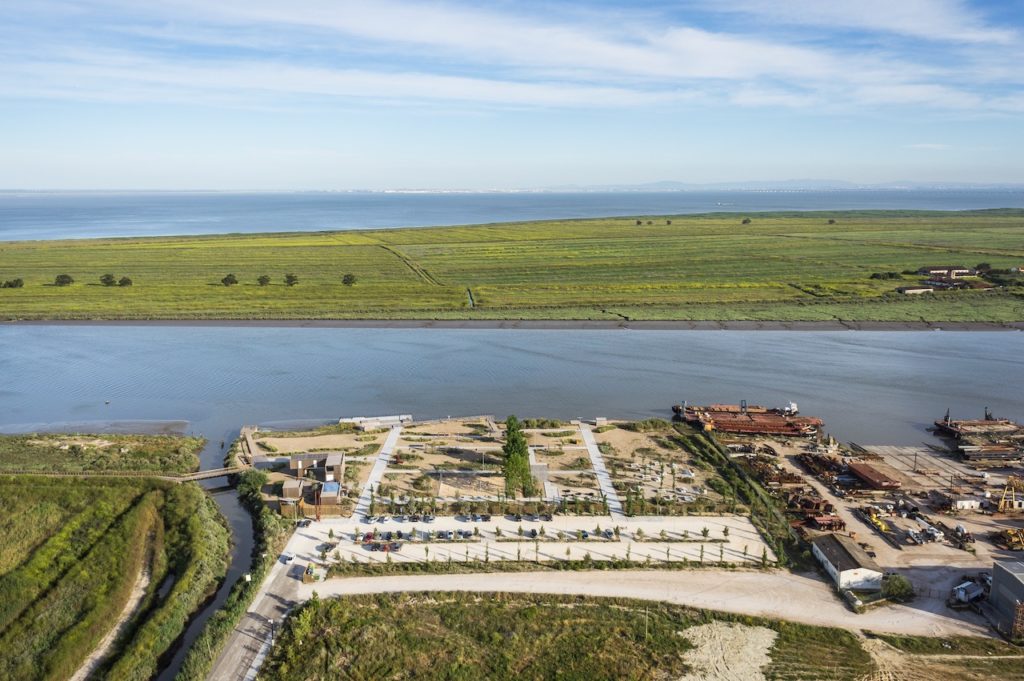 Architect
Topiaris
Type of Area
Large river with natural banks
Wetland
Land/water interaction
Promenade
Marsh land
Terraces/steps
Built Environment Types
Low built
High green
Scale of Impact
City
Regional
Intervention Scale (Spatial)
Moderate site
Project Types
Riverfront development
Natural waterfront restoration
Sports facility
Urban/ Rural
Urban fringe
Visibility and Openness
Partly open
Partly enclosed
Protection and regeneration combined
The Tagus Linear Park is a15 ha area designed and completed in 2013 by the team of Topiaris landscape architecture for the Municipality of Vila Franca De Xira in Portugal. It connects neighbouring, growing urban communities with the riverside close to both water and industrial enterprises. The challenge was to develop an urban public space located in a complex urban industrial, agricultural and natural landscape, while protecting and developing the existing fragile natural system and maintaining the ecological regeneration of damaged former industrial areas. This part of the river is close to its mouth, so it is dominated by industrial purposes, being easily accessed by shipping. It separated residents from the water and paid no any attention to the natural marsh ecology, public access or recreational opportunities.
The park consists of two different sectors: a square connected to the river and a network of trails. The square was designed to keep its sense of place and is the area where most of the park facilities are placed and most recreational activities happen. The other sector is the connection of cultural, recreational and natural aspects by a network of trails. These provide the main spatial structure, consisting of both elevated and ground level paths which bring people to the riverfront. In a sense they act as a threshold to the river, giving the visitor a feeling of an arrival at the water and a sense of being away.
The marshland was protected and developed along the riverfront to restore ecological functioning after the impacts of industrial use. The existing vegetation in the square was preserved and extended in a formal pattern of compact protected clusters of native sand-connected species on mounds, which contrast with the extensive sandy area. Together with existing and newly planted trees these clusters create a green environment. The park contains a diverse arrangement of facilities, that provides attractions catering for the active visitor and calm spaces for watching birds or wildlife. Other structures include the educational Centre for Environmental and Landscape Interpretation, built from reused containers, a volleyball court, children's playground, a bird observatory and wooden shade structures parallel to the paths that provide opportunities for relaxation
Perception and Meaning
Accessibility
Knowledgeability
Genius loci
Place attachment
Health and Wellbeing
Increased physical activities
Aesthetic experience
Sense of being away
Increases socialisation
Restorativeness
Interaction with Water
Visual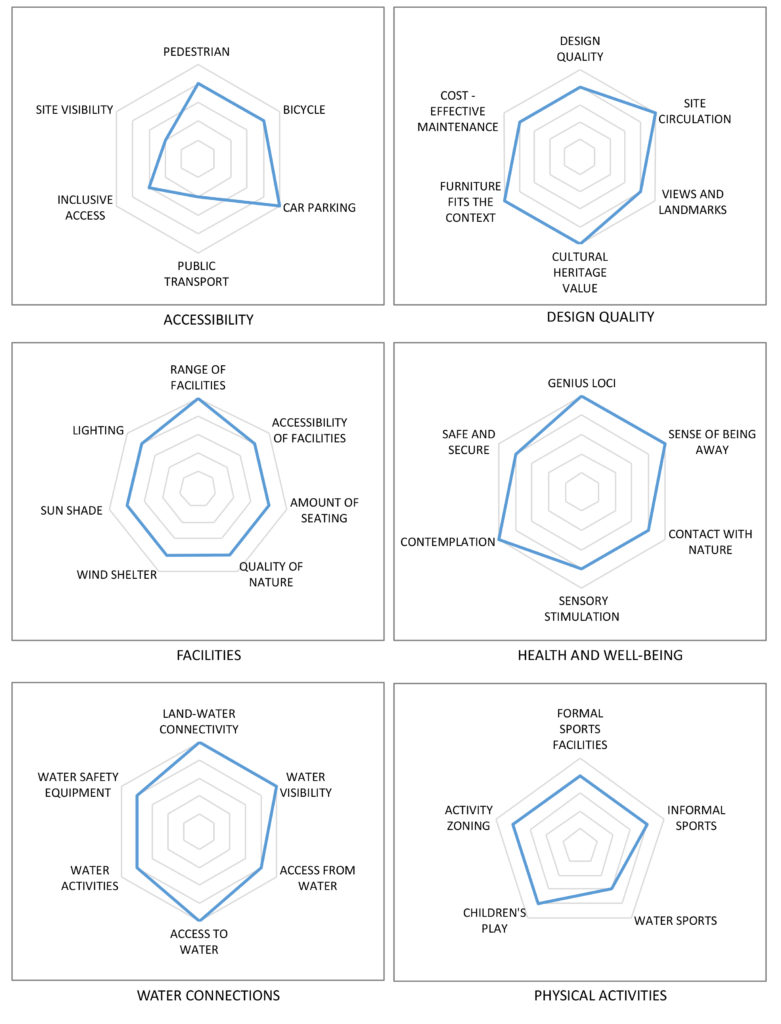 This project shows good accessibility apart from public transport as well as its visibility from a distance. The overall design quality is good, apart for potentially high costs of maintenance and views. It generally does well for facilities especially offering a wide range of facilities.
The health and well-being aspects are also generally well-provided for and this place also has a strong genius loci and opportunities for contemplation. Overall, it is a fine example of a project in this context making good use of a place to enhance the natural qualities with great design features and sensitivity to the site.