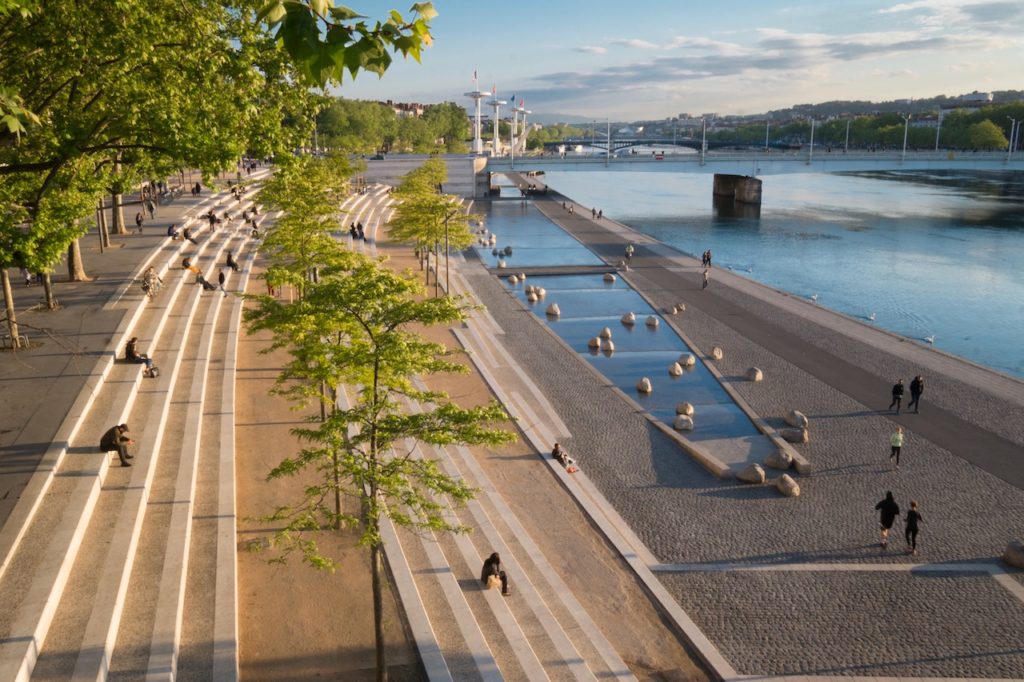 Architect
In Situ Architectes Paysagistes Atelier Descombes Rampini and Superpositions
Type of Area
Medium-sized river with artificial banks
Ornamental water feature or fountain
Land/water interaction
Embankment
Promenade
Terraces/steps
Built Environment Types
Highly built
Low green
Scale of Impact
Block
District/neighbourhood
City
Intervention Scale (Spatial)
Linear development – multiple interventions
Project Types
Riverfront development
Outdoor recreation
Urban design
Urban/ Rural
Inner urban area
Visibility and Openness
Fully enclosed
Fully contained view
Renaturalising the River
Historically, the Rhone riverbank in Lyon, France was a large linear harbour as in most cities with an industrial past. The so-called 'Berges de Rhône' development is a project undertaken by the city of Lyon, following an architecture competition, which was won by a team of landscape architects from IN SITU Architectes Paysagistes, architect Françoise-Hélène Jourda, and lighting designers from Coup D'éclat. The construction of the winning design was completed in 2007. The result is a transformation from a riverside car park to a multi-functional public space which re-connects the city and its inhabitants with the riverbank. This five kilometre long stretch of riverbank facilitates relaxing and socialising and furthermore encourages local residents and visitors to use public transport or light traffic options. It also facilitates a continuous route along the river for pedestrians and cyclists.
The project was financed through council funding, including the building costs and the provision for spaces for events. It also includes a strategy for maintaining and developing the project in the future. A key component of the design process was applying participatory governance techniques by engaging the local community. A request was made to find out the community's desires and ideas followed by a process to negotiate and merge the expectations of local people and the council to avoid conflicts. The site is also part of a Trans-European bicycle route from Lake Geneva to the Mediterranean coast, upgrading the Lyon section ensures a safe and picturesque experience for cyclists.
The linear route changes in its appearance and thematic content along its course. The width varies between five and 75 metres and this creates a different atmosphere which is described as being more natural in the upstream and downstream areas, and more urban in the centre. A large linear grass area together with an easily accessible linear basin and a terraced open space offers a stage for views over the river and defines the central section. This is accompanied by multiple lines of oak and elm trees on a raised esplanade, while a swimming pool and laid-out sport areas give a functional counterbalance. Refreshments, cycle hiring and fishing facilities are concentrated in certain points, while in other parts 'islands of grasses' provide more enclosed spaces for local residents. The intervention also links to the two largest parks and now provides a botanical walk, showcasing local types of vegetation.
The project does not reverse the historical development of the Rhone riverbank but adds a new component of a blue-green public space to the urban setting. It replaces the mono-functional spatial character and non-permeable materials and allows people to reconnect with the water in a quality riverside setting.
The Aire River garden is a river renaturalisation project that comprises different interventions implemented in four phases on a five kilometre length covering almost fifty hectares. It is designed in stages by Atelier Descombes Rampini with Superpositions as a creative collaboration between landscape architects, civil engineers, and biologists with the first three stages completed in 2015.
Perception and Meaning
Accessibility
Legibility
Sense of place
Health and Wellbeing
Place affordance
Increased physical activities
Aesthetic experience
Interaction with Water
Visual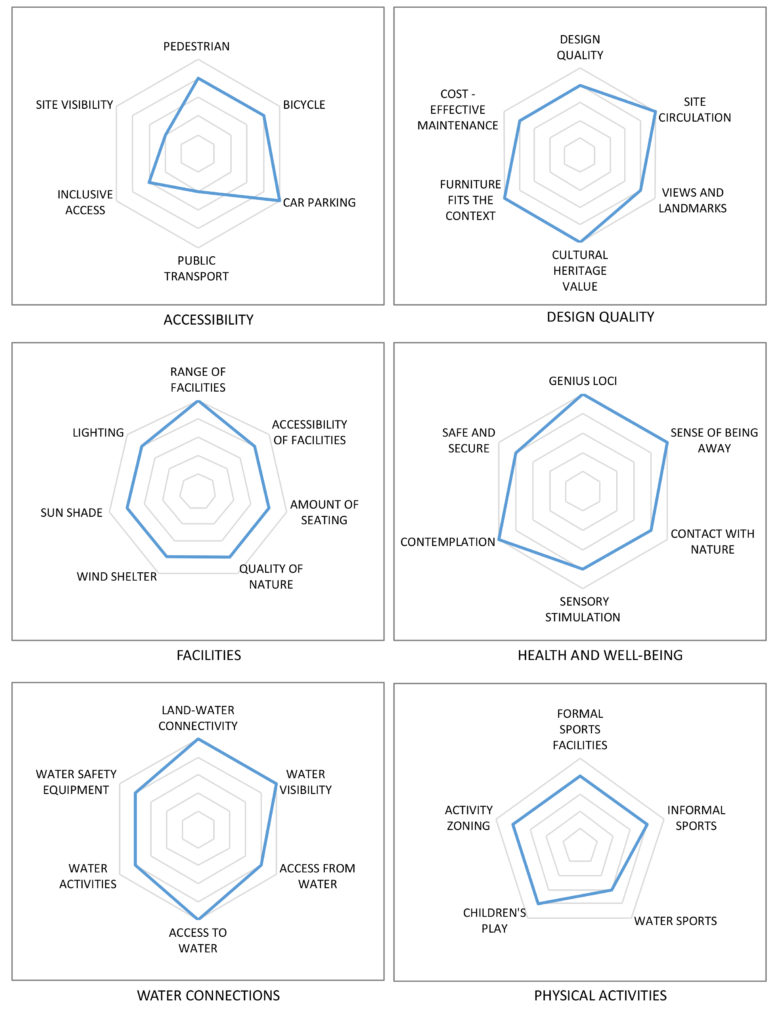 The overall access to the project is limited for public transport, while having improved the car parking but it is not very visible from the city side. The design quality and diversity are also quite high and reflect the upgraded relationship to cultural heritage. It performs very well for most aspects of facilities and it rates very highly for all aspects of health and well-being as well as having excellent water connections.
It has plenty of opportunities for physical activity but not for on-water sports.Good access to the project is provided for most users by most means of transport. The extended area of the project with its comprehensive design approach offers an overall high and original design quality, which also considers the facilities.