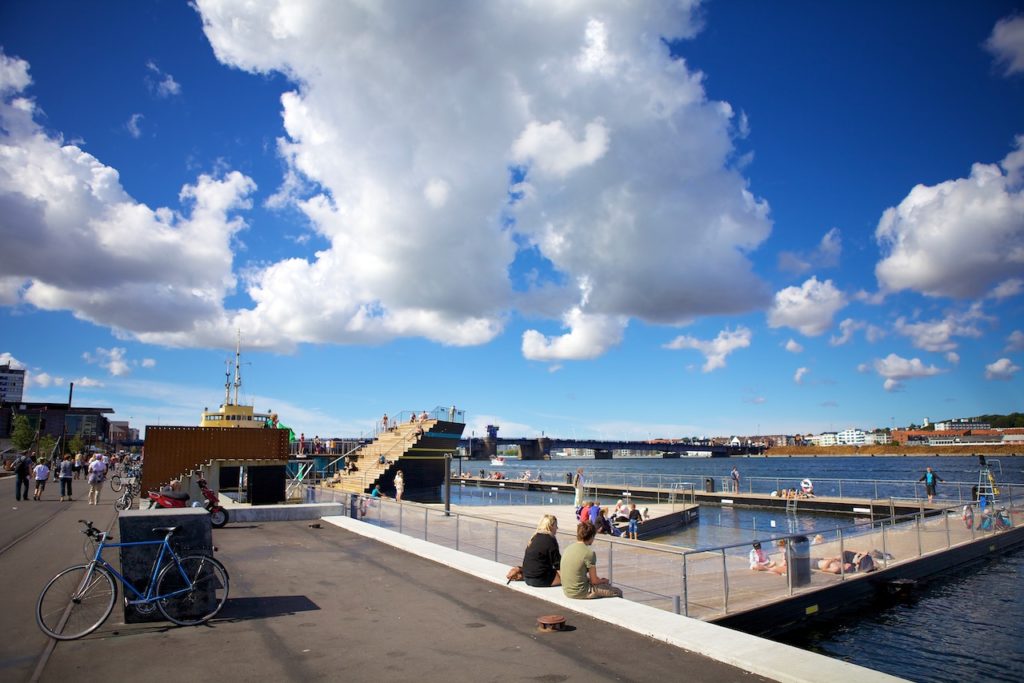 Architect
C.F. Moller Architects
Type of Area
Large river with artificial banks
Outdoor public swimming pool or lido
Land/water interaction
Harbour
Pier
Terraces/steps
Built Environment Types
Highly built
Low green
Scale of Impact
District/neighbourhood
City
Intervention Scale (Spatial)
Moderate site
Project Types
Riverfront development
Urban water features
Outdoor recreation
Urban/ Rural
Inner urban area
Visibility and Openness
Fully enclosed
Fully contained view
A New Cultural Centre
The new Aalborg waterfront was designed and built in two phases from 2004 and 2013 by C.F. Møller Architects together with Vibeke Rønnow Landscape Architects. Aalborg always had a dense functional connection to its fjord river, however, in the past decades it has changed from an industrial city into a university and cultural centre, where new cultural activities have moved into the former factory area at the adjacent fjord. In this context, the conversion of this area into the new waterfront not only functionally links the centre with the fjord by filling voids in the post-industrial urban fabric, but also creates a new relationship between the city and the fjord. It has become a new unifying landscape element, giving the use of the port back to the city
The first phase of the new waterfront was opened in late 2011 and the second stage continued with the same approach, where the promenade acts as a unifying component. Other variations of spaces close to the concert hall were added, highlighted by a rectangular platform with marked surfaces, called an urban plinth. The idea of this phase was to extend the waterfront promenade to resemble a marsh connected to the plinth as in a dune landscape. This plinth also provides necessary flood and wind protection for the area with a sequence of spatial gaps providing different elements such as wooden piers, pontoon terraces, seating steps and an outdoor public swimming pool. This interplay of linear spaces and rolling topography is inspired by the intersection of dune and beach, common in the Danish fjord landscapes.
The new promenade consists of varied squares and gardens which host markets, sports or play facilities and spaces for different seasonal recreation activities connected to water. These are integrated into the promenade sequence, creating green spaces with dense groves of native trees and shrubs, while the overall surfaces are reminiscent of the industrial past, asphalt, concrete and wood being the main materials. An emphasis was put on lighting for marking the waterfront at night to encourage visitors after dark.
In general, the new Aalborg waterfront provides an important upgrading of the city's living quality since the historical centre lacked green and public spaces for the city's inhabitants and users of the immediate neighbourhood. The whole area along the fjord now has a different character, offering a new aesthetic experience.
Perception and Meaning
Imageability
Legibility
Sense of place
Accessibility
Place identity
Health and Wellbeing
Place affordance
Better environmental perception
Increased physical activities
Increases socialisation
Aesthetic experience
Interaction with Water
Visual
Tactile – fully in water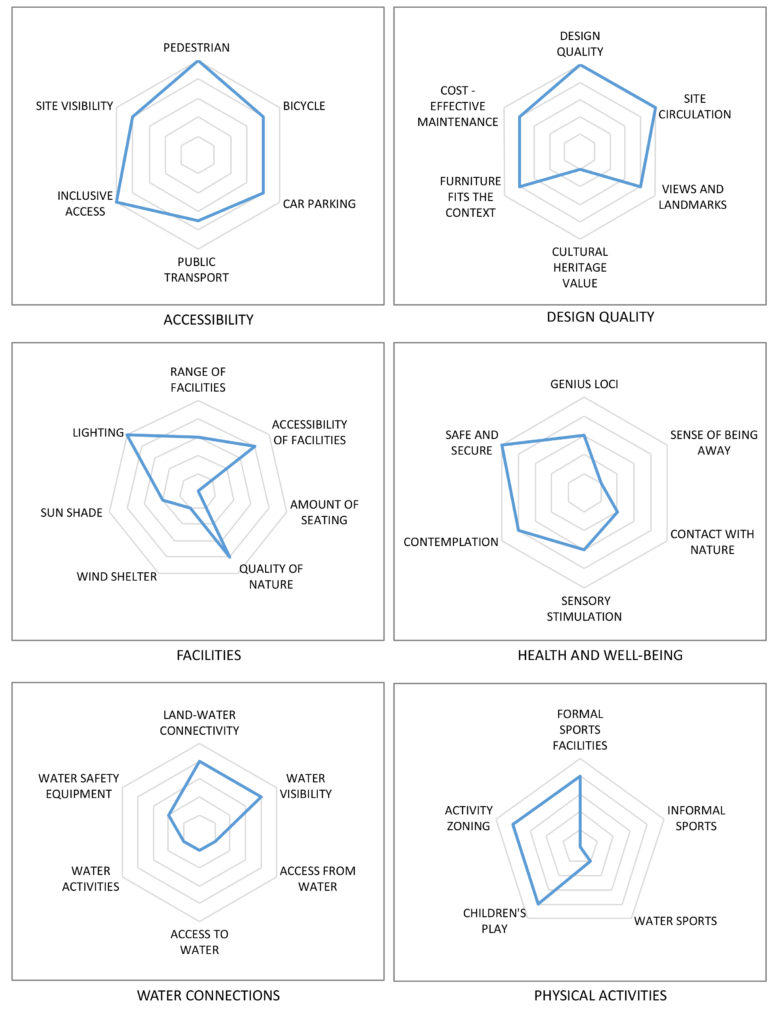 This project performs well for accessibility due to the layout and location, apart from public transport connections, surprisingly for Denmark. Design quality is good apart from the cultural heritage aspects which do not feature much in the project.
The extent of facilities is limited since it is exposed to wind and sun but offers a new quality of nature connected to features of the urban character. Also, the health and well-being potential is rather limited in terms of being away, genius loci and contact with nature.
Water connections are limited except for connectivity and access from the water, while physical activity opportunities are generally good but less so for informal ones and water sports. The project is excellent at achieving formal quality given the location and spatial limitations.