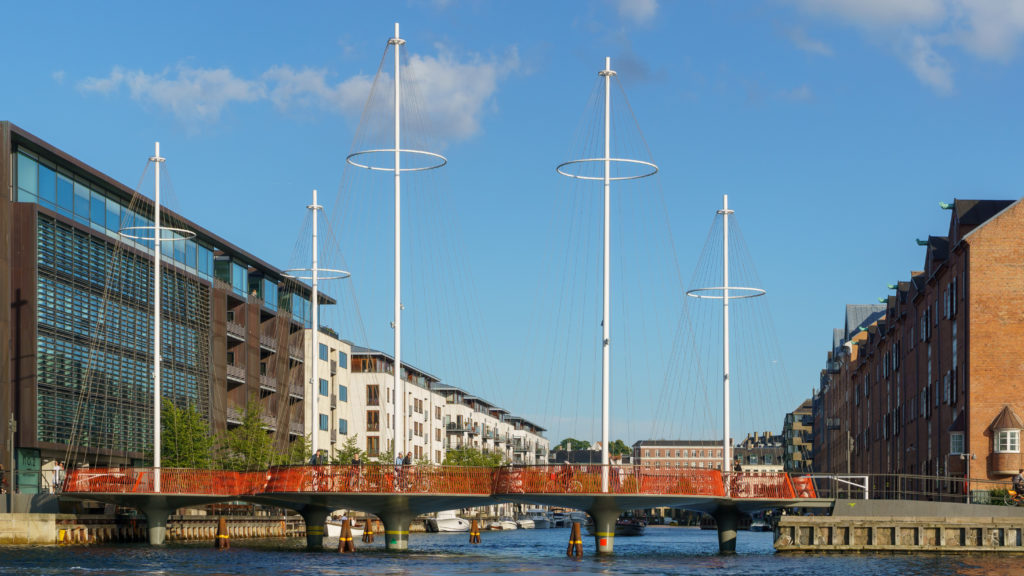 Architect
Studio Olafur Eliasson
Type of Area
Large river with artificial banks
Backwater
Land/water interaction
Harbour
Bridges
Built Environment Types
Completely built
Scale of Impact
Place
District/neighbourhood
City
Intervention Scale (Spatial)
Single object
Project Types
Infrastructure regeneration
Urban design
Cultural regeneration
Urban/ Rural
Urban core
Visibility and Openness
Fully enclosed
Fully contained view
Links to a Bustling Historic Harbour
Cirkelbroen or The Circle Bridge connects the areas of Nyhavn or new harbour with the trendy, alternative district of Christianshavn. Copenhagen's harbour was once bustling with maritime activities and the bridge echoes this past, as it is designed to resemble the masts of sailing boats moored closely together.
The bridge forms part of a wider Copenhagen City Council plan to encourage pedestrians and cyclists to use the harbour route rather than the road and to boost life in more isolated parts of the city. It also closes the remaining gap in the waterfront cycle route leading from the harbour to the city centre. As many as 5000 people use the bridge each day.
The bridge creates a sense of place that links the present modern city with its past and brings a new visual perspective across the canal. The zigzag design of offset circular platforms reduces the speed of cyclists and it is hoped this will encourage them to slow down and take a break.
As well as linking different areas of the city for pedestrians and cyclists, the bridge is designed as a place to socialise and linger with viewing points and seating areas. The central platform articulates by swinging back on itself for boat traffic to pass through, although smaller boats can pass underneath the elevated sections.
The wooden circular decking platforms are edged with a lattice structure and railings made from Guariuba wood from Brazil, which give an open feel to the construction. At the centre of each platform is a mast, all at different heights. Light is integral to the design and can be individually controlled, switching on and off automatically.
Perception and Meaning
Imageability
Accessibility
Place identity
Genius loci
Health and Wellbeing
Place affordance
Increased physical activities
Increases socialisation
Restorativeness
Interaction with Water
Visual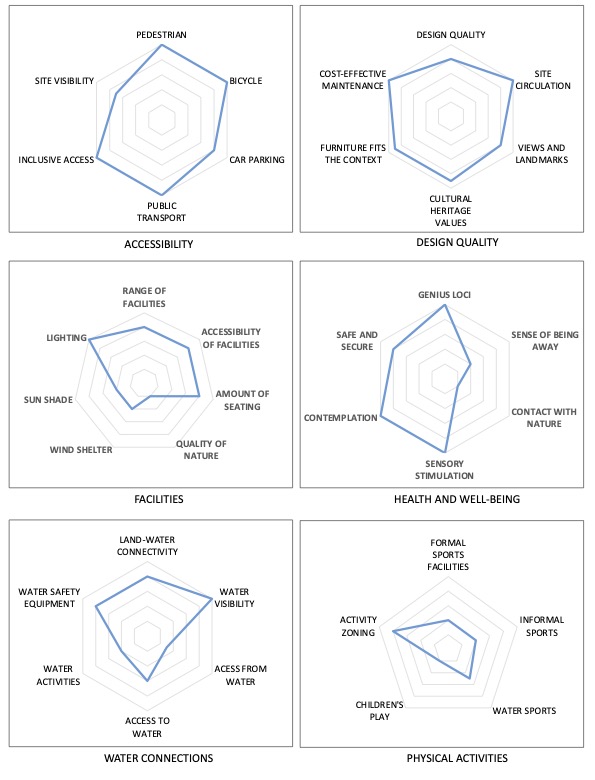 As the project is in a central location of Copenhagen, then the accessibility of the site is already high, however it also forms part of the city's plan to promote pedestrian and cycle traffic and therefore improves both the overall accessibility and site circulation to an even greater extent.
Contact with the water is understandably low with limited access down to it as the focus is on providing a pedestrian and cycle route over the harbour; however, there is scope for contemplation of the view of the water from the seating provided and the design aiming to slow the movement of people across the bridge to give them time to appreciate the environment the water provides.
The design links to the past maritime activities of the area and therefore connects the bridge to the cultural and historical past. This provides some scope for imaginative play for children but this will be restricted as a busy traffic intersection, albeit one that aims to slow people down to be conscious of their surroundings.