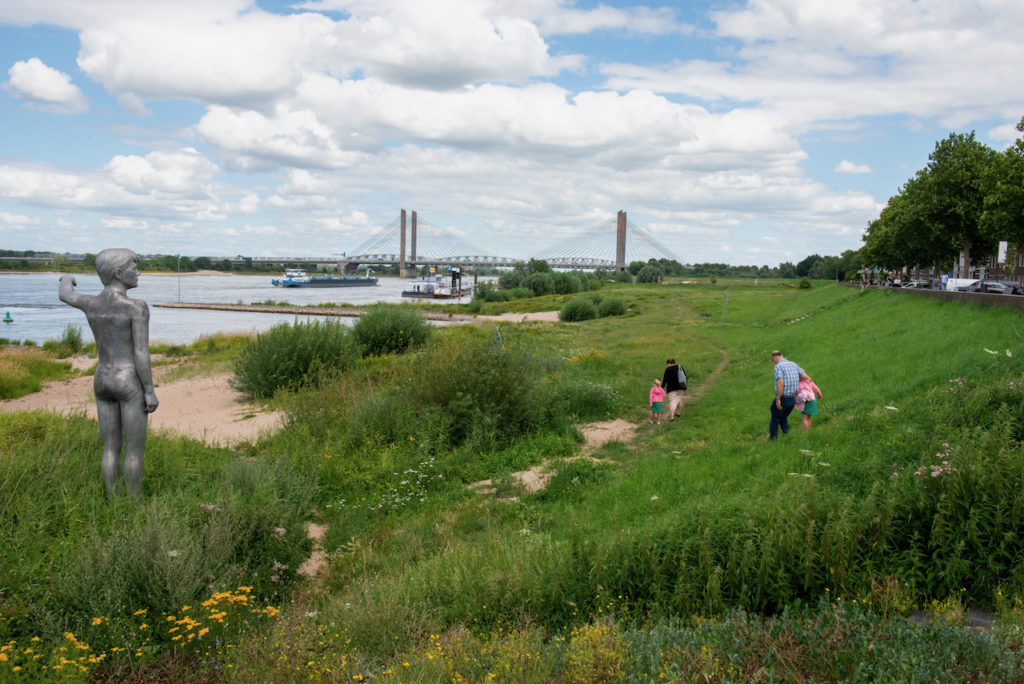 Architect
Municipal development
Sculptor Marcel Smink
Type of Area
Large river with natural banks
Land/water interaction
Sandy beach
Riprap
Promenade
Built Environment Types
Low built
High green
Scale of Impact
Block
District/neighbourhood
City
Intervention Scale (Spatial)
Small site
Project Types
Flood protection
Outdoor recreation
Public space regeneration
Urban/ Rural
Inner urban area
Visibility and Openness
Fully enclosed
Fully contained view
More than just flood protection
Over the years the Dutch have relied on dikes to keep floodwaters out of the towns, but in recent years a new approach has been taken to strengthen the weak links in the dikes. River fronts have been redesigned with new flood protection systems. The ancient city of Zaltbommel lost its links to the river, so the new flood prevention system provided the opportunity to reconnect the town to the river. The project also reconnected the city with its past by linking the historical fortifications via a plaza to the new promenade that runs along the riverbanks. The promenade wall provides continuous seating places where the natural riparian environment can be viewed.
Temporary flood barriers are used to raise the level of the wall by 50cm and seal gaps that provide access to the river during flood alerts, which ensures that views of the river are not obstructed when the river is not in flood. Access from the promenade leads to riverside beach areas Two pieces of artwork by the artist Marcel Smink are included in the project. One of the sculptures is sited next to the river on the floodplain. The 4m high statue of a boy in his swimming trunks holds out his hand level with the top of the quay wall to indicate how high the river Waal can get before the town of Zaltbommel floods – a visual reminder of the capacity of the river to overflow the defences. On the quayside plaza is a second related statue of a boy but with only the head, chest and hand visible.
The renovation provides a recreational area for local residents with new roads improving connectivity to the promenade. The open space with simple paving and seating is also a space to hold running competitions, including marathons. The art installations add to the attractiveness of the area.
Perception and Meaning
Imageability
Knowledgeability
Place identity
Health and Wellbeing
Increased socialisation
Increased physical activities
Place affordance
Interaction with Water
Visual
Tactile – touching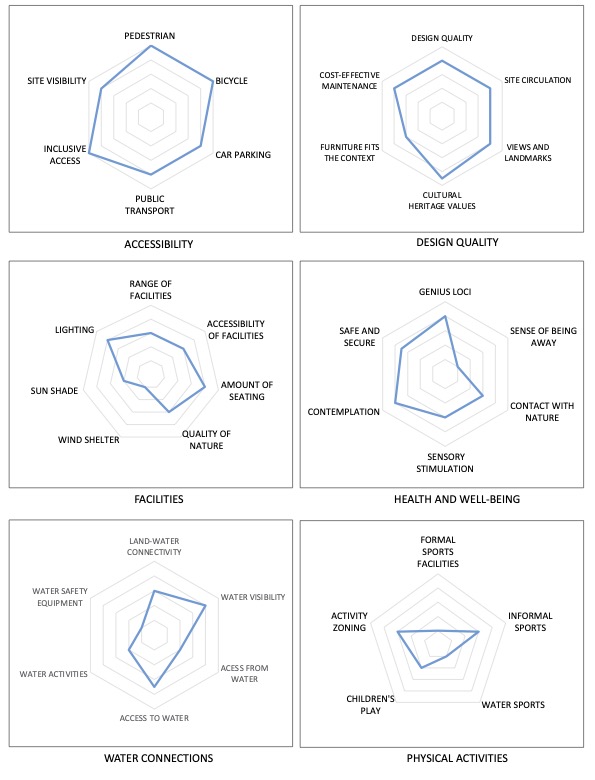 As can be seen from the ratings, this design has greatly improved the accessibility to the riverbank area through the creation of the new promenade with access points. The flood barriers also provide ample seating places for river views.
The old fortifications are incorporated into the design and thus creates a bond with the past, enhancing the cultural and heritage values of the project.
Whilst the wide-open promenade provides free movement that is also wheelchair accessible, and with good views of the river it does not provide shelter from the sun or wind. The river is not suitable for water-based activities as it is an active shipping route, and hence the project has a low rating for this, although it is possible to take a river cruise.