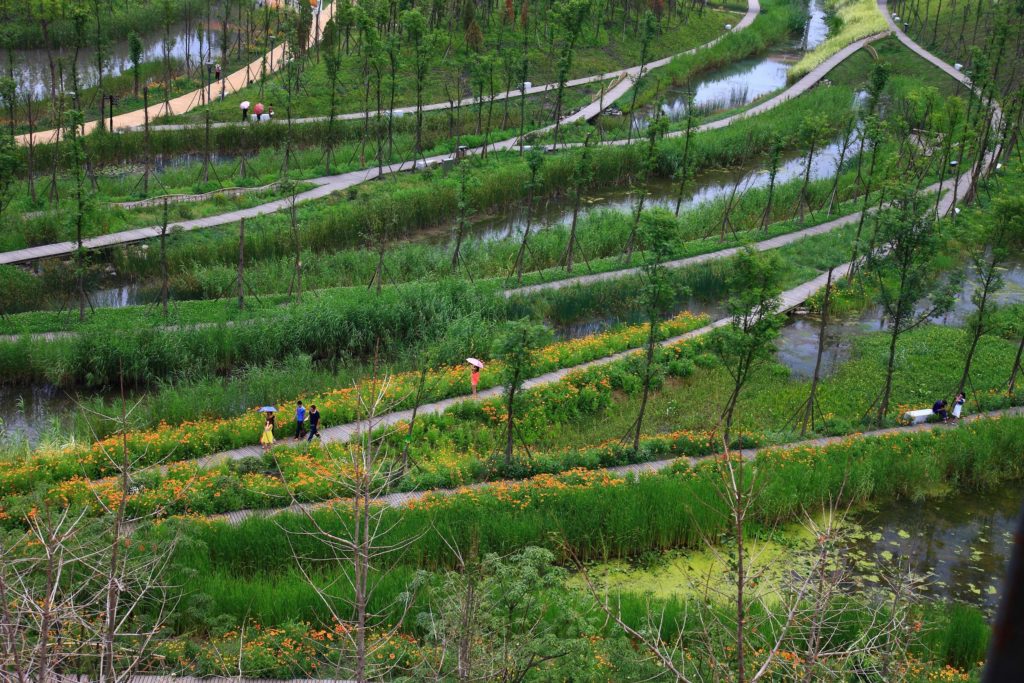 Architect
Turenscape Landscape Architecture
Type of Area
Large river with natural banks
Wetland
Pond
Land/water interaction
Bridges
Riprap
Marshland
Built Environment Types
Low built
High green
Scale of Impact
City
Regional
Intervention Scale (Spatial)
Large site
Project Types
Public space regeneration
Wetland restoration
Outdoor recreation
Urban/ Rural
Urban fringe
Visibility and Openness
Fully enclosed
Fully contained view
Restoring life to the city
The project is situated in Liupanshui City, along the Shuicheng River in China and aimed to restore the ecology of a highly polluted and canalised river. It has been transformed back into the lifeline of the city by using native vegetation and removing the old concrete embankments and replacing them with natural ones.
The project upgraded the urban open spaces and increased the value and accessibility of the urban waterfront. A continuous pedestrian and bicycle pathway helps to integrate the urban recreational and ecological spaces by connecting the service centre, art museum, a commercial development, and residential and school developments. A coloured bridge called the "Steel Rainbow" curls its way across the lake and serves as a landmark recognising the city's long history as an important industrial base for coal and steel production in southwest China.
The designers took advantage of various topographical features such as a 15 to 20-metre wide greenway and elevation change along the Shuicheng River drainage basin to create a terraced riverfront landscape. By incorporating existing streams, fishponds and low-lying land they created a site that provides ecological flood control measures. The series of wetlands with various carrying capacities purifies the water coming down from the mountain streams, controlling the flow and allowing it to recharge the groundwater.
Perception and Meaning
Imageability
Legibility
Sense of place
Accessibility
Place attachment
Health and Wellbeing
Sense of being away
Better environmental perception
Restorativeness
Tranquility
Aesthetic experience
Interaction with Water
Visual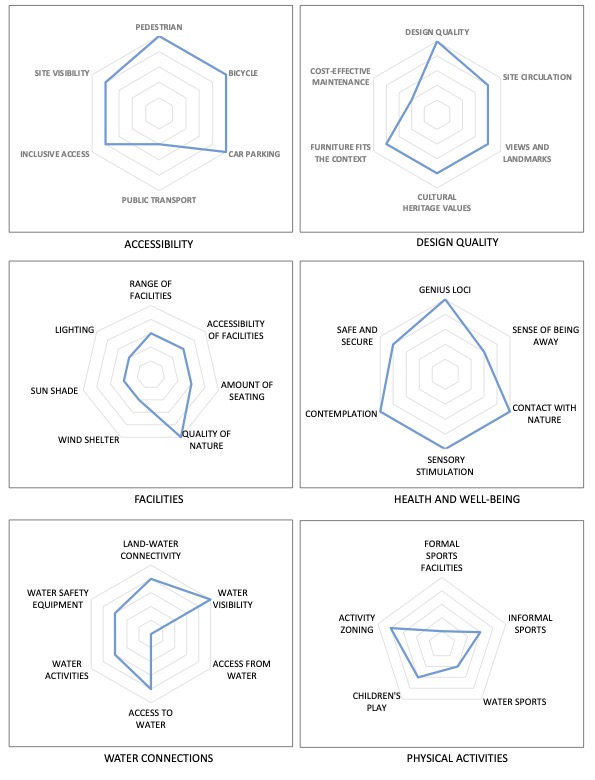 The site is accessible by car, on foot and by bicycle and there is a well-developed transportation network to the site. The numerous paths, boardwalks and decks allow people to walk or cycle through the wetland as well as the opportunity to get close to the water. The site also provides platforms and pavilions ideal for resting, contemplation and viewing of the area. Other health and well-being potentials include good contact with nature and sensory stimulation and the place has a strong Genius Loci. However the sense of being away is not fully developed.
The industrial cultural heritage is recognised by the metal bridge linking the new construction with the city's built history and the natural heritage of the area is acknowledged by the use of indigenous planting.
The improved accessibility to the waterfront has improved the visibility and connection to the water. However, access to the water itself is still restricted due to the pollution which is still present while there is no access from the water. Seating around the site allows people to be able to sit and contemplate the water views but these are limited in number.
.