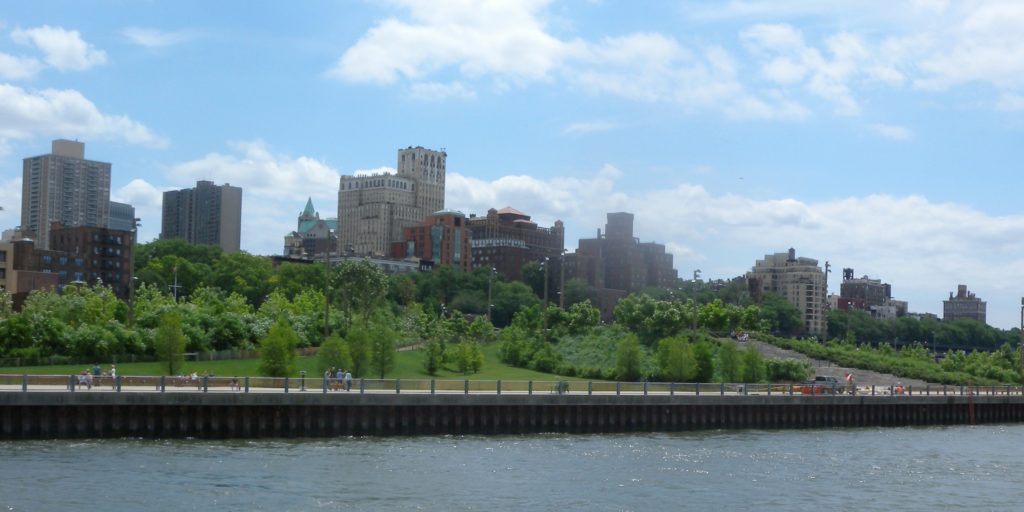 Architect
Michael Van Valkenburgh and Associates
Type of Area
Large river with artificial banks
Land/water interaction
Riprap
Promenade
Stony beach
Built Environment Types
Completely built
Scale of Impact
Block
Intervention Scale (Spatial)
Linear development – multiple interventions
Project Types
Riverfront development
Green infrastructure
Urban design
Urban/ Rural
Urban core
Visibility and Openness
Partly enclosed
Partly contained
From Cargo Storage to City Park.
This project occupies a substantial site along the East River in New York. The park was designed by Michael Van Valkenburgh and Associates for the Brooklyn Bridge Park Development Corporation. The land for the park was formerly an industrial stretch of waterfront owned by the Port Authority of New York and New Jersey.
The objective was to transform what had been a break-bulk cargo shipping and storage complex which had become obsolete once shipping containers took over the maritime cargo trade. After the city and state signed a joint agreement in 2002, site planning and project funding went ahead.
The first phase in 2007 included the demolition of a warehouse under the Brooklyn Bridge itself. Since the opening of the first phase at Pier 1, more and more sections of the park have been completed. However, there have been disputes and lawsuits over several aspects, including the construction of residential developments to help pay for the project.
The site covers 85 acres/35.4hectares and runs along the waterfront for 1.3 miles/2.2km, incorporating six old piers and two pre-existing parks (Empire–Fulton Ferry and Main Street Parks) into the whole project. The site comprises two stretches at an angle to each other, dominated at the apex by the huge tower of the Brooklyn Bridge itself.
The design made use of the different dock edge conditions to create a range of settings for people to enjoy and to view the iconic cityscape of Lower Manhattan to be seen across the river along a continuous promenade linking the different piers. The facilities provided include playgrounds, basketball courts, sports fields and a roller skating rink. There are also lots of food concessions on the site. In places the park descends to the water, with rock edges and green slopes with trees behind. Each of the piers can be considered a mini-park with different designs and innovative approaches to creating spaces and adding vegetation to the elevated structures. The design made use of recycled materials, such as old beams for park benches.
Perception and Meaning
Accessibility
Sense of place
Legibility
Health and Wellbeing
Place affordance
Increases physical activities
Better environmental perception
Restorativeness
Tranquillity
Interaction with Water
Visual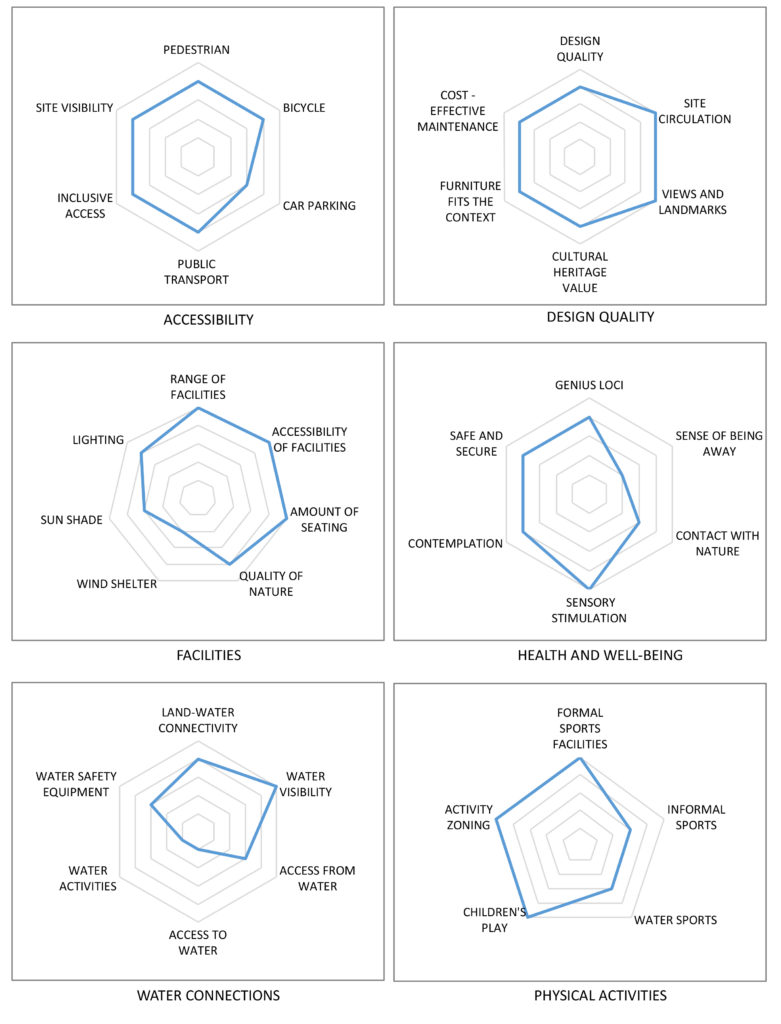 The project scores show a very accessible park – less so for car access due to limited parking opportunities. The site scores high in design quality and in the range of facilities – albeit it is exposed to sun and wind – and provides good settings for health and well-being apart from a sense of being away and close to nature, due to the site context.
Water connectivity is limited and the dock walls prevent physical contact. The site is very well-equipped for land-based formal sports but not for water sports..