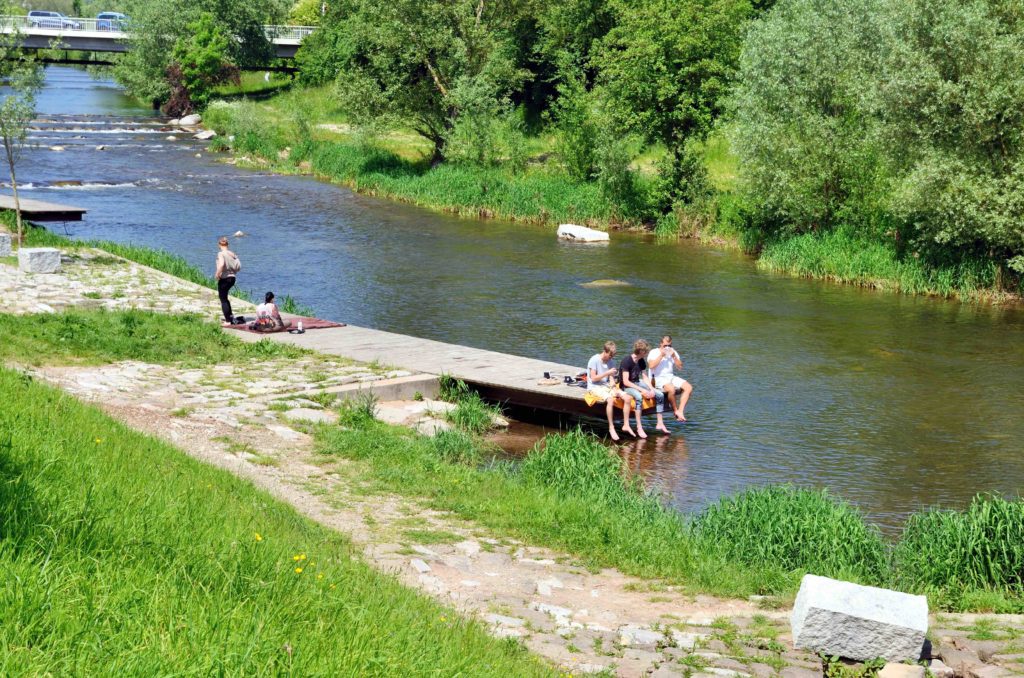 Architect
Gerhard Zickenheiner
Type of Area
Stream with natural banks
Land/water interaction
Riprap
Built Environment Types
Complete nature
Scale of Impact
Place
Intervention Scale (Spatial)
Small site
Project Types
Riverfront development

Urban/ Rural
Urban Fringe
Visibility and Openness
Fully enclosed
Fully contained view

River Rejuvenation: Freeing the River.
The River Wiese is 57.8km long and straddles the border of southwest Germany and northwest Switzerland. The river arises from its source in the Black Forest but most of its course is situated in the county of Lörrach before flowing into the Rhine near the city of Basel in Switzerland.
The Wiese was once used as a laundry place, to water livestock and to wash the local brewery horses. In the 19th century it became an important part of Lörrach's textile industry. During this era the river was straightened and made to run through a hard channel, protecting the river-side industries from flooding.
The Wiesinonen project was brought about through the efforts of the city's residents to enhance the river's ecological qualities, to integrate it into the city and to promote its use. The project consisted of converting the low weirs into river bottom ramps and the construction of a fish ladder to bypass a weir on the border, making it possible for fish to migrate upriver once again.
The water flows over a series of zig-zag sills or rock baffles and deflecting groynes which change the direction of the flow and increases the river's dynamics, creating scour holes thus enhancing fish habitat. The river now provides a place for nature and the calm, quiet gurgling of the river serves as a place for regeneration and recreation for tourists and locals.
People can enjoy sunbathing on the banks and the flood protecting jetties. Barbecue sites are provided at the edge of the meadow. It is also a place for walking, jogging and walking the dog, thus providing an area for social activity too. The river area also provides a rest stop for a regional bicycle path located along the top of the embankment. A path leads down from the cycleway to the river.
Perception and Meaning
Accessibility
Legibility
Sense of place
Place attachment
Health and Wellbeing
Increased physical activities
Place affordance
Aesthetic experience
Restorativeness
Interaction with Water
Visual
Tactile – Partly in water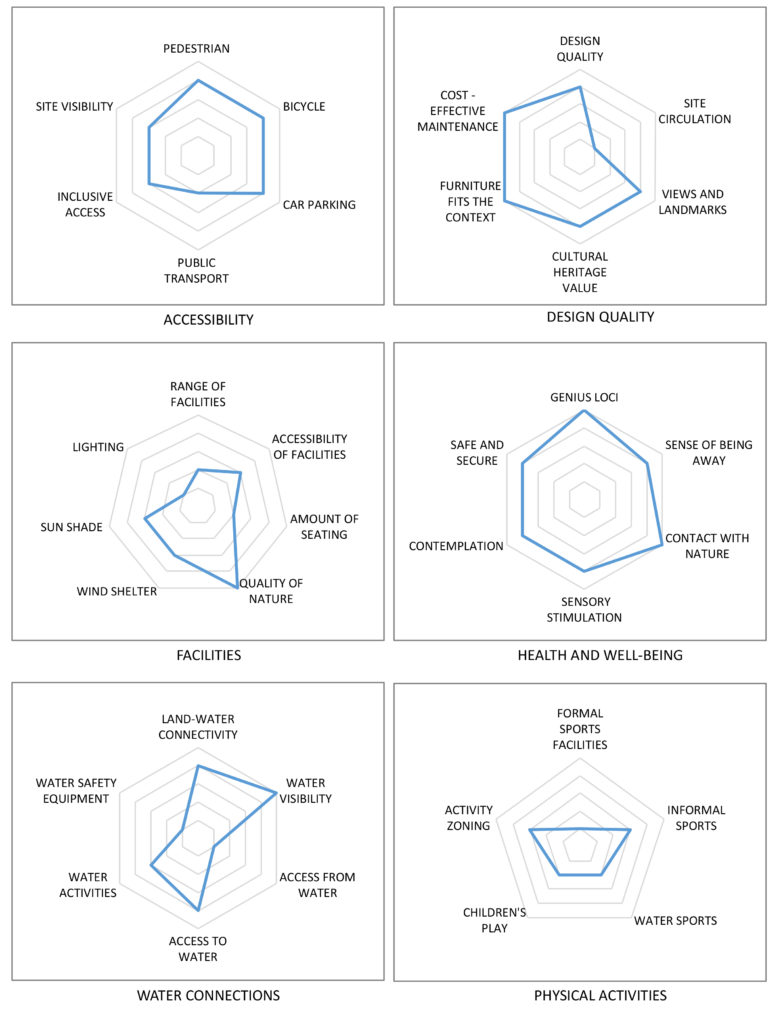 Accessibility to this site is generally good, especially with its connections to the cycle way, however the riverside path itself is rough and uneven, which makes walking by the side of it difficult for those with wheelchairs or pushchairs.
The site is focused on improving the ecological habitat, therefore the provision of lots of facilities to the site is not part of the remit and so understandably rated low, apart from the quality of nature which is excellent. The health and well-being benefits from this site are also excellent as there are plenty of opportunities to engage with nature and it also provides a sense of being away.
Access to the water is good due to the jetties and baffles that provide a place to be able to be in contact with the water. However, it is not a site for water sports due to its ecological focus.