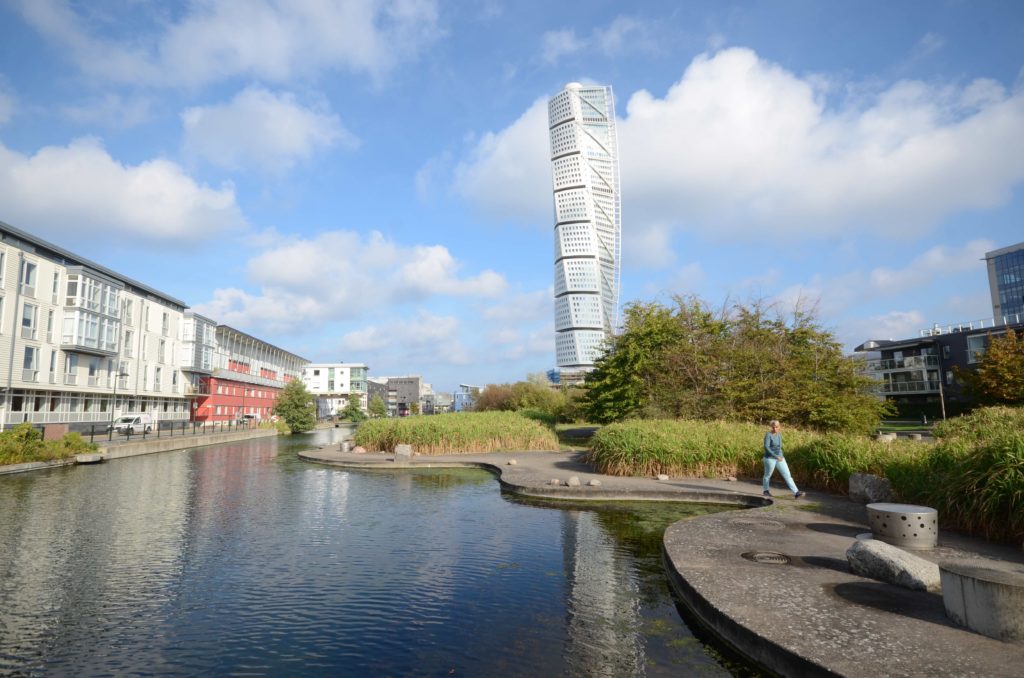 Architect
City of Malmö and SLA
Type of Area
Stream with artificial banks
Land/water interaction
Promenade
Terraces/steps
Bridges
Built Environment Types
Completely built
Scale of Impact
District/ neighbourhood
Intervention Scale (Spatial)
Moderate site

Project Types
Urban water features
Housing development
Green infrastructure
Urban/ Rural
Inner urban area
Visibility and Openness
Fully enclosed
Fully contained view
Form and Function.
The site under review was designed by Stig L. Andersson (SLA) in 2000-2001 as a central open space within the new urban development at the Västra Hamnen, or Western Harbour, in Malmö.

This was an area of docklands on land artificially reclaimed from the sea in the period between 1948 and 1987 when the economic downturn led to it being abandoned as a harbour. After a period lying unused, a new set of economic opportunities emerged following the opening of the Öresund Bridge in 2000. The Västra Hamnen then became the site for the development of a new urban residential quarter, whose iconic symbol is the tower block known as the Turning Torso (which stands overlooking the park).

The area is divided into different architectural zones with a range of styles and models. The focus is on safe and pedestrian-friendly streets, with vehicular traffic limited in its entry and a human scale. The seafront retains the harbour walls and features an esplanade park. In the centre of the district lies the Anchor Park which forms the main public space for the district and which is well connected to the rest of the residential areas and to the esplanade via a number of paths.

The park follows the line of an original channel through the area, now a shallower linear lake, with one side having a straight edge formed of concrete and a promenade next to residential buildings. On the opposite side the channel takes a more serpentine form, still formed from concrete but backed by extensive grassy areas and groups of trees surrounding some wetlands to help deal with storm water. The site is furnished with wooden decks and bridges and the water area connects with the rest of the water system by canals leading to and from it, acting as water retention.
Perception and Meaning
Imageability
Sense of place
Place attachment
Health and Wellbeing
Place affordance
Increases socialisation
Better environmental perception
Interaction with Water
Visual
Tactile: touching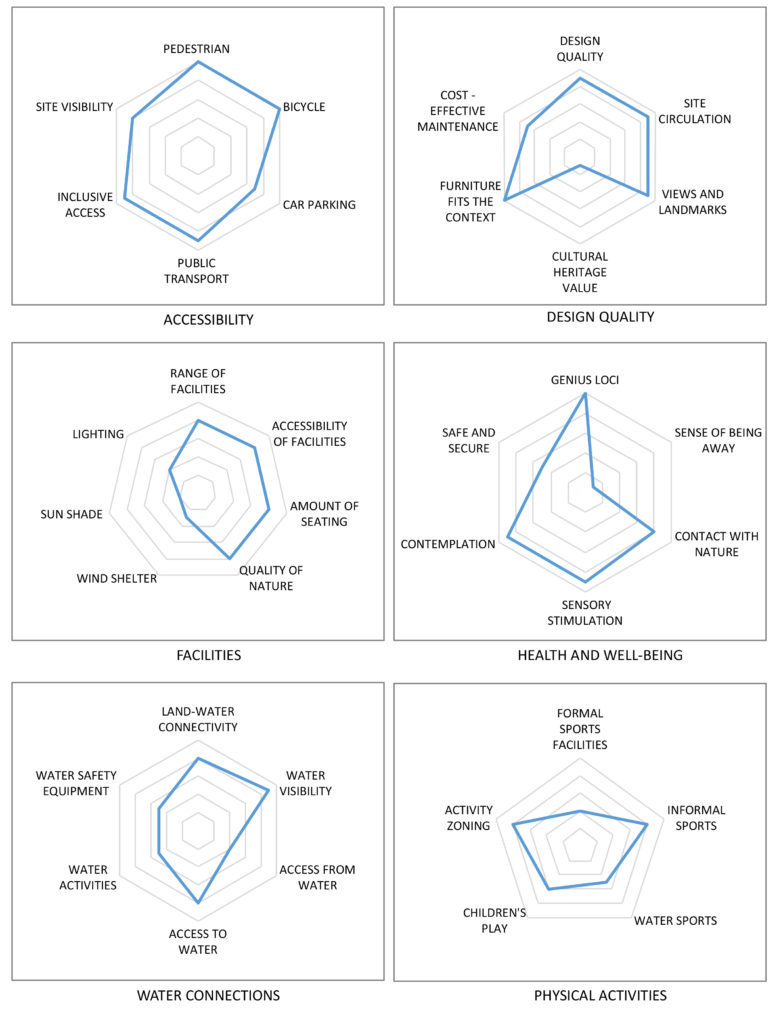 This project scores highly for accessibility – although not so much for cars, since these are deliberately designed out of the project, while little reference to cultural heritage can be found in the park itself owing to the complete redevelopment of the original site. The facilities lack shade and shelter and there is a low degree of lighting within the park.

The health and wellbeing aspects are good although there can be no sense of being away, given the fact it is overlooked by housing, and the lack of lighting may lower the sense of safety and security in places (although it is overlooked). The water body is not designed for recreation so scores low in this regard nor is the park equipped for formal sports, although other physical activities can be pursued.