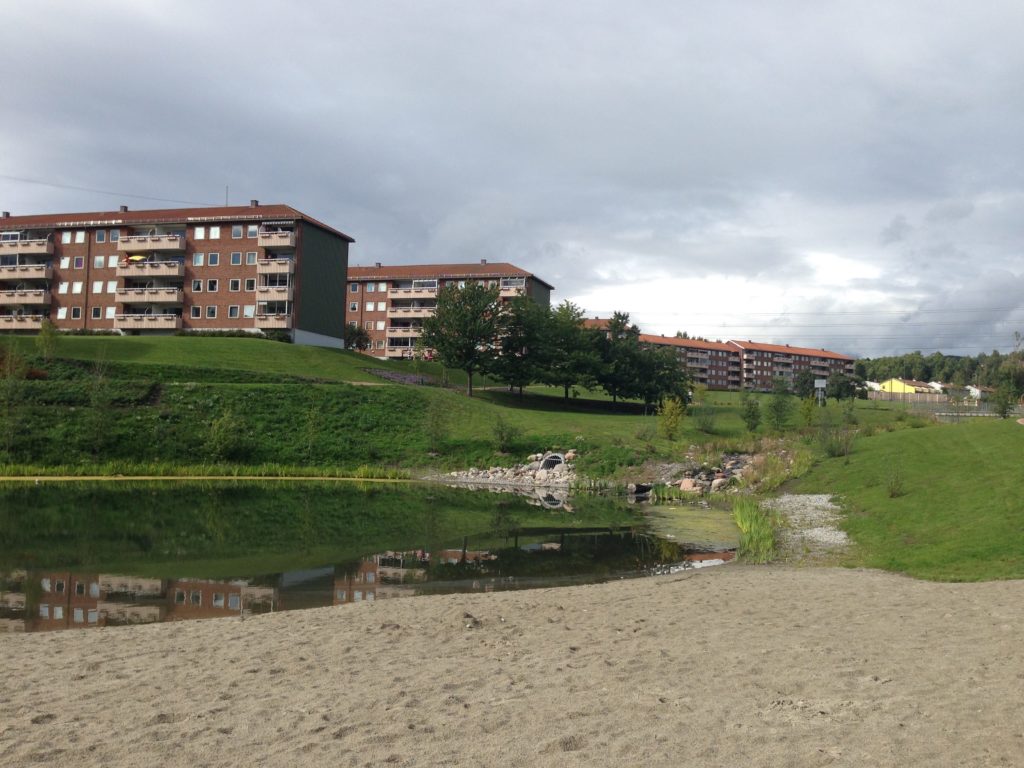 Architect
Dronninga Landskap AS
Type of Area
Pond
Land/water interaction
Riprap
Sandy beach
Terrace/steps
Built Environment Types
Moderately built
Moderate green
Scale of Impact
Place
Block
District/ neighbourhood
Intervention Scale (Spatial)
Linear development – multiple interventions
Project Types
Green infrastructure
Outdoor Recreation
Public space regeneration
Urban/ Rural
Inner urban area
Visibility and Openness
Fully enclosed
Fully contained view
Reopening the Brook.
Bjerkedalen Park is located in the urban district of Bjerke in Oslo. The project was developed by the landscape architect firm, Dronninga Landscap in conjunction with local residents and it has renewed the park by providing a completely different water experience. The Hovin brook was reopened after fifty years underground, creating a new riparian landscape that runs through the park. The 300m section of brook falls 13m through a series of waterfalls and rapids and the banks have been planted with native trees and shrubs.
The park has also been redesigned to take into consideration the seasonal variability, allowing both summer and wintertime use; for example, at the southern end of the park one can enjoy swimming in the pond on warm summer days and skating in winter. In addition, small bridges over the brook have been designed to be compatible for snowploughs.
The development incorporates new recreation areas with sports facilities including a beach volleyball area and basketball court. There is a central promenade with several small trails that are pedestrian and cycle friendly. As well as providing opportunities for walking or jogging, the network of pathways leads to picnic tables and benches for viewing and relaxing.
At the centre of the park there is an open air theatre with a pavilion that contains a café, storage area and toilets. The brook with its pocket beach and rip rap edging offers an opportunity for children's water play, bathing and a chance to explore the aquatic life, such as char, trout and crayfish, which live in the water.
The site has LED lighting that is adapted to different zones allowing easy, safe movement along the pathways. Smoke Granite has been used as curbs, steps, drains and bridge piers to create a physical connection to the red granite and gravel on the paths.
Perception and Meaning
Accessibility
Place identity
Health and Wellbeing
Increased physical activities
Place affordance
Aesthetic experiences
Interaction with Water
Visual
Tactile: fully in water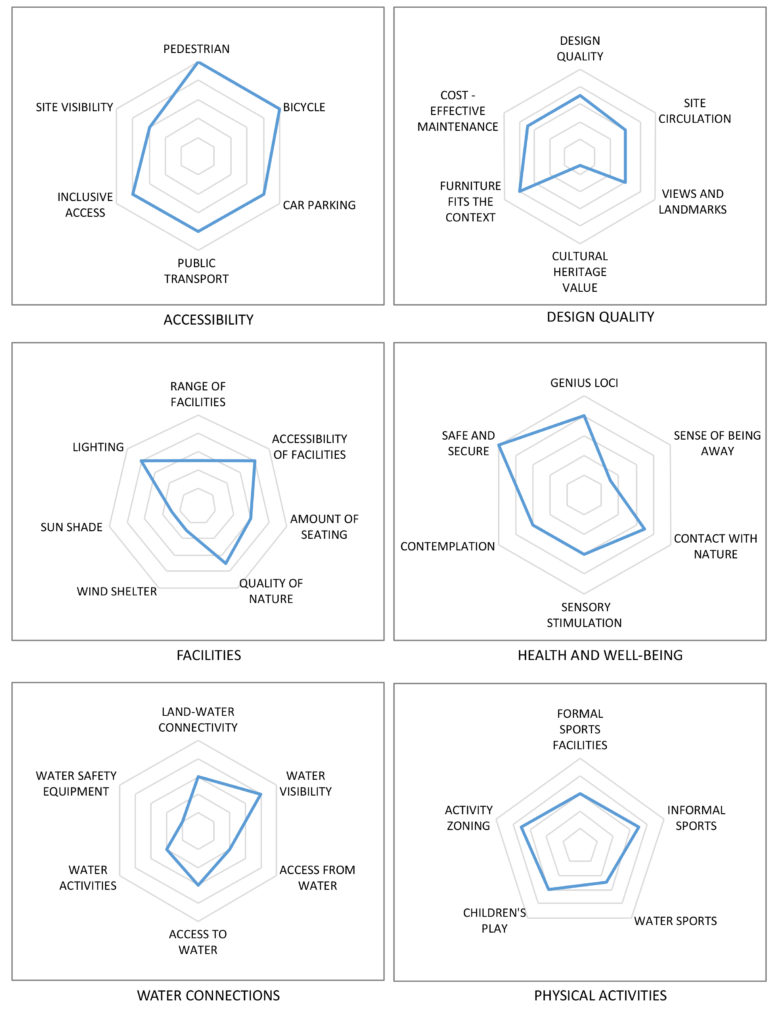 Website of the project:
Google map reference
The ratings for this site shows good accessibility to the nearby residential district and nearby road infrastructure. As a small brook the site visibility and range of facilities is understandably low. A reopening of the enclosed brook in collaboration with the local inhabitants has contributed to the genius loci of the place, which provides a degree of contact with nature that may develop over time as the park evolves. The narrow nature of the site, however, restricts the opportunities for water activities and so these are rated as low..