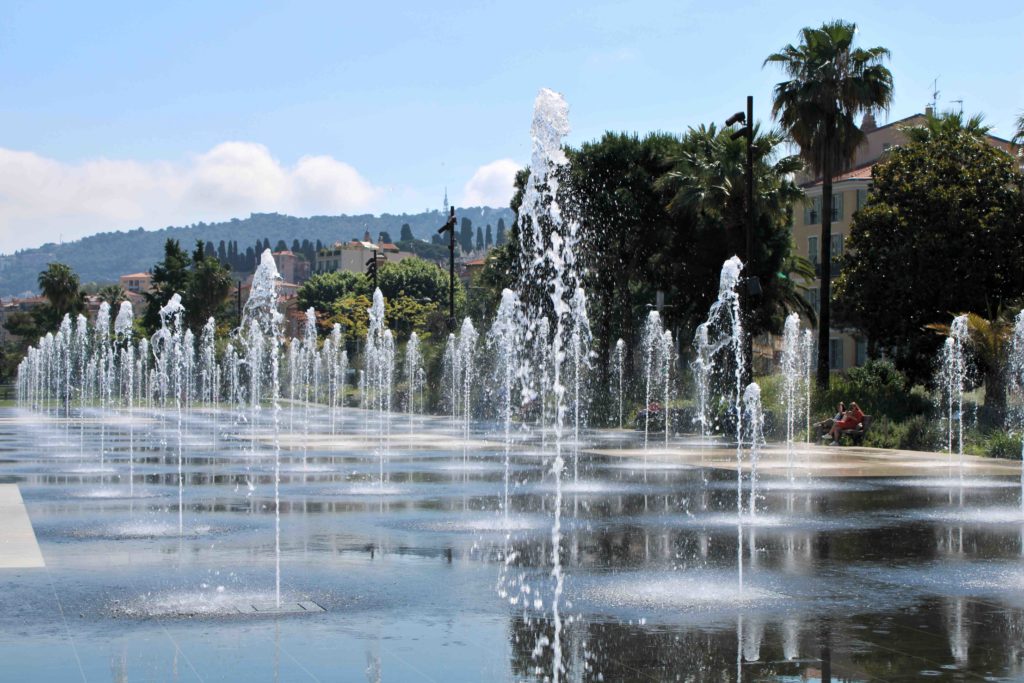 Architect
Pend Paysages
Type of Area
Ornamental water feature or fountain
Land/water interaction
Fountain
Built Environment Types
Moderately built
Moderate green
Scale of Impact
District/ neighbourhood
City
Intervention Scale (Spatial)
Linear development – multiple interventions
Project Types
Urban water features
Outdoor Recreation
Urban design
Urban/ Rural
Inner urban area
Visibility and Openness
Fully enclosed
Fully contained view
The Cool Heart of Nice.
The Promenade du Paillon is the outcome of 10 years building work, undertaken by successive mayors of Nice. It forms a part of the new 'green axis' that runs through the heart of the city terminating at the seafront. The promenade is surrounded by buildings with different architectural styles and historically this area has been devastated by various flood events.
The project covers 12 hectares and is 1.2 kilometres long. The aim was to rejuvenate the space by reorganising the transport infrastructure. The old bus station and car park were demolished and a new tram network was added.
As Nice is a tourist destination, the Promenade du Paillon is well used by visitors as it provides a walk to the sea in a cooler, green space. It is not, however, just a tourist attraction but it is also a place for locals to go out for a stroll or a jog at the weekend, as well as a place for children to play in a safe and well-maintained area.
There are benches and shelters along the paved pathway to take in the view of the fountains and to socialise; there is also a plaza and a lawned area. The aim was to provide a better quality public garden rather than one in a historical style, so there are sculptural exhibits which add visual value to the park and an exhibition showing what the Paillon riverbed looked like before it was covered up.
Perception and Meaning
Imageability
Focal point
Place identity
Health and Wellbeing
Increased physical activities
Increased socialisation
Place affordance
Interaction with Water
Visual
Tactile – Partly in water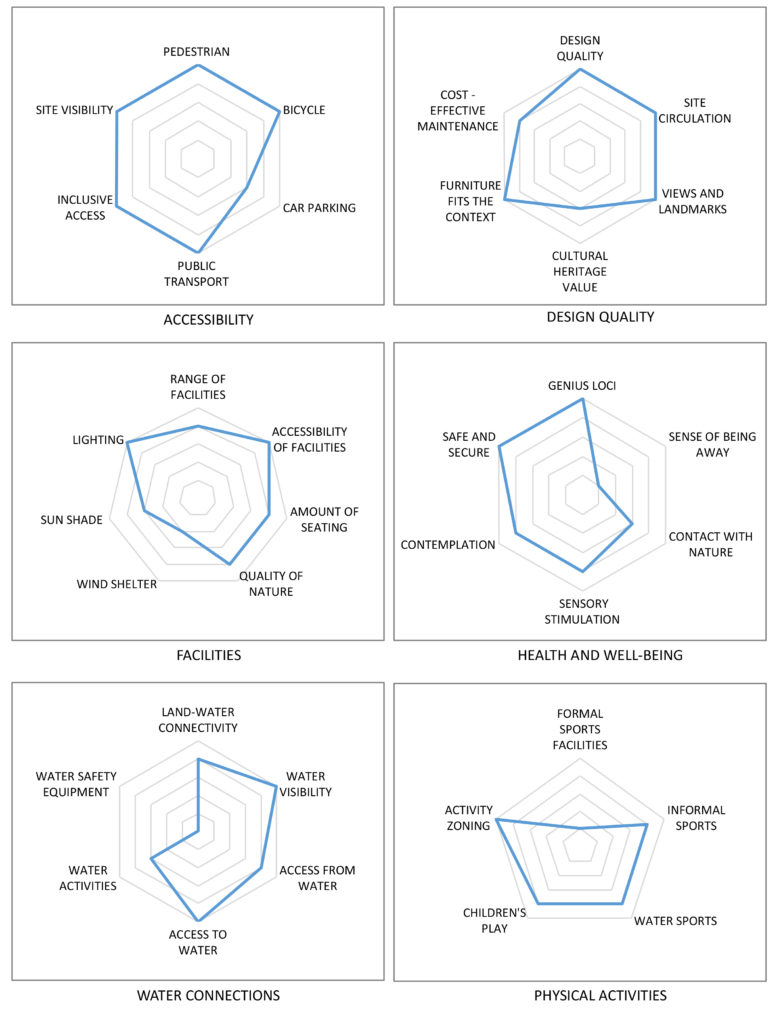 As can be seen from the ratings the place is well connected and accessible by most modes of transport, but as a city centre development, car parking is restricted. The design quality is overall rated excellent except for cultural heritage; however, the remit was for a modern park and so the focus is more on a modern interpretation than on links to the past.
Although the park itself provides a cool green infrastructure down to the seafront in the city, the fountain area itself lacks shade, which is important in the hot climate of Nice in summer. This lack of shade and natural planting in this area reduces the ability to be in contact with nature and limits the sense of being away which is also difficult to achieve in a busy city centre park with a playful focus and so the low rating for this is understandable.