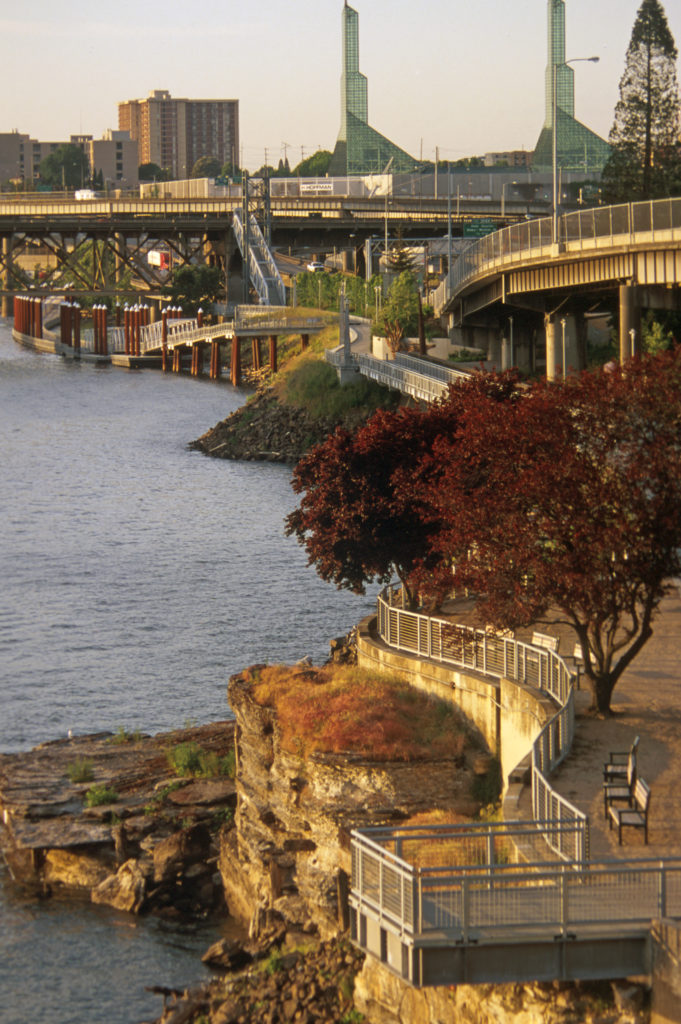 Architect
Carol Mayer-Reed
Type of Area
Large river with natural banks
Land/water interaction
Bridges
Promenade
Built Environment Types
Moderately built
Moderate green
Scale of Impact
Place
City
Intervention Scale (Spatial)
Small site
Project Types
Riverfront development
Public space regeneration
Urban design
Urban/ Rural
Inner urban area
Visibility and Openness
Fully enclosed
Fully contained view
A Floating Walkway by the River.
The Vera Katz Eastbank Esplanade is a vibrant pedestrian and bicycle trail that completes a 3-mile loop across bridges around the Willamette River in downtown Portland, Oregon. The Eastbank Esplanade stretches 1.5 miles /2.6 km along the riverfront and is one of Portland's most popular places for outdoor recreation.
The episodic experience of the trail is shaped by the river and its urban context. The esplanade features a unique 1,200-foot/366m long floating walkway that responds to the seasonal rise and drop of the river level. The on-grade portion of the trail is flanked by a continuous concrete, stepped seat wall that invites users to view activities of the waterfront and reflected downtown lights. Along the trail, three steel overlooks project past the top of bank, offering a prospect of the river and downtown. A grated steel walkway cantilevers over the face of a former industrial seawall.
The Salmon Street Plaza beneath the I-5 freeway is large public open space that is programmed for public events such as the Wooden Boat Festival and the Portland Winter Lights Festival. Along the trail's length, a series of thirteen 20-foot/6m tall urban markers designate where local streets and a ferry landing once met the riverbank. Maps and interpretive panels on the markers enrich the pedestrian experience with images and stories of the history of Portland's waterfront. Sizeable public art installations further interpret aspects of the site's history and character.
Design elements draw from the gritty character of the adjacent freeway and Central Eastside Industrial District. The simple geometric forms of the trail rendered in concrete and steel contrast with the basalt stone columns and fin walls. Through innovative bioengineering techniques, native plants draw wildlife to the riverbanks that were once left exposed from the former industrial era.


.


Perception and Meaning
Accessibility
Place attachment
Legibility
Health and Wellbeing
Aesthetic experience
Increases socialisation
Place affordance
Interaction with Water
Visual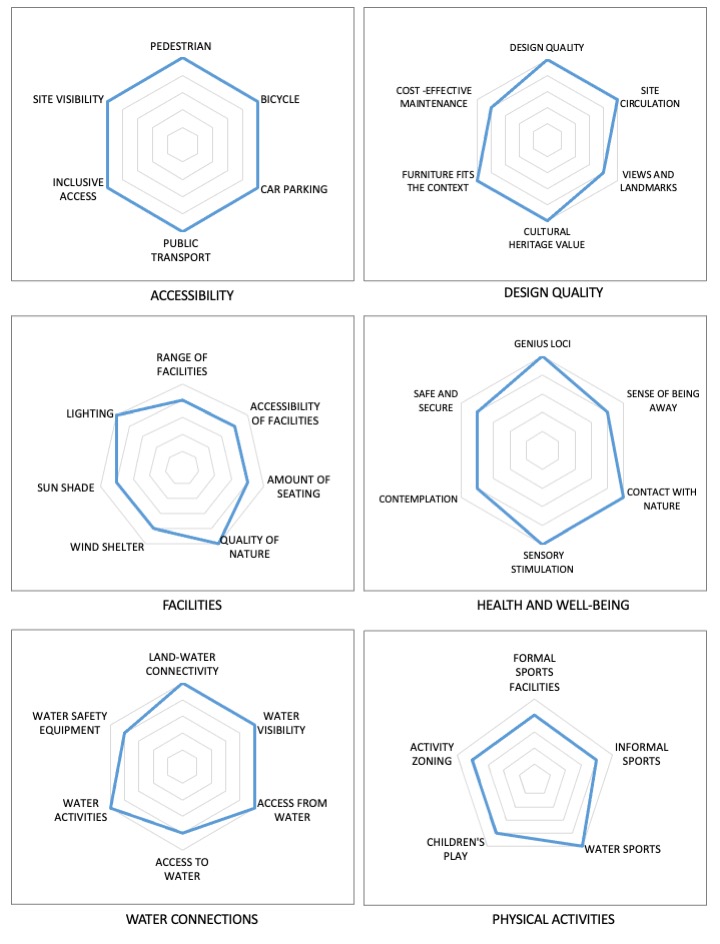 Overall this project scores well for many aspects, which reflects the dynamic use made of the space to connect the public to the water. The many events that utilise this riverfront development enhances the connection as well as the links to historical past uses of the river through the various displays and art installations. The rise and fall of the walkway also connects people to the dynamic seasonal flows of the river and the various outlooks and viewing points ensures that the river is a highly visible asset to the area that connects people to the water and nature.