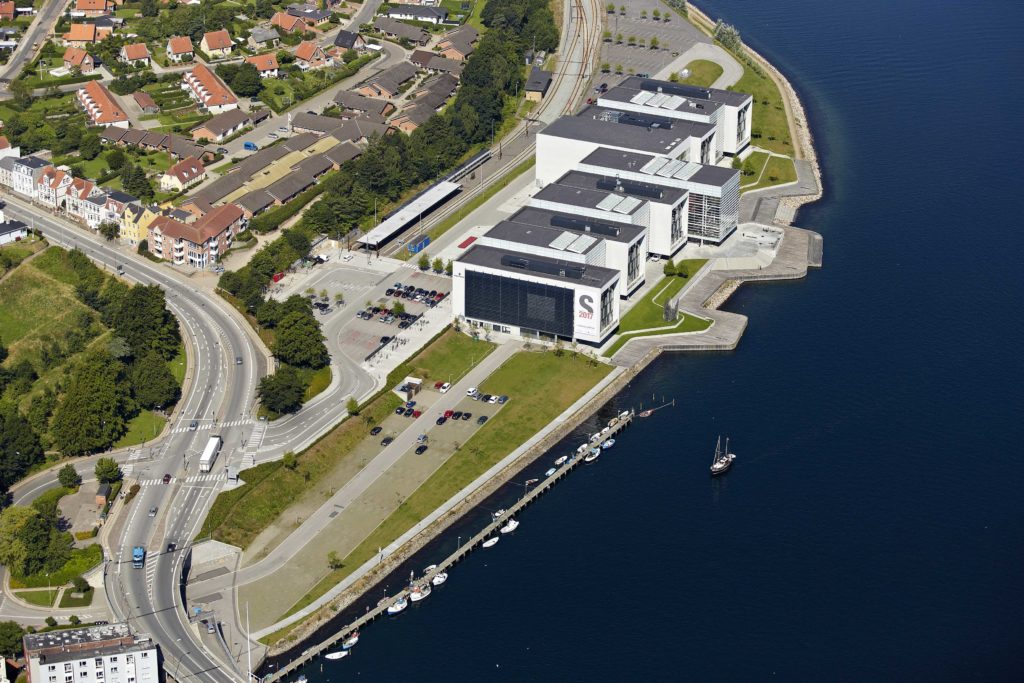 Architect
Schonherr Landscape Architects
Type of Area
Large river with artificial banks
Land/water interaction
Riprap
Terraces/steps
Built Environment Types
Highly built
Low green
Scale of Impact
Place
District/ neighbourhood
Intervention Scale (Spatial)
Small site
Project Types
Riverfront development
Public green space regeneration
Urban/ Rural
Inner urban area
Visibility and Openness
Fully enclosed
Fully contained view
Connecting the campus to the river
Sønderborg is a city that straddles a narrow strait separating the old part of Sønderborg on the island of Als and the newer suburbs to the west on the mainland of Jutland (Jylland). The promenade is one of two to be designed that are on either side of the strait. This human-scale design meanders along the riverside next to the new university creating a lively interaction with the water. At the same time this meandering nature of the pathway increases the contact with the water as well as providing a variety of views across the straits.
Willow trees edge the campus behind the university building with rows of olive trees intersecting the site. Steps lead down to the wooden decked promenade constructed over a riprap edging. Different levels have been constructed to incorporate various terraced areas, which provide ample opportunity for seating. The design is deliberately clutter free to enhance the open view of the strait and simple wooden benches provide people with additional seating to sit and contemplate or socialise.
The pathway connects the waterfront to the city streets and as well as the university building, with the city streets providing the main access for pushchair and wheelchair users to the riverside path. A steep ramp next to the university building, however, provides access to pushchairs but not for independent wheelchair users, especially as there is no edging or rails to the pathway at this point, posing a safety risk. The riprap edging and steps down to the water provides a place to fish and swim, as well as to relax, to eat and to socialise.
Perception and Meaning
Accessibility
Sense of ownership
Legibility
Place identity
Health and Wellbeing
Increased physical activities
Place affordance
Aesthetic experience
Restorativeness
Increases socialisation

Interaction with Water
Visual
Tactile – partly in the water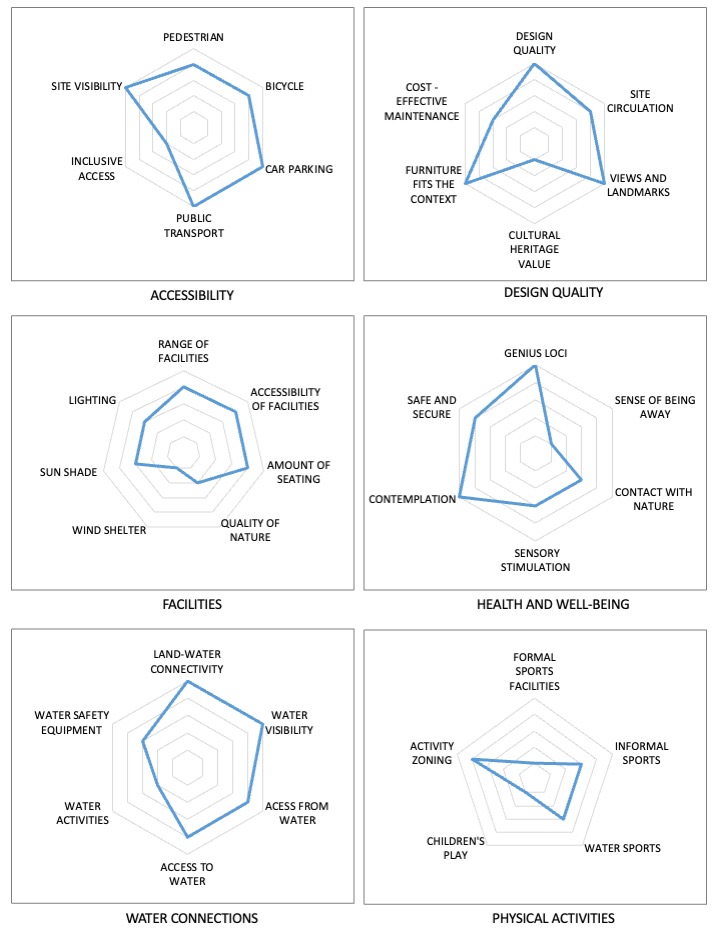 The project scores highly for access. Ample parking and good public transport make this site accessible for pedestrians and cyclists. A multitude of terraces and steps provide ample seating areas, however, the lack of ramps and many steps, means a long way around for those with mobility issues and pushchair users and so inclusive access scores are low.
The open and clutter-free design enhances the views across the straits and so this scores highly but also reduces the opportunity for shade from the sun and shelter from the wind, hence the low score for this. The overhang from the university building with seating beneath, however, does provide one area of shade from the sun.
Overall safety scores are low, although life jackets are provided, the lack of handrails and edging to the path presents a hazard for wheelchair users. Access to and from the water, however, is high with the riprap edging, steps down to the water's edge and a pier for boats.