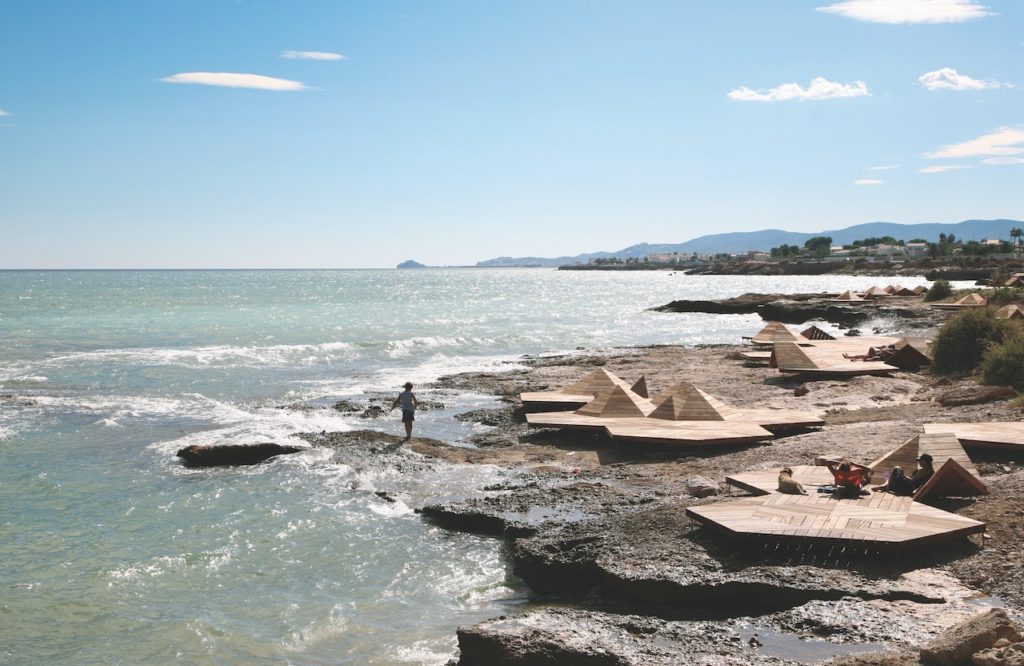 Architect
Guallart Architects
Type of Area
Sea
Land/water interaction
Stoney beach
Built Environment Types
Moderately built
Moderate green
Scale of Impact
Block
District/ neighbourhood
City
Intervention Scale (Spatial)
Small site
Project Types
Outdoor recreation
Art installation
Seafront development
Urban/ Rural
Sub-urban area
Visibility and Openness
Fully open
Part horizon
Improving Accessibility with Mini-coastlines
Vinaròs is situated on the east coast of Spain, approximately halfway between Valencia to the south and Barcelona to the north. This Castellón seaside town has undergone rapid development with a proliferation of single-family dwellings that dominate the landscape, particularly near the seafront, sometimes obscuring the view of the sea.
The aim of the project, developed by Guallart Architects, was to provide public access to the sea from this fragile and rocky landscape. The installations had a demanding brief to withstand the rough sea waters and reduce erosion whilst maintaining the integrity of the habitat and the sea views. The size of the installations reflects the small size of the coves and peninsulas that form these miniature jagged coastlines squeezed between the sea and the urban infrastructure.
Modular hexagonal platforms constructed from steel and wood were assembled using dry construction techniques in order to leave as little impact as possible on the rocks below. These geometric shapes in combination create little islands of variable sizes with micro-topographical details forming various convex and concave profiles, that echo the angular geometry of rock.
They provide a more comfortable surface than the jagged rocks below, as well as providing protection to the fragile rocks from human activities. The varying sizes makes them suitable for different sized groups, ranging from single people to couples and families. The multifunctional outdoor furniture elements offer various affordances: visitors can relax, sit or lie down close to the sea edge.
The interventions allow people access to the wild places at the urban edge while making little impact on the landscape. They provide space to view the sea, to contemplate, sunbathe or just lounge. They also allow space for picnicking or a place to put things in a dry place while swimming. A previously overlooked landscape has now become now accessible.
Perception and Meaning
Sense of place
Genius loci
Health and Wellbeing
Place affordance
Restorativeness
Aesthetic experience
Interaction with Water
Visual
Tactile: Fully in water