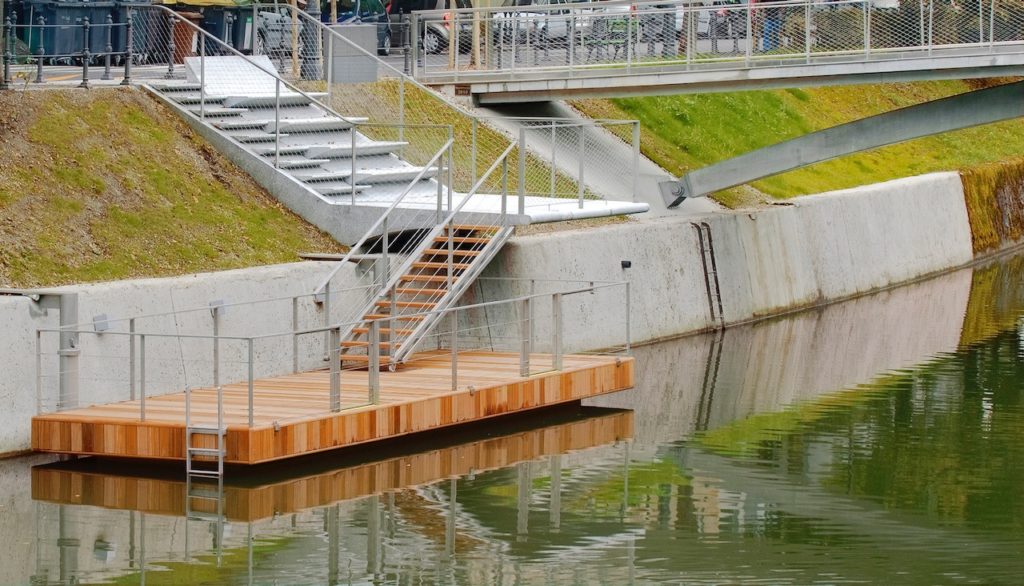 Architect
Boris Podrecca, Atelier Arhitekti, BB Architeckti, Atelje Vozlic, Dans Architekti, Trije
Type of Area
Medium-sized river with artificial banks
Land/water interaction
Terraces/steps
Embankment
Bridges
Decking
Built Environment Types
High built
Low Green
Scale of Impact
District/ neighbourhood
City
Intervention Scale (Spatial)
Single object
Project Types
Riverfront development
Outdoor recreation
Urban/ Rural
Inner urban area
Visibility and Openness
Fully enclosed
Fully contained
Down to the River
Ljubjiana is a city renowned for its bridges and beautiful tree-lined riverside pathways and embankments largely designed in the late 18th and early 19th centuries. The city, however, lost its connections to the river and the old city fell into decline. In an effort to revitalize the once thriving riverside area and bring the city back into harmony with the parallel riverside streets, the city authorities decided to revitalize the public space along the river.
A series of small interventions were planned by BB arhitekti 2009-2011 The new interventions sought to bring a different perspective to the city by integrating the river back into the fabric of the townscape. The interventions made the river more present to the community and visible in the everyday functioning of the city.
The pier featured here, located near the new Zitni Bridge, or Grain Bridge, is one of twenty interventions planned for the river that flows through the heart of Ljubjana. Each intervention is unique. The Zitni Bridge intervention is constructed of several elements. A prefabricated concrete stairway and seating area leads to a platform built over the water. The pier itself is built on a steel pontoon and paved with wood. The pontoon moves up and down in response to the changing level of the water in the river.
The pier is connected to the concrete platform by an adjustable wooden and steel stairway. The intervention provides a connection from the city to the water level enabling visitors to perceive the townscape from an unusual perspective and providing a space to view the river or a platform for fishing. The concrete seating area on the embankment allows for sitting and contemplating the life of the river, including the boats that frequent it.
Perception and Meaning
Accessibility
Place identity
Legibility
Health and Wellbeing
Place affordance
Interaction with Water
Visual