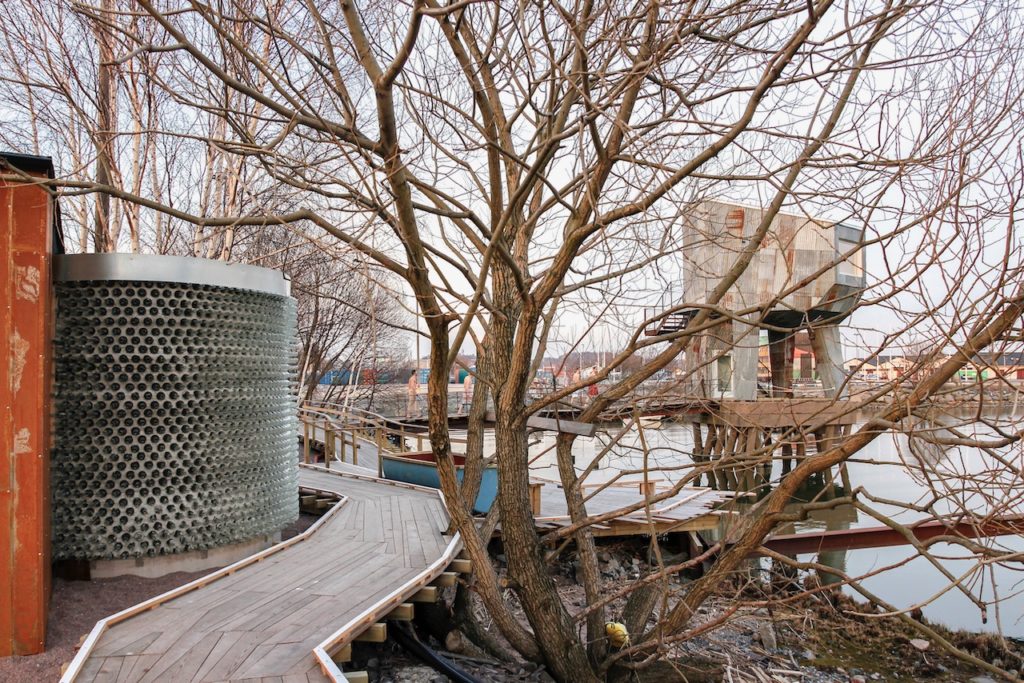 Architect
Raumlabor Berlin; lead designer Francesco Appuzzo and Jan Liesegang
Type of Area
Large river with artificial banks
Land/water interaction
Harbour
Pier
Decking
Built Environment Types
Completely built
Scale of Impact
City
Regional
Intervention Scale (Spatial)
Small site
Project Types
Public space regeneration
Riverfront development
Cultural heritage restoration
Urban/ Rural
Inter urban area
Visibility and Openness
Partly enclosed
Partly contained
A Quirky Sauna from Reclaimed Materials
The creation of the sauna in Gothenburg harbour in Sweden is part of the Bathing Culture Project. The project was developed by Raumlabor Berlin in 2014 with a substantial amount of public involvement. The aim was to develop a public space as part of a step-by-step urban regeneration process for the redevelopment of the old derelict harbour.
The project demonstrates a process initiated by the city in subsequent developments of design and construction of a site-specific recreational area, that would lead to a cultural transformation of the site. The public space regeneration involved an agglomeration of small-scale interventions to foster a long-term creative development vision. In this case the plans for the area and the aim of this intervention was to spur an exploration of what constitutes a park in the 21st century. The project investigated relevant criteria through community involvement.
The project contains several interventions with the focus on recreation, leisure and education with the focus on community needs. In this section we mostly concentrate on the sauna building, constructed above the harbour waters together with functional buildings (dressing rooms and showers) and the outdoor space with the decks and paths for bathing and recreation near the water.
The sauna and the functional buildings were built from reclaimed building materials found on-site – relics from its industrial heritage. The unusual structure crafted with care with the aid of the local community has imbued new life and a vision for the future, which spills over into the town and stretches the conventions of park design, giving it a new aesthetic expression.
The site also meets the social needs of the people of Gothenburg and provides a site for swimming, sauna, bathing, relaxing and walking, strongly supporting both the existing cultural practices in Sweden and the needs of the local community.
Perception and Meaning
Sense of ownership
Genius loci
Imageability
Health and Wellbeing
Place affordance
Restorativeness
Interaction with Water
Visual
Tactile: Fully in water
Website of the project:
Google map reference