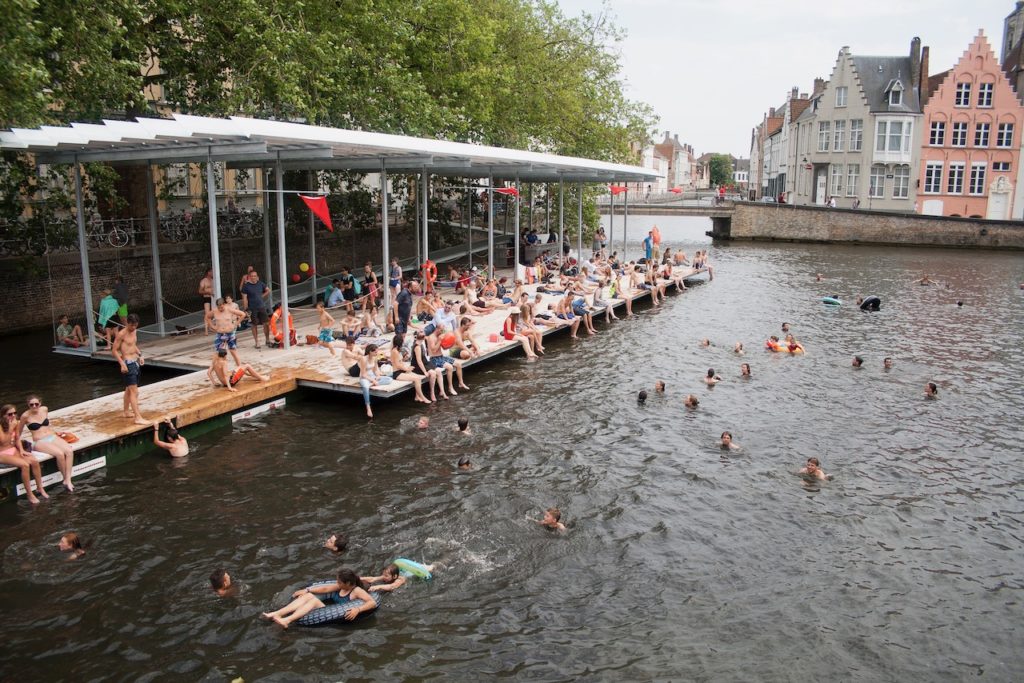 Architect
Canal Swimmer's Club:
Atelier Bow-Wow & Dertien12
Floating island: OBBA & Dertien12
Type of Area
Urban canal (surrounded by buildings)
Land/water interaction
Terraces/steps
Embankment
Built Environment Types
Completely built
Scale of Impact
District/ neighbourhood
City
Intervention Scale (Spatial)
Single object
Project Types
Urban design
Urban/ Rural
Urban core
Visibility and Openness
Partly enclosed
Partly horizon
Canal Swimmer's Club
This installation was designed and constructed by Japanese Atelier Bow-Bow together with local architects Dertien 12 for Bruges Triennial 2015 at the confluence of the Spinolarei-Potterierei and Sint-Annarei canals in Bruges. The installation consisted of a wooden deck leading to a floating lounge with a sun shelter. Access from the embankment was enabled with a ramp from both ends. The intervention provided numerous opportunities of recreation by the water and in the water, such as relaxation, visiting the events and swimming. The design offered a different perspective of Bruges' canals. Usually, getting on-the-water experience is possible only from a boat and swimming in the canal is not a usual practice in the centre of Bruges. According to the authors the installation extended the public space, which was usually crowded during the high-tourist season in the city. It also drew attention to the fact that the water quality has been improved in recent years and nowadays the canals are swimmable. This temporary intervention also communicated that the direct connection to the water in Bruges, although is a city permeated by canals and known for it worldwide, is still a missed opportunity.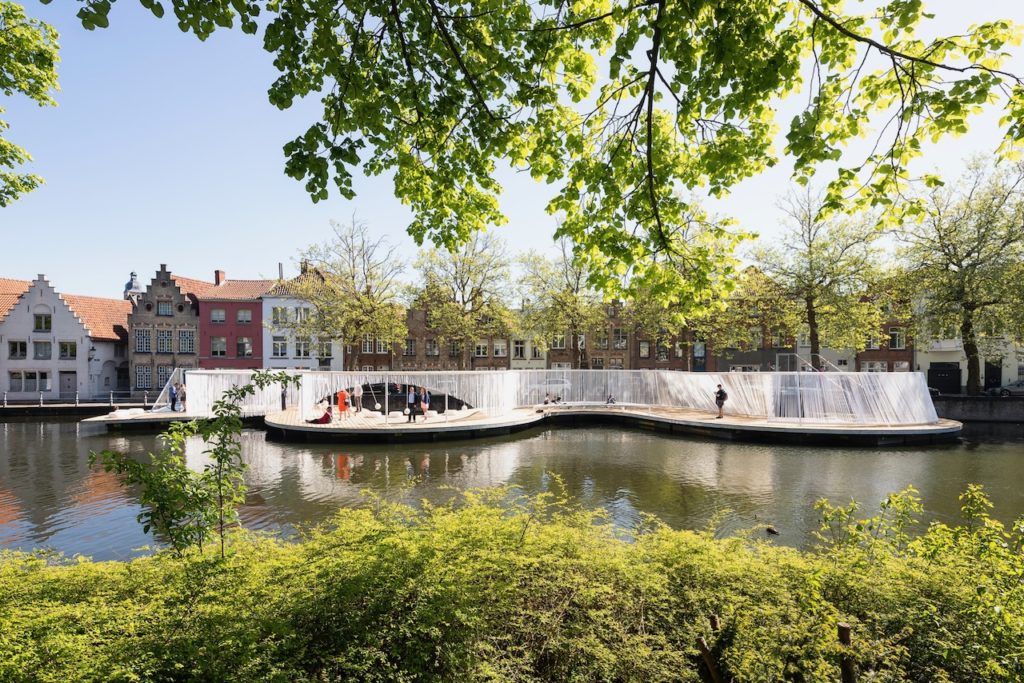 Perception and Meaning
Accessibility
Place identity
Sense of ownership
Health and Wellbeing
Place affordance
Increases socialisation
Interaction with Water
Visual
Canal swimmers club: Fully in the water
The Floating Island
This temporary intervention was also created for Bruges Triennial in 2018 by the Korean architecture office OBBA together with Dertien12. The wave-formed platform was constructed near the Snaggaardbrug in the historical centre of Bruges. Access from the canal embankment was enabled with stairs and a ramp at each end of the structure. The wooden platform floated just above the water level. A long screen made of cloth ropes in the middle of the platform created a visual border and enhanced the closeness to the water on the one hand, on the other hand providing a playful and creative way to use the installation such as through ropes attached vertically offering hammock-like places; a net stretched over the water providing a resting place and hanging textile balls for swinging. This intervention is an example of providing a playful environment for recreation and interaction with water, where a permanent installation is not possible; it is also creating various affordances and offering the visitors various options of interaction with the space.