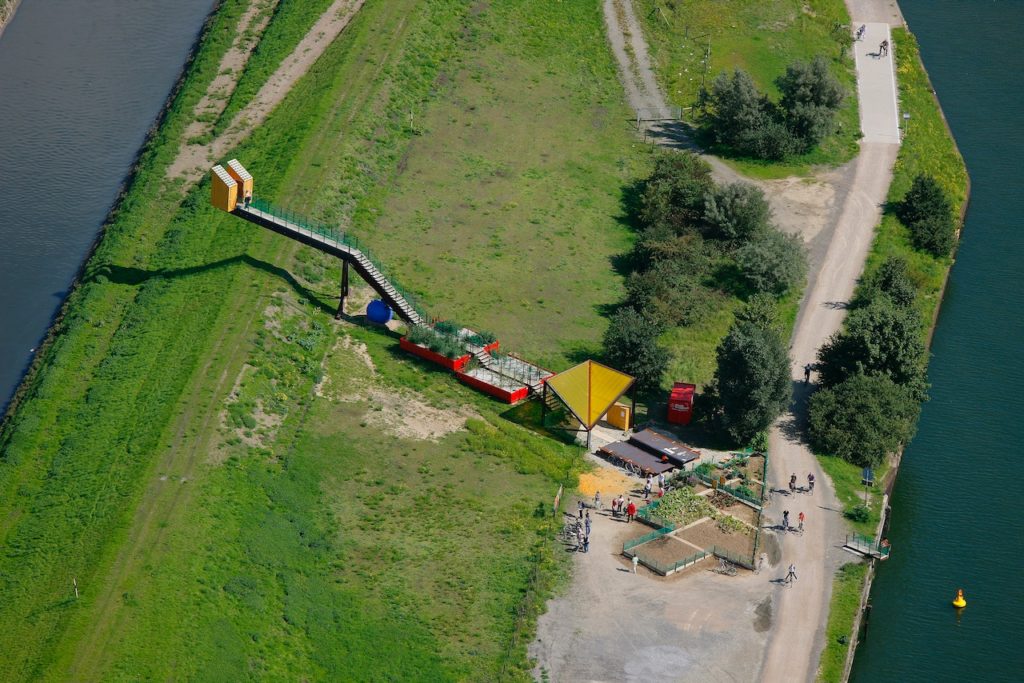 Architect
OOZE Architects
Type of Area
Medium-sized river with artificial banks
Land/water interaction
Embankment
Ripraps
Built Environment Types
Scale of Impact
District/ neighbourhood
Regional
Intervention Scale (Spatial)
Single object
Project Types
Storm water management
Art installation
Urban/ Rural
Sub-urban area
Visibility and Openness
Partly open
Partly enclosed
Artistic Water Purification Project
"Between the waters" was an art installation and at the same time functional infrastructure, constructed for the art festival EMSCHERKUNST in 2010. The project was located on a narrow strip of land between the Rhine-Herne Canal and the Emscher River, near Karnap to the North from Essen in Germany. It was a temporary art installation which addressed the problem of water quality, one of the key issues in the region, due to its industrial past. The project was created by the artist Marjetica Potrč and OOZE studio and was a functional water purification system, a community garden and an art installation all at the same time.
The construction cut across the narrow unused strip of land and united the two waters of the river and the canal through the nature-based water purification system. One part of the construction consisted of two toilets, symbolically elevated over the waters of Emscher river, which is very polluted. The water from the river was pumped into the septic tank of the toilets, then ran down and flowed through a series of purification systems: a constructed wetland, a rainwater-harvesting roof and a water storage bag. Finally, the purified water had the same quality as rainwater and could be used for irrigating the community garden or even for drinking, and could be enjoyed from the drinking fountain, symbolically located on the platform over the Rhine-Herne Canal waters.
The project was primarily an environmental art intervention, located on the unused area without any public function and was well-visited by the attendees of the Festival. All the facilities provided by the installation were fully functional. The projects offered a new function and addressed the topics of water quality and inaccessible unused urban areas, doing so ironically and playfully.
Perception and Meaning
Knowledgeability
Place identity
Place attachment
Health and Wellbeing
Increases socialisation
Place affordance
Better environmental awareness
Interaction with Water
Visual
Tactile: Touch