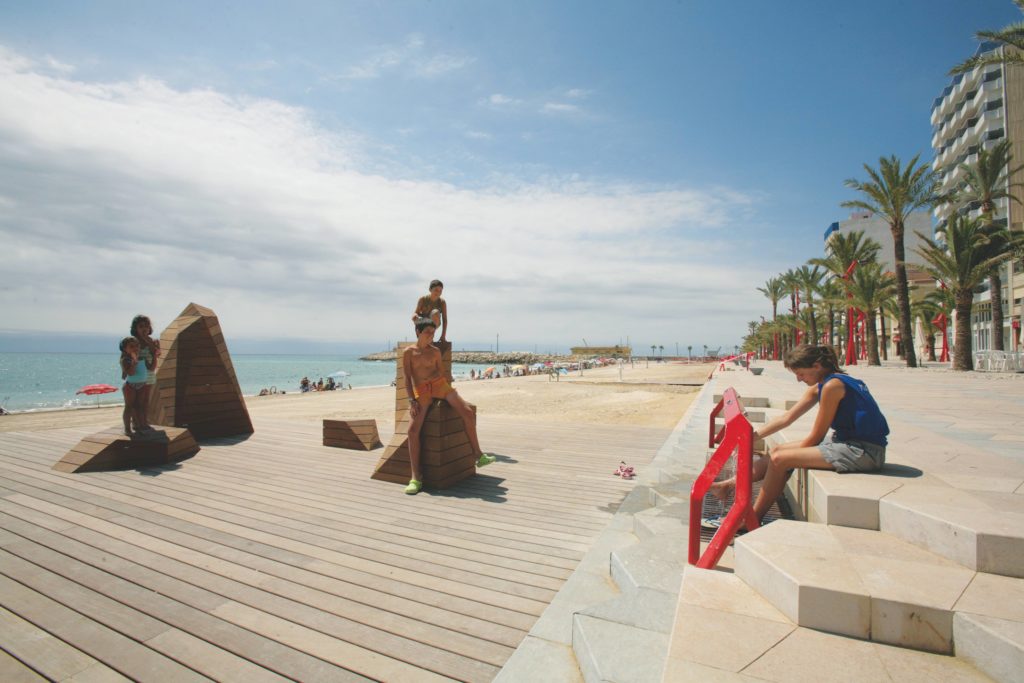 Architect
Guallart Architects
Type of Area
Sea
Land/water interaction
Sandy beach
Decking
Promenade
Built Environment Types
Highly built
Low green
Scale of Impact
District/ neighbourhood
City
Regional
Intervention Scale (Spatial)
Linear development – multiple interventions
Project Types
Seafront development
Outdoor Recreation
Urban design
Urban/ Rural
Inner urban area
Visibility and Openness
Fully open
Full horizon
Combining Civic Space and Tourism
This project dates to 2007 and was designed for the town of Vinaros, the most northerly town in Valencia region in Spain by Guallart Architects, following the design winning 1st prize in a national competition.
During the 20th century, urban growth led to the construction of a seafront promenade that was a focus of attraction for the 1960s Spanish tourist boom. By avoiding the huge developments of the 1980s onwards it was possible to revitalize the area without having to demolish such developments.
Rejuvenating the promenade presented an opportunity to define the desired standards of urban quality in the town. The main objective was to convert the promenade for pedestrian use and to maximize the tourist and civic potential.
It was possible, at the planning stage, to reroute the traffic so excluded it from the promenade for part of the way and to provide a tunnel for the rest together with an underground car park.
Removing the concrete wall separating the beach from the promenade allows the whole area to be seen as a continuous space. Compared to the Dover and Benidorm examples, the promenade here runs in a dead straight line. The promenade was also levelled and a series of tiers are used to change the level from the top down to the beach.
The design combined paving in stone, decking and the beach, with some ramps leading down from the upper parts for easy access to the beach. The steps also incorporate planted trees – palms – and the decking includes a series of wooden sculptural forms. Metal elements such as railings, lighting standards and ramps are painted red. Cafes spread their tables out onto the upper paved area.
Perception and Meaning
Place identity
Legibility
Accessibility
Knowledgeability
Health and Wellbeing
Place affordance
Increases socialisation
Increased physical activities
Interaction with Water
Visual
Tactile – Fully in water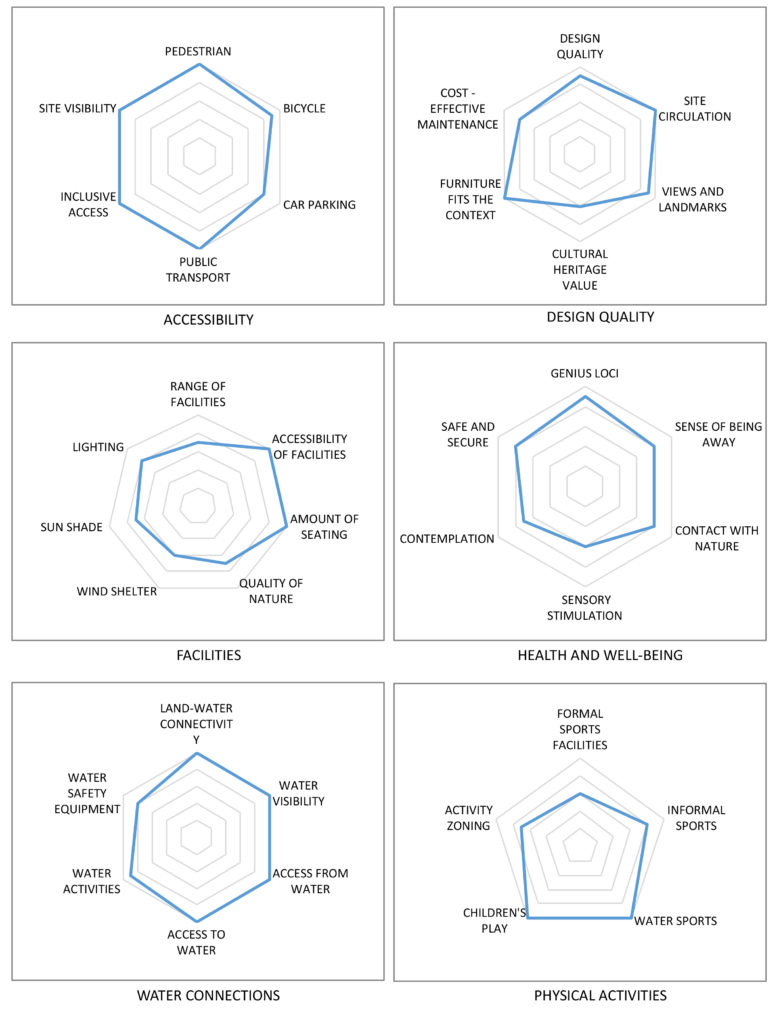 This project scores, presented show that it is rated extremely well for accessibility in all aspects. Design quality scores are good apart from the cultural heritage aspects which do not feature in the project.
Facilities are reasonably well provided although the site is quite exposed to wind and lacks shade.
Health and well-being aspects are also generally well-provided for and the place is rated very highly for access and interaction with the water and for physical activity. An excellent project with great imagination and sensitivity to site.