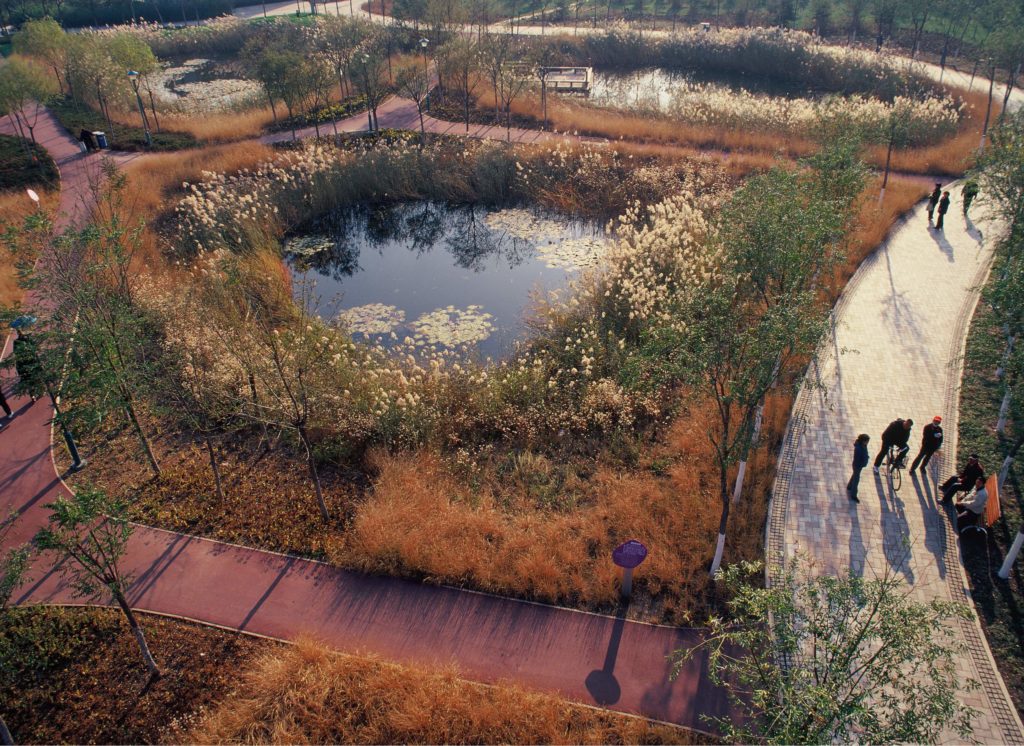 Architect
Turenscape Landscape Architecture
Type of Area
Wetland
Land/water interaction
Bridges
Marsh land
Built Environment Types
Highly built
Low green
Scale of Impact
District/ neighbourhood
City
Intervention Scale (Spatial)
Moderate site
Project Types
Green infrastructure
Outdoor Recreation
Habitat creation/restoration
Urban/ Rural
Inner urban area
Visibility and Openness
Fully enclosed
Fully contained view
Regenerative Ecology
Qiaoyuan Wetland Park project in the Chinese city of Tianjin was designed by Turenscape and completed in 2008. The wetland park was built on a 22 hectares site based on an adaptive strategy to deal with storm water by creating a series of biologically diverse ecosystems that also help decontaminate the soil.
Once a polluted and contaminated industrial and landfill site, it has been transformed into a place rich in habitat diversity and a destination for recreation and nature experience. The design reclaimed the brown field site by integrating regenerative ecological functions and provided a high-quality public space for the surrounding dense residential community.
This regenerative process involved changing the landform to create a series of pools, promoting the natural process of plant adaptation and community evolution to create a low maintenance urban park that contains and purifies storm water, improved soil chemistry (reducing alkalinity), and providing a rich aesthetic experience.
The project was initiated with the aim of resolving issues related to storm water management including minor flooding within the area and to create a multi-functional public space to meet community needs.
The wetland park has been designed as a series of wet and dry ponds with local materials and plants, creating a framework for nature to rejuvenate ecological processes. The ponds are laid out like a series of cells within a structure of recreational spaces and a network of footpaths and linkages.
The layout thus created rainwater catchment facilities with both retention and detention functions. Platforms and bridges provide different visitor experiences and park views. The key objectives of the project include the creation of habitats, selection and design of plant communities and the provision of cultural services.
The overlapping and intertwined concepts that supported the wetland park design objectives have resulted in a powerful and successful landscape that is resilient, regenerative, and provides a myriad of ecological services. The project has become into a major destination park and attracts large number of visitors each year as well as providing educational opportunities for children from nearby schools.
Perception and Meaning
Imageability
Sense of place
Place attachment
Accessibility
Knowledgeability
Health and Wellbeing
Restorativeness
Aesthetic experience
Place affordance
Increased physical activities
Better environmental perception
Interaction with water
Visual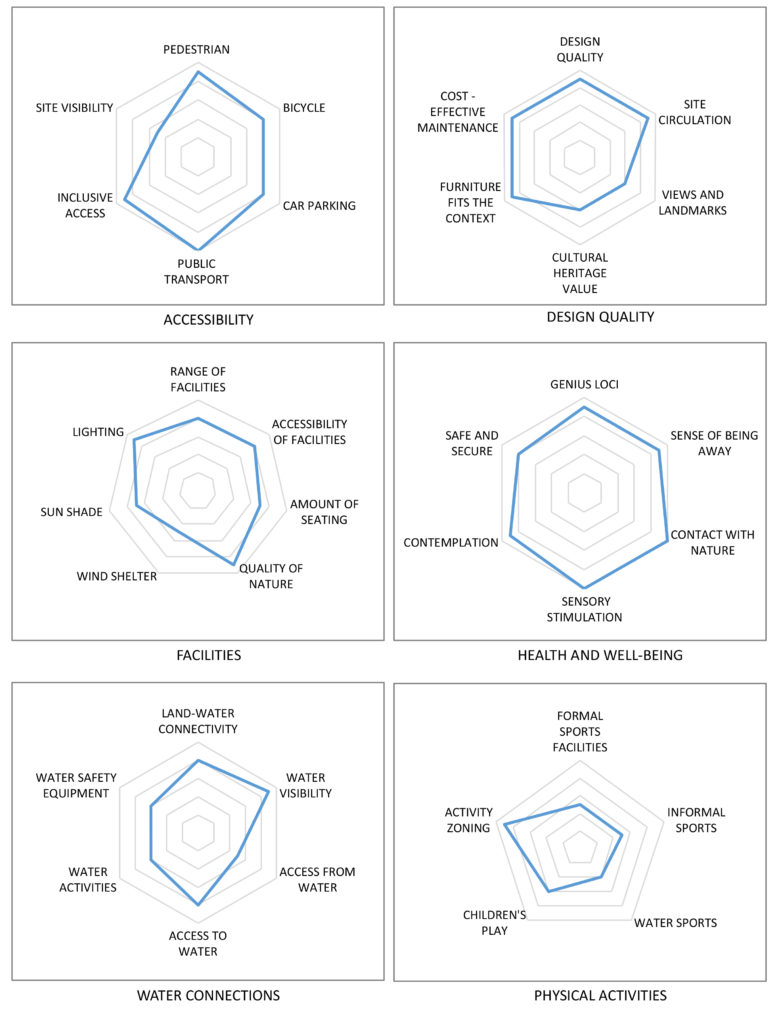 The rating charts for this project show it has an excellent accessibility although not so visible from outside which could be due to the large site area and dense vegetation that occupies a large proportion of the land area.
The design quality attributes have scored rather well except for cultural heritage and views and landmarks. The facilities and amenities were scored moderately, although the site has scored very high for quality of nature and lighting conditions.
The health and well-being aspect has scored excellent for all attributes suggesting the site can be perceived as being highly restorative. Despite good health promoting qualities, the site has scored moderately for water connection aspects, in which access to water and water visibility have the higher scores – to be expected for a water-purifying park when some of the waterbodies are still polluted.
Except for zoning of activities, the site received low scores for opportunities for physical activity – again, it is not designed for this so would not be expected.