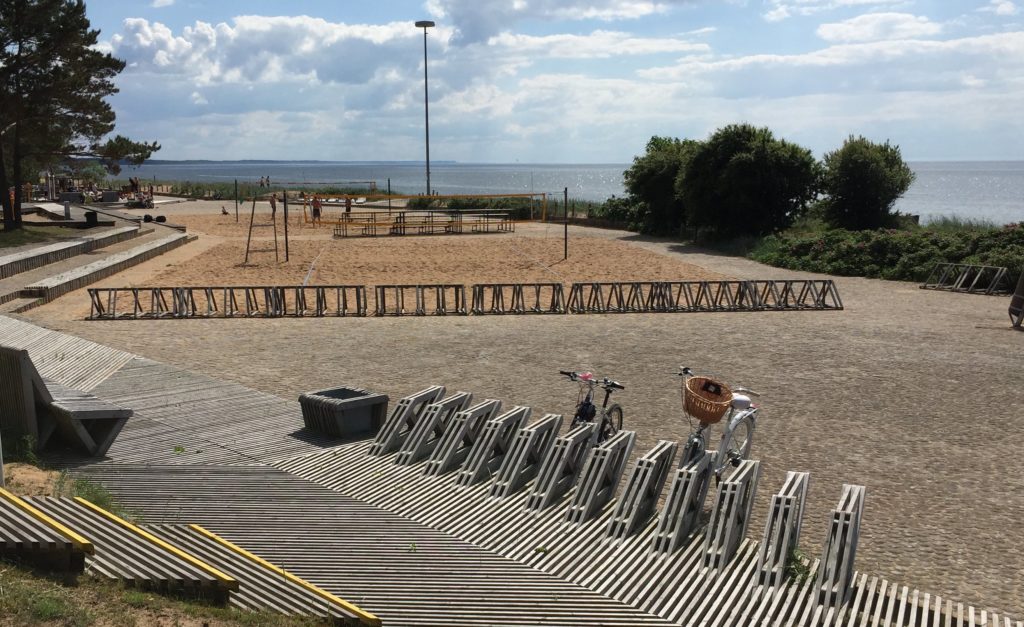 Architect
Substance
Type of Area
Sea
Land/water interaction
Sandy beach
Built Environment Types
Low built
High green
Scale of Impact
District/Neighbourhood
Regional
National
Intervention Scale (Spatial)
Moderate site
Project Types
Seafront development
Public green space regeneration
Urban/ Rural
Urban fringe area
Visibility and Openness
Fully open
Full horizon
Sensitive beach development.
This is in many ways the most natural of the projects in this section, completed in 2014 and designed by Substance SIA, architect Arnis Dimiņš. The small Latvian town of Saulkrasti, a little way up the Baltic Sea coast from Riga, is popular for summer activities. The town was searching for its own place among Latvian seaside towns and decided to centre its attention on tourism, recreation and various annual events. To do this it was decided to develop the central part of the beach and the idea to create the Sea Park emerged as a result.
The central beach area consists of sensitive primary and secondary dune ramparts with flatter dune slacks between the dunes. The key design element is the network of wooden footbridges and boardwalks right across the area – allowing access while protecting the fragile dunes. The slatted wooden decking becomes a unifying theme integrating all of the small elements, also made from wood, such as – benches, loungers, bicycle racks and waste bins.
As the sea character varies according to the weather and seasons, ranging from completely peaceful and quiet to loud and billowing, the exit points of the wooden footbridges on the beach were form wedges to break the waves. The triangular form thus became a key element as the best geometric for stability against external forces.
Only wooden surfacing is used in the park while metal elements are only used for lighting and fitness equipment. The sea park includes two beach volleyball courts with small, two-level terraces/podiums, outdoor fitness area, beach showers, gymnastic equipment and children's playgrounds.
Perception and Meaning
Place identity
Imageability
Sense of place
Accessibility
Health and Wellbeing
Restorativeness
Place affordance
Interaction with Water
Visual
Tactile – Fully in water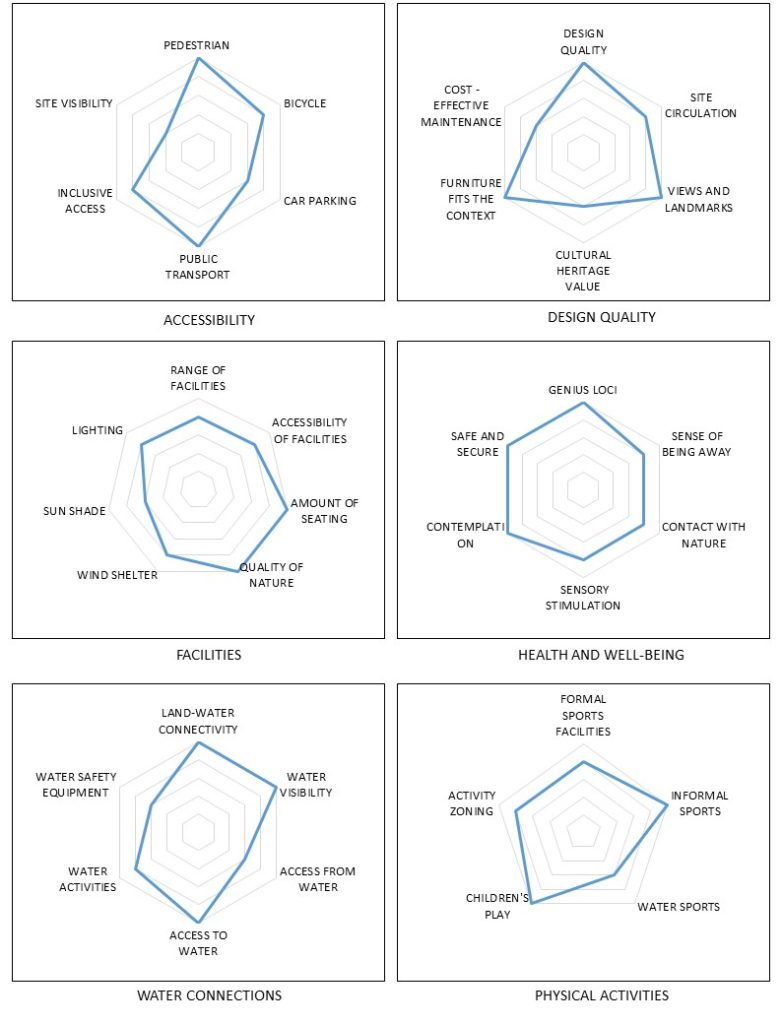 The project scores show some limits on accessibility, due to its location in relation to the city in general. Design quality is highly rated in all aspects. Compared to other sites this lacks some facilities – but this is due to the location and project brief. It is also exposed to wind and sun.
Health and well-being potentials are very good apart from any sense of being away – this is in the city centre – and contact with nature. Direct water connections are not part of the design brief so understandably absent, nor is there any provision for formal sports for the same reasons.