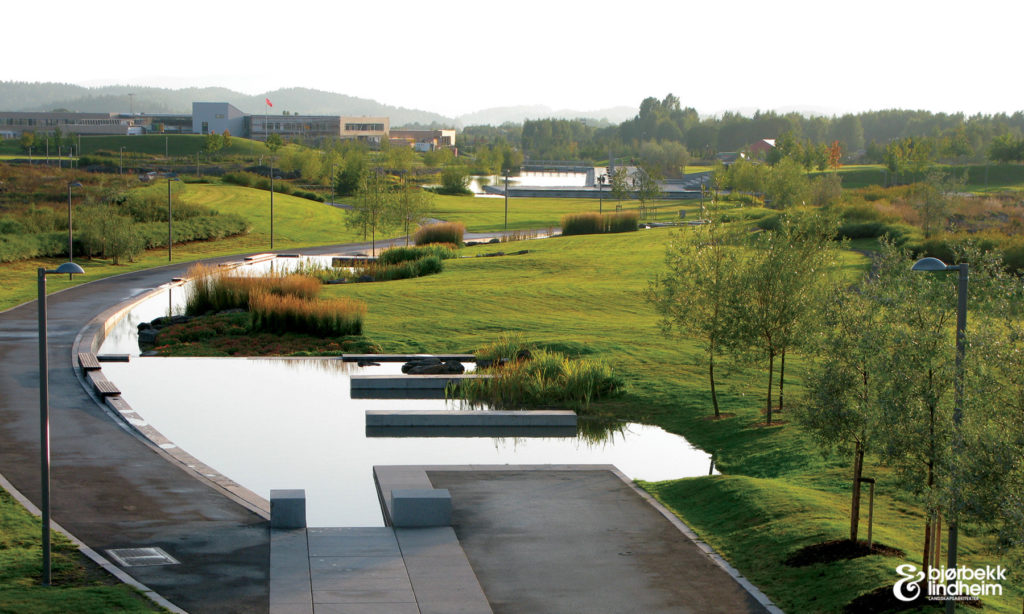 Architect
Bjørbekk & Lindheim
Type of Area
Artificial lake
Ornamental water feature or fountain
Waterfall or rapids
Land/water interaction
Promenade
Terrace/steps
Marsh land
Built Environment Types
Low built
High green
Scale of Impact
Block
District/ neighbourhood
City
Intervention Scale (Spatial)
Moderate site
Project Types
Urban water features
Outdoor Recreation
Public space regeneration
Urban/ Rural
Urban fringe
Visibility and Openness
Fully enclosed
Fully contained view
Reclaiming wasteland for the community.
Nansen Park and the new community in Oslo, Norway is one of the largest industrial wasteland reclamation projects and serves as an active and attractive meeting place for the community. It also reflects a strong identity, simplicity and endurance.
The park was designed on 20 hectares of land by Bjørbekk & Lindheim landscape architects and was completed in 2008. The design of the new community and the park, that transformed the central part of the old airfield, maintained its original linearity and dynamism and fragments of the original cultural landscape.
The public space consists of an open plaza for holding festivals and events and has made artistic use of stone and water. The place offers different types and scales of recreational possibilities. The master plan of the area conceptualised the space as a central park, nestled in a bowl-shaped valley with seven tentacles stretching out towards the sea in different directions.
The water feature forms the central landscape element and has been as constantly changing, with playful variation between geometric and organic forms for the pool, stream, falling water and so on. The central lake collects all the water which is cleaned using biological and mechanical filters to ensure good water quality.
The surplus water is allowed to overflow into a infiltration area before it is released into the fjord. The storm water management system also efficiently caters for the drainage from the nearby housing area areas and roads. Most of the water is recycled and used in the park for park activities and aesthetics.
The project thus presents a strong ecological profile that supports the whole transformation process. Polluted grounds and materials have been cleaned, retrieved and reused into a landscape of different spatial qualities.
Perception and Meaning
Imageability
Sense of place
Focal point
Health and Wellbeing
Place affordance
Increased physical activities
Aesthetic experience
Restorativeness
Interaction with Water
Visual
Tactile – touching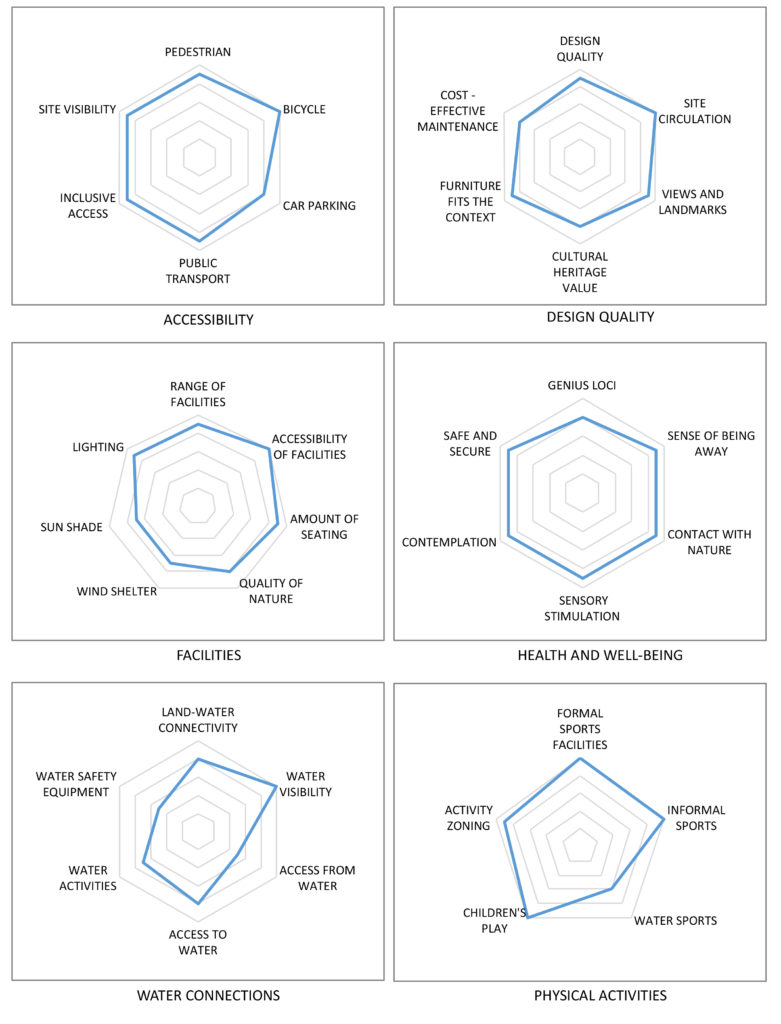 The rating shows the project is very accessible. It is rated very high for design quality, facility and amenities, and health and well-being aspects.
The water connection aspect is rated only moderately on average and some of the aspects are rated poorly scored such as water safety equipment, and water activities (to be expected, as the site is not designed for this).
The site also scored well for physical activity opportunities.