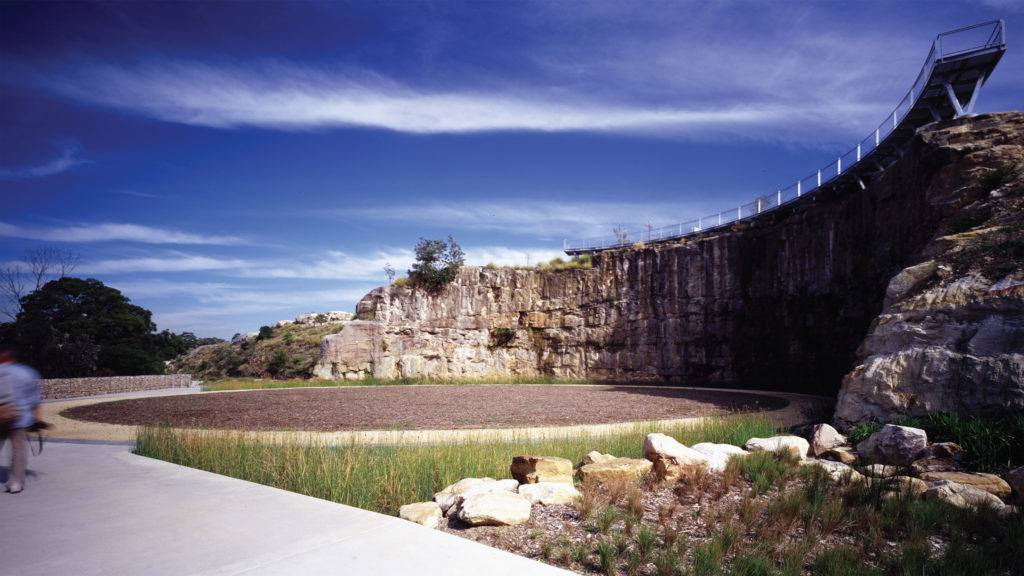 Architect
McGregor Coxall
Type of Area
Bay
Land/water interaction
Stony beach
Built Environment Types
Moderately built
Moderate green
Scale of Impact
District/neighbourhood
City
Regional
Intervention Scale (Spatial)
Moderate site
Project Types
Seafront development
Outdoor recreation
Cultural heritage restoration
Urban/ Rural
Sub-urban area
Visibility and Openness
Partly enclosed
Partly contained
Novel Use of a Former Tanker Storage Area.
This site, close to central Sydney and with spectacular views to the Harbour Bridge and Opera House, was completed in 2004 to the designs of landscape architects McGregor Coxall for West Sydney Council. The site started life in 1920 as a set of huge tanks for the storage and distribution of oil and petroleum piped from tankers docking at the nearby wharf.
These tanks were set into the rocky sandstone terrain by blasting cylindrical forms to accommodate them. In the 1980s the site was recognised as being contaminated and closed in 1993. A restoration project began in 1997 to clean up the site and remove the redundant structures .
The voids which resulted from removing the tanks, together with other concrete industrial remains provided the inspiration for the design, defining space and structure. The site is surrounded by sub-urban development yet has a hidden, sublime quality. The park in part balances the provision of public waterfront access and also reserving part of the waterfront (0.9 ha) for future maritime use.
The park is mainly used by people from nearby residential areas and features walking trails, stairways, and interpretive signs. The forms and spaces of the park and the use of industrial materials for access decking across the uneven sandstone surfaces at the upper levels gives the site a unique character reflecting its industrial past.
The circular galvanised steel viewing deck over the cliff blasted to accommodate the biggest tank is especially spectacular. The lower levels in the former tank bases make stages and also provide views across the bay. As well as the set of walkways there are other structures made of brick or concrete, for instance at the entrances and in smaller spaces. Finally, native plants were used to restore the unique cliff habitats.
Perception and Meaning
Accessibility
Place identity
Place attachment
Health and Wellbeing
Increased physical activities
Place affordance
Aesthetic experience
Interaction with Water
Visual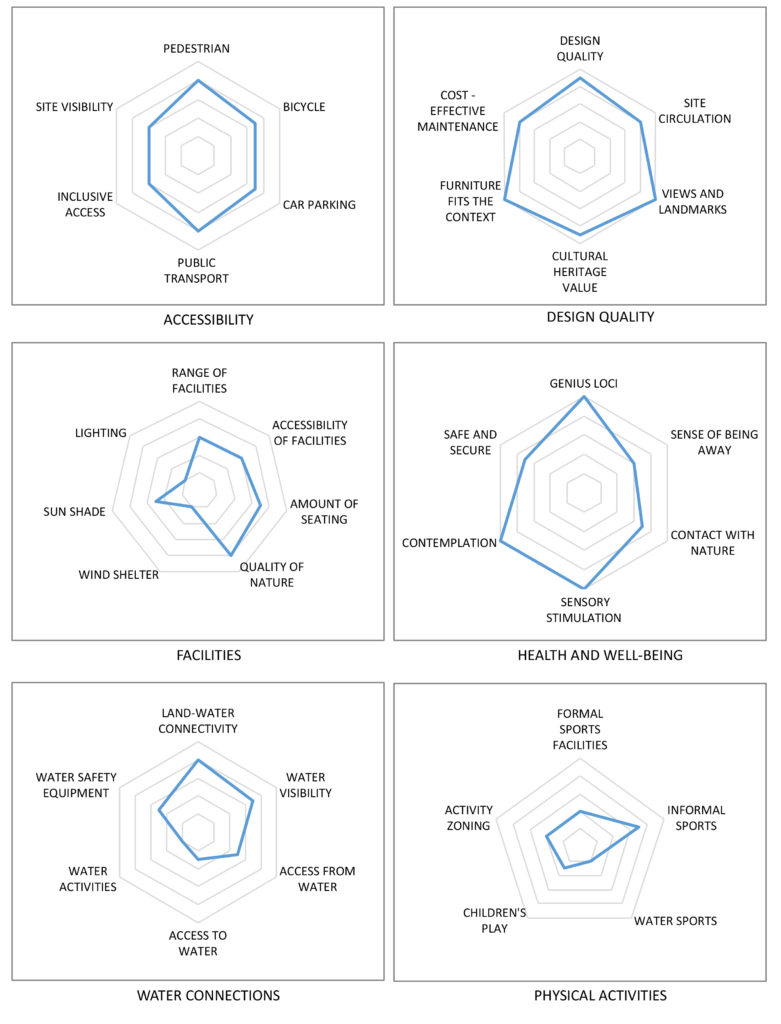 The project scores show some limitations in access, mainly due to the difficult terrain of the cliffs and former constructions – it is impressive how these have been overcome. The design quality is high in all dimensions. The range of facilities is limited, partly due to the nature of the site and the challenges as well as its rocky location.
It scores well for health and well-being although the sense of being away and contact with nature are understandably a little weaker. Direct water connections are not part of the site design but visual connections are good. Nor is it designed with lots of physical activities in mind.
This park is another example of how it is not possible to provide for everything given the physical limitations of terrain and former use but also how such challenges have been changed into opportunities for creating a dramatic solution with a very strong genius loci.