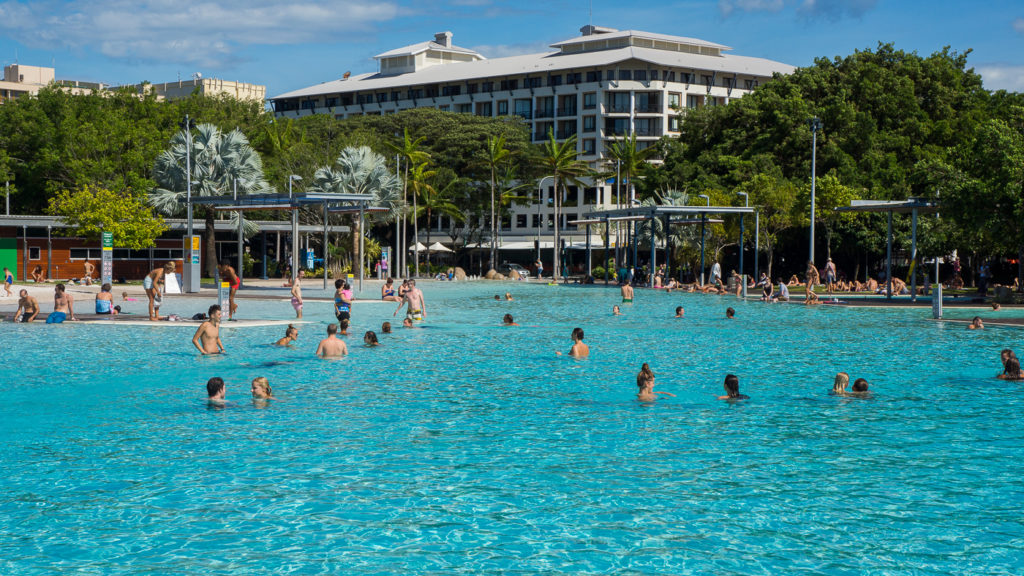 Architect
Tract Consultants
Type of Area
Sea
Lagoon
Land/water interaction
Sandy beach
Promenade
Built Environment Types
Highly Built
Low Green
Scale of Impact
District/ neighbourhood
City
Regional
Intervention Scale (Spatial)
Moderate site
Project Types
Seafront development
Outdoor recreation
Urban design
Urban/ Rural
Inner urban area
Visibility and Openness
Partly enclosed
Part horizon
Safe Swimming
This ambitious project was completed in 2003 to designs by landscape architects Tract Consultants following a national design competition. Cairns is located on the northern coast of Australia and between the Great Barrier Reef and lush rainforest . The site as a public space reflects the activity and character of the two types of landscape.
The project links blue space with green space and provides swimming facilities through the creation of an artificial lagoon on the former tidal mud flats. The shallow lagoon is flanked by shady gardens, trees and shade structures, necessary in a tropical climate, and provides safe swimming free from the risk of crocodiles or marine stingers.
There is a range of swimming spaces varying in water depth from 30cm to 1.6m. A wooden promenade connects this project with other spaces and observation decks that project into the sea at intervals to give extensive views to the sea, island and reefs beyond. The lagoon can accommodate hundreds of swimmers at a time.
There is also a sand beach for families as well as pockets of wet seating areas for couples and groups. Floating timber sunning decks also offer shelter and picnic spaces. The sea wall that contains the lagoon functions as a walking and jogging track but not for cycling. This is an interesting example of a project where serious risks of venturing into the sea have been avoided yet the atmosphere and the views allow users to maintain a strong connection with the sea. It is a project that has put Cairns on the map
Perception and Meaning
Place identity
Imageability
Sense of place
Place attachment
Accessibility
Health and Wellbeing
Restorativeness
Increased physical activities
Aesthetic experience
Place affordance
Sense of being away
Interaction with Water
Tactile – Fully in water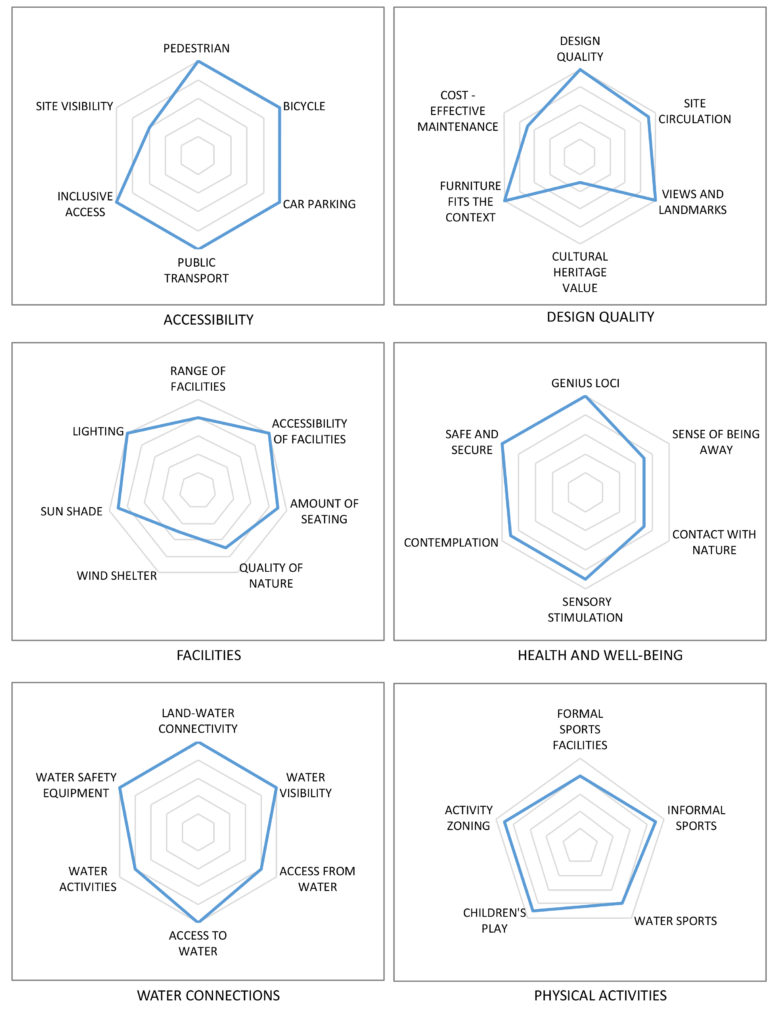 This project rates highly for accessibility apart from its visibility from a distance, due to the layout and location. The design quality has no specific cultural-historical aspects but then, none are relevant, otherwise it rates highly, apart for a little lower rating for costs of maintenance.
The facilities are very good apart from wind exposure and quality of nature – mainly due to the artificial character of the project and the open views to the ocean. Health and well-being is generally quite high but rated lower for the sense of being away and for contact with nature due to the artificial environment.
Water is scored very highly except for water activities and access from water – not surprising given it is isolated from the ocean for safety reasons. All kinds of physical activity related to the water are also highly rated. This is clearly an excellent project which provides a lot of enjoyment and protects people from some serious water-associated risks.